Camping in the woods is an enjoyable recreational activity but you need to be fully equipped in order to have a successful camping trip. One of the items that must be present in your backpack is a dependable knife. For instance, the best camping knife should have a design that can be used for building a shelter, foraging fuel for campfire, preparing food and skinning game.
See also: Best Hunting Knife: How to Choose The Right One
Apart from the abovementioned uses, camping blades should be useful for other activities, including cutting a path through thick undergrowth in the woods among other doings.
This article will elaborate to you why the quality as well as resourcefulness of an edge tool matters when you go camping.
Types of blades
There are two main categories and they include: fixed blades and folding blades. However, the usefulness of a blade depends on your choice as there are notable differences between the two.
Fixed blade
A fixed blade is also referred to as sheath, since it does not slide or fold. The main parts of this type of cutting tool are: beveled, knurled thumb rest, head, handle, tang, and the blade.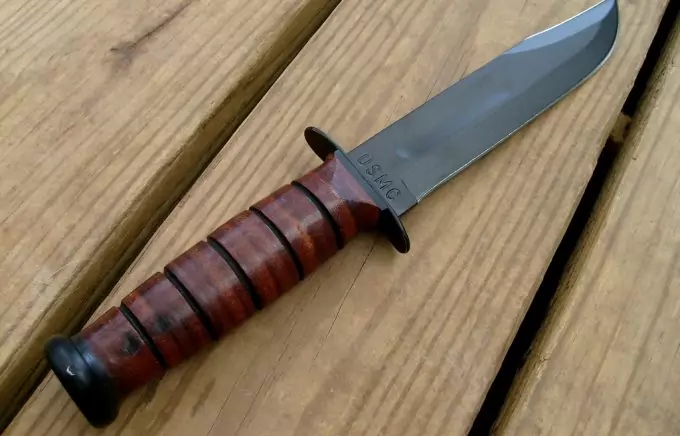 In most cases, it is recommended to buy a fixed blade because of its robustness. The tang ensures that the blade is stronger and is capable of withstanding harsh conditions. A full tang is most recommended because it is much more vigorous and stable. It can tolerate unbelievable abuse from arduous activities, such as splitting of wood. Generally, a fixed blade has an ergonomically designed non-slip grip handle and it is durable, reliable, and rugged. See our review of the top fixed blade knife for more options.
Folding blade
Unlike its counterpart, this edge tool is equipped with a pivoting system that allows folding. The main parts include: pivot, lanyard hole, handle, bolster, flipper, ricasso, primary bevel, secondary bevel, false edge, thumb stud and thumb ramp.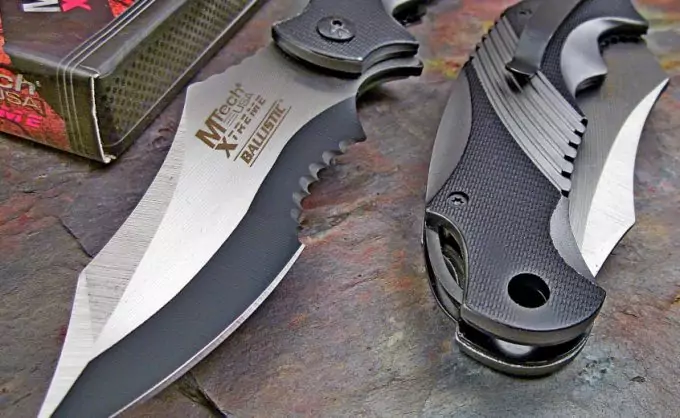 There are also various locking mechanisms, including lockback, slip joint, linerlock, frame lock, linerlock, picklock, ball bearing lock, arc lock, tri-ad lock, button lock and collar lock. The most recommended locking mechanisms are lockback and linerlock – the lockback system holds the blade open with a piece of metal positioned on the backside of the handle while the linerlock system uses a piece of the metal lining inside the handle to keep the blade open. Check out our list of the best folding knives to help you make a good choice.
Buying decision
One of the most important considerations that you need to make is the blade type. There are multiple steel types used in the making of camping knives, and you need to ensure that the blade you are selecting is made of high-quality steel that can withstanding different camping chores.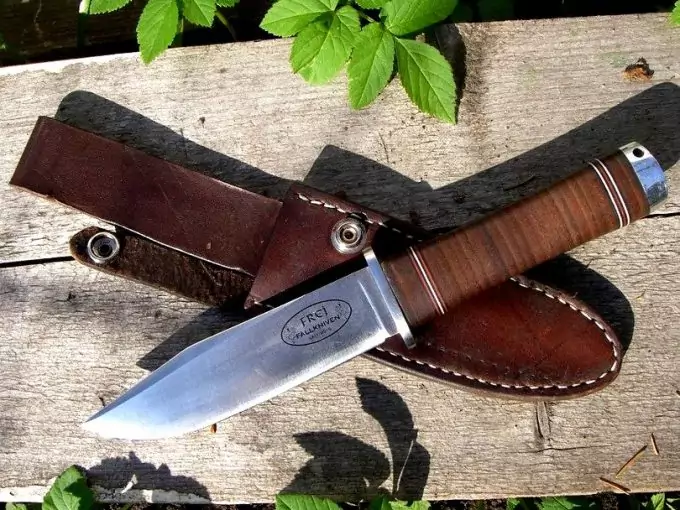 Ergonomics is another important consideration to make. The best cutting tool is one that feels natural in your hand. It should feel like an extension of your arm and it should be light and the handle should match the shape of your grip. Generally, your desired cutting tool should be lightweight, compact, resourceful, and versatile.
Top camping knife reviews
Ka-Bar Becker Knife with Drop Point, Short
This is a modestly sized piece perfect for pack or belt-carry. It has a unique design that makes it top of the line quality as far as cutting tools are concerned. It has a solid one-piece design that is characterized by a flat ground edge. The upper edge is fixed with a convenient corrugated thumb serration section to help you with control when you are executing pressure cutting activities.
The 4 3/8 inch blade is not only long but also robust to ensure that you are able to split reasonably sized brushwood with ease. You can easily forage kindling for starting campfire with minimal challenges if any.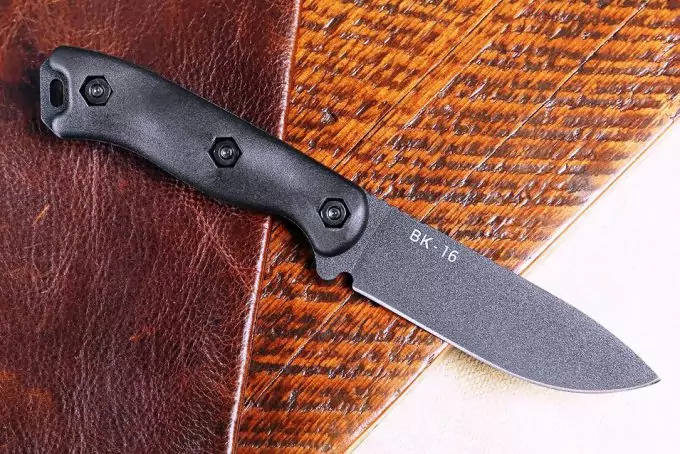 Bucking and chopping kindling should not be a problem with this piece and you can do lightweight chopping without facing any difficulties. The grip is designed to take the shape of your thumb, making it easier for you to hold.
The slide-free grip allows you to carry out your chores without worrying that the edge tool may slip off your hand. Considering the weight of the blade, this model is rather well-balanced for both swinging and slicing cuts. If you have been looking for the perfect piece for light outdoor activities, then again this model fits everything you have been looking for in a knife.
Pros: It has a unique design and the blade is made of high quality steel making it the best piece for kindling.
Cons: It is not the correct choice for cutting larger pieces of wood.
If this is the ideal edge tool for you, then find and buy on Amazon.
MTECH USA Mt-20-04 Fixed Satin Blade Knife
With a black Pakkawood, silver bolster handle, and a measurement of fifteen inch overall length, MTECH is a remarkable cutting tool. You will admire the design on this MTECH version. This work of art is well finished and you can easily refine it to razor sharpness. Unlike other models, this is a conveniently big and properly balanced cutting tool with minimal flaws.
It is engineered for a large hand because it has good weight and it can take any heavy work. The blade is about 5 mm, which is pretty impressive. Characteristically, this piece is not a true full tang.
However, it has a tang that uniquely slides into the hilt along with the sub hilt assembly. This setup is more than enough for encamping activities. The grip is comfy and does not slide and it is neither rubberized nor padded. It fits perfectly fine in your hand and you will always have extra control due to the finger loop.
This is the best grip for an average-sized hand that needs to do some serious cutting chores. The handle has two parts, a convenient ridged thumb that can fit on your thumb and a larger section that accommodates the rest of your palm. The sheath is well-designed to firmly secure the knife whenever you are not using it for any errands.
Pros: Conveniently large for an average-sized hand and it is highly resourceful for a variety of cutting tasks.
Cons: It is not equipped with a true full tang.
Like this product? Then you can buy it on Amazon.
Ontario 6143 493 M9 Bayonet System Black
Weighing only 16 ounces, M9 Bayonet is one of the best camping knives for the money. Its designed is military-based with a 420 modified stainless steel blade. Its closed length is 3.45 inch and its open length is 12.25 inch, providing you with a tough cutting surface. A feature unique to this piece is that it can fit on an M$ carbine.
This dagger is engineered to fit on an M4 with a 14.5 inch barrel as well as an M16 with a twenty inch barrel. It is heavy and bulky, but it is definitely not fragile and useless. It has a rounded tough grip that allows you to do some serious cutting without it sliding off your palm.
Without doubt, this is a good value piece with a much lower profile structure, making it easy to conceal. Unlike other knives in the market, M9 is not equipped with a full tang; instead it has a fractional tang with an encompassing rod. The encompassing rod allows you to take the whole design apart for cleaning. This is a multipurpose knife since you can use it for defense as well as camping activities. You will love this piece with its extraordinary finish and rattle-free operation. This is a utility piece; therefore, it can do some serious cutting and stubbing.
Pros: Has a soldierly design, making it the finest to attach on an M4 or M9.
Cons: You need to properly maintain it or else it can easily get damaged.
If you think that this product could be useful for you, then you can buy it here.
Morakniv Craftline Q Allround 510 Knife
This is massive cutting tool and just the right model for outdoor activities. It is without a doubt a utility knife, defined by a heavy-duty 3.75 inch blade made of carbon steel. Its specifications tells you exactly why this is a good piece for you. They include 0.08 inch blade thickness, 3.75 inch blade length, 9 inch total length and it weighs 3.2 ounces.
This simple design has a magnificent impact-resistant polypropylene handle that allows great grip flexibility. Unlike its predecessor, this model has a thinner blade and it is a little bit lightweight, making it easier to maneuver.
This is a very good piece for slicing and it does better than most knives. This is just what you need for camping chores, including: foraging food, kindling, carving and whittling among other activities. It has a well-designed sheath that is moderately tight and can easily be fitted on a small belt. Its piercing ability is mainly based on its design.
Practical application for this piece should be when you are car camping since its weight is not a factor. You can use this model to procure small firewood and tinder. Generally, it is made of harder stainless steel material providing it with a durably acute and sharper edge for better cutting.
Pros: This is a sharp as well as durable utility cutting tool with a Scandinavian grind.
Cons: It does not have a conveniently thick blade of demanding cutting tasks.
Like this amazing product? Then you can check its price on Amazon.
Kershaw 1987 RJ Tactical Knife
This tactical folder is redefined in every sense of the word. It entails a more sophisticated design made of high quality steel material. RJ tactical upholds the name of its manufacturer in every regard. To begin with, it is a solid built masterpiece that does more than just cutting.
It is fitted with what most people would refer to as a tactical RJ style blade that is not only versatile but also resourceful. It is the perfect folder for camping because its three inch blade folds closed effectively into the four inch handle. You are guaranteed hardness, strength and the capacity to take as well as hold an edge because of the high quality 8Cr13MoV steel.
The handle is engineered from heavy-duty glass-filled nylon material fitted with comfy finger contours for the perfect grip. In addition to a matte appearance and finger contours, the handle also provides heavy back jumping for improved and better grip.
You should not be worried when using the blade because it is secured with a locking liner. This is a masterwork, the SpeedSafe assisted opener does take over the moment you push the flipper; therefore, you do not have to flick your wrist at any time. This is fundamentally a small as well as easy to carry camping cutting tool.
Unlike most knives you will come across in the market, this particular model has left/right hand carry, making it a convenient piece for left-handed people.
Pros: It is fitted with left/right reversible pocket clip, built in flipper and SpeedSafe open mechanism. It uses high quality material, including: glass-filled nylon for the handle and 8Cr13MoV steel for the blade.
Cons: The pocket clip is too tight.
If you think that this product could be useful for you, then you can check its price here.
Kershaw 1835TBLKST Kuro Tanto Folding Knife
This piece features a folding blade carrier that opens and stays locked by a liner. Once opened and locked, the piece allows for the blade to extend out of the carrier for easy cutting. It features SpeedSafe assisted opening system, which allows quick and easy opening. The blade is an adjusted tanto with a drop point and fractional serration. This is a versatile cutting tool fitted with two main grinds, including along the edge and at the tip. It has a sturdy piercing tip, which is supplemented with a lot of steel for strength.
The belly-less edge ensures that you have good slashing and the partial serration provides flexibility for cutting wood with ease. You can easily and single handedly open this piece with the SpeedSafe assisted opening mechanism. All you have to do is effectively pull the flipper and the knife will open smoothly.
Like some other Kershaw models, the handle is engineered with glass-filled nylon for dimensional stability and durability. Unlike most knives, this particular model is equipped with a tang positioned on the back of the knife-edge, allowing you to open it with your index finger.
Pros: It is equipped with the best opening mechanism – the SpeedSafe assisted opening. The drop point, partial serration and the Tanto blade make this a highly versatile cutting tool to bring along when camping.
Cons: It loosen up after a period of continuous use.
Like this product? Then you can check its price here.
Gerber Bear Grylls Ultimate Serrated Knife
As far as this piece is concerned, you do not have to read a lot of reviews to be able to decide whether or not it is the correct cutting tool to bring to your camping trip. This model has a nice edge that holds firmly, not to mention that the knife-edge is made of stainless steel. The serration is intended to impact an aggressive cutting action.
Its molded rubber grip ensures that you have perfect control while cutting. Talk of a multipurpose cutting masterpiece; Gerber Bear Grylls is the ultimate fire starter along with integrated diamond sharpener. It is also attached with an emergency whistle; therefore, you will not be stranded without having any means of communication.
The sheath has a couple of straps located on the back, which are perpendicularly positioned with respect to the normal loop. The serrations and edge are usually sharp, ensuring that you face minimal if any problems when executing cutting chores. You will definitely be able to feather as well as carve small bushes with minimal challenges if any. Generally, this is an excellent model for the money. It will fit your hand really well and you will feel the comfort whenever you are using it.
You should certainly bring this knife along if your adventures will involve harsh places. The manufacturer takes your survival into consideration more than anything else. That is why every part of this tool is well made, including the handle, serrations, robust edge and whistle.
Pros: It has a robust design engineered from high quality material.
Cons: The metal pommel is only attached with soft plastic, making it vulnerable.
Like this product? Then you can check its price on Amazon.
In conclusion
Your camping trip can be a big success if you are able to choose the best camping cutting tool. This article has showed the differences between fixed blades and folding blades and you learned that looks can be deceiving. Therefore, you should not settle for a knife just because it looks attractive. You need to ensure that the blade and handle design fit your cutting chores correctly.
You will face minimal problems when selecting fixed blades, but you need to be extremely careful when choosing folding models. Rapid blade deployment is without a doubt a necessity for a tactical folding knife. Any model you select must be convenient in the carry position and be capable of a fast draw and rapid blade deployment.
Some of the links in this post are affiliate links. This means that if you click on one of these links and make a purchase, I earn a small commission at no extra cost to you. Also, as an Amazon Affiliate, I earn from qualifying purchases. If the information in this post has been helpful, please consider purchasing through one of the links in this article. Thank you.