Finding the best hunting GPS can be a bit of a bit challenging. They don't come that cheap and can be quite an investment, especially for folks working on a tight budget. Also, there are a lot of options available, making the choice even tougher.
[the_ad_placement id="in-text-1-type-a"]
Knowing what your needs are, as well as your budget constraints are the first steps in figuring out which hunting GPS to buy. Needless to say, handheld GPSs aren't built the same. Each will have strong and weak points. That being said, here are a few considerations you may want to make prior to purchasing a hunting GPS.
Choosing A Hunting GPS
With the advancement of mobile technology, your run-of-the-mill Android and iPhones can run GPS applications to help you navigate during your outdoor excursion. You might be tempted to stick to your phone as you're already carrying it everywhere.
Note that these mobile apps are limited by the phone's mobile battery capacity, network coverage, and satellite reception. Dedicated handheld GPS systems have superior navigation accuracy and features compared to mobile phones. A handheld without a doubt is the way to go for a hunting trip.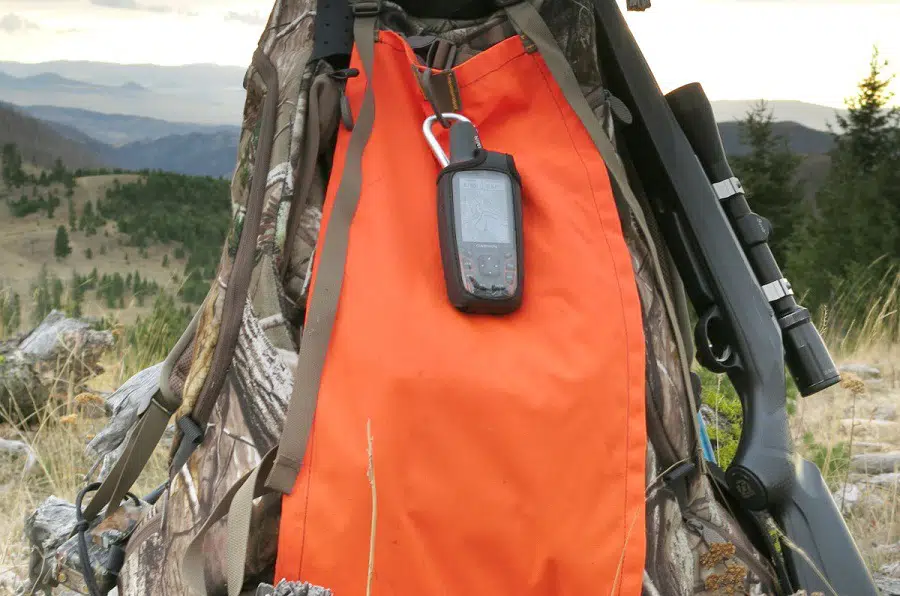 To find the best possible GPS for your hunting trips, here are a few factors you should consider:
Weight: At a glance, may be a bigger concern for backpackers trying to trim pack weight than hunters. However, if you're out over several days lugging around gear, rifle, and ammo and have to lug a fresh kill to a campsite. You might want to think about shaving ounces off your gear as well.
The screen: The screen is what you'll be looking at as you work with your GPS. That being said, you will want the screen to be as clear and crisp as possible under a variety of conditions.
Whether you're working in the dark, heat, rain, or under the clouds the visuals on the screen should be clear. Ideally, you should still be able to make out what the GPS is displaying even under high glare conditions. Larger screen sizes should help too, but that doesn't tend to be as critical.
Input method: Methods of input to a GPS is either through a touch screen or buttons. Both have their advantages and disadvantages. Touch screens are generally faster and are easier to type with.
However, their battery life tends to be shorter. In cold conditions, they tend not to be as responsive, especially when wearing thick gloves.  You will want a touch screen GPS if you value speed and are particular to the modern feel of touch screen gadgets. Buttoned screens, on the other hand, have the advantage of being highly responsive even when wearing thick gloves. They are also less prone to freezing and are generally capable of functioning at all temperatures. Their batteries have greater longevity. However, they are slower to use and are a bit clunky in terms of the interface.
If fluidity and speed of input aren't a big deal or if you're looking for a piece of equipment that's all around rugged, you're better off with a buttoned GPS.
Compass: Handheld GPS units will have a compass. The question is what type of compass is it? There are two types that you should take stock of, differential and electronic compasses. An electronic compass is usually the tell-tale sign of a powerful GPS unit. This allows you to check your bearings without necessarily moving. A differential compass, on the other hand, will not be able to show you your direction without movement on your part.
For hunters, being able to check directions while stationary, isn't as important as it is for high-altitude mountaineers. But it will definitely help if you want to gain your bearings while in a tree stand or while hunkered down preparing for a shot.
Batteries: Needless to say, longer is better. If on a hunting trip for longer than a day and without access to an area where you can charge, the battery life of your unit will be very important.
Some GPS units come with lithium ion batteries that will require charging. Other GPS units are powered by replaceable AAA batteries.  Lithium ion batteries won't have to be replaced, and can just be charged making them more cost effective.
GPS units that run on AAAs have the benefit of being replaceable while in the field for so long as you pack a few spare batteries. There are other options available, so take a look at our review of the best solar chargers for your gadgets.
Aside from these, you will want a GPS that has standard features including maps, waypoint management, geocache options, route planning, sunset and sunrise times, alarm clock, proximity alarms, points of interest among others. The best handheld hunting GPS will have the right combination of these features in relation to your needs as a hunter and outdoorsman. You may also want to take a closer look at our reviews of the top GPS Apps for Android, iOS and Windows.
All of that being said, here are a few items that we think are worth looking at.
Top Products Reviews
Garmin GPSMAP 64st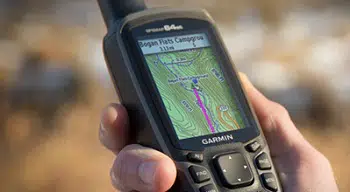 Weight: 9.28oz
Dimensions: 1.4 x 4.2 x 6.3 in
Screen: 2.6in sunlight-readable
Input Method: Buttons
Compass: Electronic
Expandable Memory: MicroSD
Description: The Garmin GPSMAP 64st is a highly reliable handheld GPS capable of handling most if not all of your navigational needs. It features a high-sensitivity GPS and GLONASS receiver coupled with a quad helix antenna to give its user reliable reception wherever you may be.
Its accuracy is within a staggering 10 feet. It comes with a 3-axis electronic compass that will allow you to accurately get your bearings without moving or holding it level.
The Garmin 64st handles well in all sorts of weather. It utilizes buttons for input. As such, you won't have to worry even if your hunt takes you to cold temperatures or relatively heavy snow. The transflective display it boasts provides durability and great visibility in high or low light environments.
It also features a barometric altimeter allowing you to keep track of your elevation as well as to monitor barometric air pressure. This is a handy feature as it allows you to foresee potential changes in weather via the trends in barometric pressure. Quite useful for deciding whether or not to hold your position at that tree stand or to make your way back to camp.
If you're the sort who likes to document your outdoor excursions the Garmin GPSMAP 64ST allows you to create waypoints and add notes. It also has a smart notifications system that can sync to your phone if you are inclined towards that sort of thing.
It comes with a heap load of base maps already at unboxing. You can easily add to this as you require.
The Garmin GPSMAP 64ST performs well on so many levels. It's definitely a top of mind choice, though the price might set you back by quite a bit. Also, you would do well to take care of the battery as its longevity is not as good as other units. It would be wise to turn off the backlight whenever not necessary.
Bushnell BackTrack D-Tour Personal GPS Tracking Device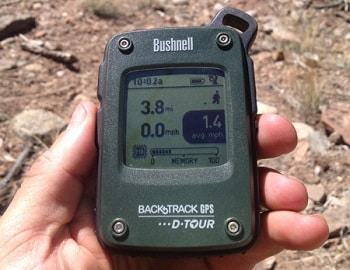 Weight: 3.8oz
Screen: 1.625 x 1.625 in, Grayscale
Dimension: 4.125 x 2.75 x .875 in
Batteries: 3AAA
Description: The Bushnell BackTrack D-Tour Personal GPS Tracking Device is a lightweight, low-cost navigation aid.
Unlike the other more high-cost the Bushnell BackTrack is a bit more bare bones. It does not feature an on-screen map. You can set waypoints on it via connecting it to a computer and utilizing the free software.
It may not seem that convenient, it does what it's supposed to do. You can input coordinates of target locations or mark territories where you intend to hunt. It's also great if you do a little recon prior to your actual hunt and identifies particularly strategic locations to hunker down the next day.
It features an electronic compass and a waypoint system that will mark your start point, allowing you to easily find your way back if for some reason you lose your bearings, or forget to bring a map and compass. Pace, direction, altitude and numerous other data sets can be saved onto your computer, easily shareable via social media.
Should you find yourself sprinting after a doe that leaves a blood trail after a well-placed shot you need not worry about finding your way back as its start point marking will allow you to backtrack with ease.
It's lightweight and doesn't come with all the bells and whistles of newer GPS models. However, it fulfills its role magnificently. Definitely worth a purchase if your needs don't call for anything too fancy.
Garmin eTrex 10 Worldwide Handheld GPS Navigator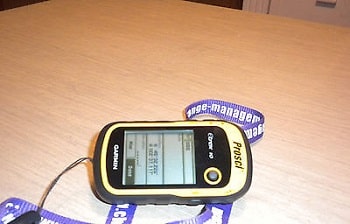 Weight: 5oz
Dimensions: 4 x 1.3 x 2.1 in
Screen: transflective monochrome
Battery: 2 AA batteries, 25 hours average battery time
Description:The Garmin eTrex 10 Worldwide is a powerful, lightweight GPS option. It's packed with features that make it a great companion for any outdoor trip, including hunts.
In terms of its visuals, it provides you data via a transflective monochrome screen that manages well under both high light and low light conditions.
It packs a lithium ion battery which has a 25 hour average battery time. On a full charge, that's more than enough assuming that you use it as a reference tool and not something you stare at over extended periods. And if need be, batteries can easily be switched out as it uses AA batteries.
It features GPS and GLONASS support for a high level of accuracy. However, it's important to note that it does not display an internally saved map. It can display pre-set paths and coordinates so it's essential purpose is to give you your coordinates. With a map handy, you can easily confirm your location. It can track 50 routes and place 10,000 points.
In terms of ruggedness, it handles very well. Like other Garmin variants, it can be submerged and can take a fall or two without much issue.
While overall, a very strong GPS option, the eTrex 10 does not feature an electronic compass, making it a bit difficult to get your bearings if you're not mobile. Also, it is not compatible with custom maps. So it leaves little room in terms of customizability.  It's a mid-tier option in terms of features and price. Still very well worth the price.
Garmin GPSMAP 64s Worldwide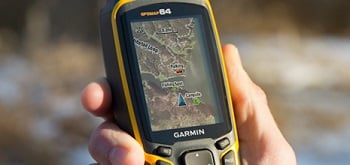 Weight: 9.28oz
Dimensions: 4.2 x 1.4 x 6.3 in
Screen: 2.6in sunlight readable color display
Battery: 2 AAs or rechargeable NIMH Battery pack
Description: The Garmin GPSMAP 64s is a versatile, high-quality, GPS and mapping solution perfect for a variety of outdoor applications. Like its big brother higher up on this list, it comes with a 3-axis compass and barometric altimeter, providing you a great deal of information at your fingertips when you need it.
The utilization of both high-sensitivity GPS and GLONASS systems allow it to provide you with a highly-accurate reading on your location. The handheld also features a quad helix antennae to further boost its signal reception It also provides you with a map view so as to easily pinpoint your location without having to open up your physical map.
[the_ad_placement id="in-text-2-type-a"]
The device also packs a preloaded worldwide base map featuring shaded relief and a compatibility with a BirdsEye Satellite Imagery Subscription. This makes navigating that much easier. This also has the benefit of allowing you to get a better picture of an area prior to actually entering it. Great for visualizing good hide spots even without doing some scouting the day prior.
It comes with 4GB of internal memory and a microSD slot allowing you to store a lot of information on to it.
Whether its photos and/or recordings you take with the handheld on your trip or routes and geocaches, you won't be having trouble with memory on this device. It allows for Bluetooth connectivity with your phone or laptop for easy data transfer.
These aren't even all of the features that the Garmin GPSMAP 64s packs. Needless to say, it's a powerful device, definitely worthy of attention if your need calls for a highly-sophisticated GPS option.
Garmin Rino 610 US GPS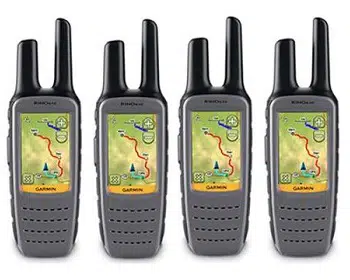 Weight: 11.36oz
Dimensions: 1.8 x 2.4 x 7.5 in
Screen: 1.43 x 2.15 in, Transflective Display
Batteries: 4 AA
Input: Touchscreen
Description: The Garmin Rino 610 is a jack-of-all-trades GPS unit that is highly useful when working in split groups. As with most of the other Garmin units on this list, it features a quad helix external antenna to enhance GPS signal reception.
Aside from preloaded topographic, marine and road maps, it can also handle custom maps as well as BirdsEye Satellite Imagery subscriptions, giving you a highly customizable navigation experience.
It comes with 1.7gb of built-in internal memory capable of storing 2000 waypoints and locations as well as 200 routes.
What sets it apart from the competition when used on hunting trips is its communication ability. The Garmin Rino functions as a two-way radio and can be used to send text messages to other units within the area via radio signals.
This makes it perfect for coordinating with friends for a hunt. The messaging allows you to communicate over longer distances without disturbing the wildlife.
What's more, these can be used to keep track the location of other Garmin users visible on the handheld's maps.  This allows users to respond quickly in the event of an emergency.
The Garmin Rino shines as a survival/rescue GPS option. For hunters, its unique features are a great way to enhance coordination while on the field.
Garmin GPSMAP 60C Water Resistant Hiking GPS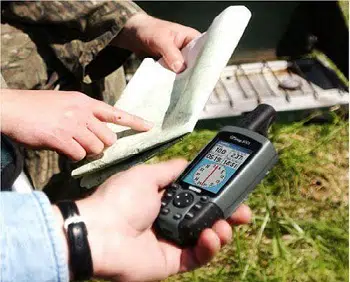 Weight: 7.5oz
Dimensions: 2.4 x 6.1 x 1.3 in
Screen: 256 color Transflective Display
Batteries: 2 AA Batteries, (30 hours)
Input: Buttons
Description: The Garmin GPSMAP 60C is a step down from the other more robust Garmin offerings on this list. Nonetheless, it still features a number of features that make it a capable navigation aid.
It is rated with an IPX7 level water resistance, meaning it can be submerged under water and it will still work.  It comes with hunting and fishing calendars as well as sunrise and sunset times, which can be handy for anyone out on a hunt.
Its GPS receiver is touted to have an accuracy within 10ft. And as with other Garmin handhelds, come preloaded with robust base maps. You can also add maps without issue. The internal memory is a lot lower than the higher end models, just a measly 56MB. This doesn't leave much for media or documentation.
Overall the Garmin 60 is great for a mid-tier GPS with mapping capability. While it doesn't come as feature-packed as its more expensive counterparts, it's still definitely a considerable option.
Garmin 72H Waterproof Handheld GPS with High-Sensitivity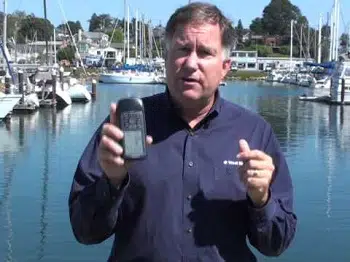 Weight: 7.69oz
Dimensions: 2.71 x 6.18 x 1.19 in
Screen: 1.61 x 2.2 in (grey LCD)
Batteries: 2 AA
Description: The Garmin 72H Waterproof is a simple, compact, lightweight GPS option, great for anyone avoiding additional weight and bulk and aren't looking for too many bells and whistles.
The 72H packs an 18-hour battery life and easily replaceable batteries. If you're out for an extended period in the bush, then switching out AAs is a breeze provided you bring spares.
Unlike a number of other more recent GPS offerings, the 72H doesn't come with mapping. It provides you your coordinates as well as a variety of other celestial information such as sunrise and sunset times, hunting and fishing calendars.  It can still connect to your computer for easy documentation of your journey.
While this is definitely not a go-to standalone navigation option, it is a great way to confirm your location while on the field with a map handy.
Magellan eXplorist GC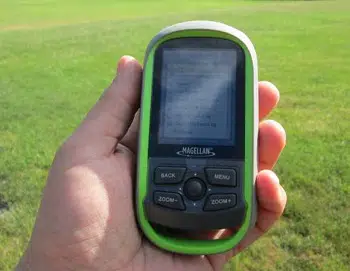 Weight: 5.2oz
Dimensions:  2.2 x 4.4 x 1.4 in
Screen: 240x320pixels Color, Transflective
Batteries: 2 AA
Description: The Magellan eXplorist GC is a lightweight GPS handheld whose main purpose is geocaching. However, it does function well enough as a navigation companion while hunting.
It features a vibrant color transflective screen for easy use even under sunlight. It provides an active track mode and breadcrumbs to help its user find his or her way back.
Its casing is built with IPX7 waterproofing in mind. This gives you peace of mind when going through some rough terrain or if you ever have to quickly cross streams and rivers.
[the_ad_placement id="in-text-3-type-a"]
It lacks a compass and does not have the mapping and navigational capacity of the other items on the list. Still, it's a rugged enough option for a hunter if ever you find yourself lost and needing to find your way back the way you came.
Ready to explore?
Finding the right handheld GPS is no replacement for good old-fashioned map reading and terrain assessment skills. Still, having the right GPS to suit your needs can be a great benefit as you can devote more of your focus on the hunt over navigation. To keep yourself on track, read our article on how to select the best GPS watches for you hunting needs.
Some of the links in this post are affiliate links. This means that if you click on one of these links and make a purchase, I earn a small commission at no extra cost to you. Also, as an Amazon Affiliate, I earn from qualifying purchases. If the information in this post has been helpful, please consider purchasing through one of the links in this article. Thank you.