Electronics power so much of our lives. Whether it's for work or play, you definitely have something on you that runs on batteries. Now, it's inevitable that your gadget's juice runs out.
[the_ad_placement id="in-text-1-type-a"]
It's a simple matter to charge it. But if you're out trekking, or camping, finding an outlet isn't that simple. This is why having the best solar battery charger is a huge benefit.
What makes solar-powered batteries so great, is that they have utility, whether you're outdoorsy or not. It's a highly practical everyday carry item you can bring along as you go to the office or handle your day-to-day activities.
You take the utility of a power bank and add the fact that you never have to plug it in. For so long as it sits where it can get sunlight you will be good to go. There are, however, so many of these chargers on the market.
If you're looking to buy one, we've compiled a short list of things to look out for in potential purchases as well as a review of some top picks.
What to Look for When Choosing A Battery?
While practically everyone has electronics on them all the time, the requirement for a solar battery charger will vary for each device and person. It all boils down to usage.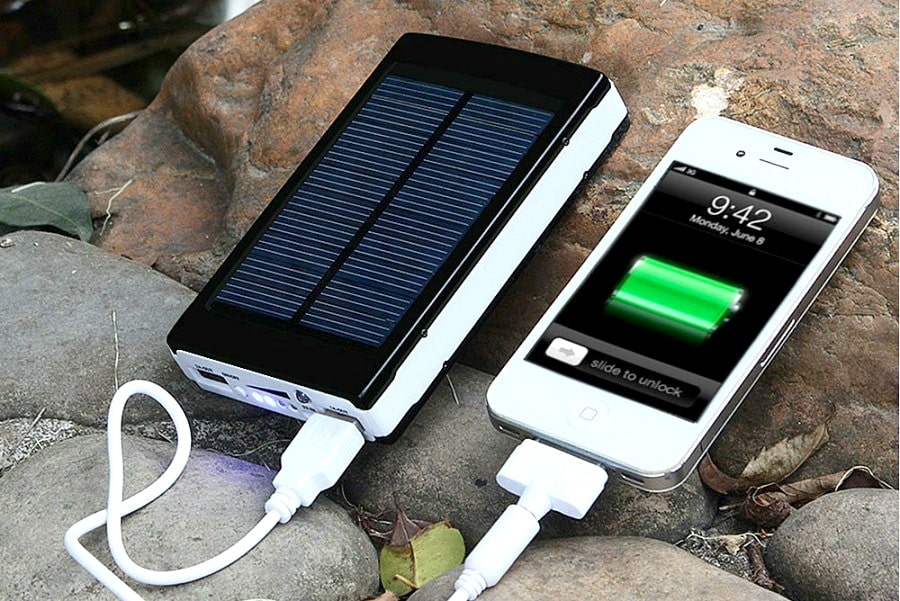 But nonetheless, here are a few factors to consider when making a purchase.
Size: Yes, size matters. But this will largely revolve around your usage. Larger solar batteries will tend to be heavier but also have a higher power capacity. One of the primary considerations in regard to size is your bag.
If you want a solar battery for backpacking, then a large one will probably be fine. But for every-day carry you will probably want one that's smaller, as not everyone will want to lug a backpack around with solar panels showing.
Larger solar batteries which have larger solar panels can soak up more of the sun's rays. Meaning they will be better equipped for the task of quickly powering up an internal battery or directly charging a plugged in cell phone, tablet, or Bluetooth device.
Weight: This is especially a concern for the ultra-light backpackers out there. Aside from how big the charger is, you will want one that's just the right weight.
If you're the sort who scrimps on weight (which is totally understandable for people going on long trips), you will want one that's lighter. And while this is not exactly set in stone, generally, the heavier the solar battery charger, the greater the energy capacity.
Charging time: How long does the power bank charge? You ought to consider the amount of time it takes for the battery to reach full capacity while under the sun. Some battery chargers have solar power as an auxiliary charging option, these are usually inefficient and will largely rely on sockets.
Also, a secondary consideration is how long will it take to charge while plugged into a socket? This is a consideration if you're on the go a lot.
Capacity: The capacity of your solar battery is measured in mAh which means "milliamp-hour". On average, power banks and solar batteries have between 1000-10,000 mAh. The higher the number the higher the energy storage capacity.
Generally, a higher number here is better. However, considering that this is a solar battery charger, the higher numbers might not mean as much for so long as the solar charging capability of the battery is efficient.
Also, you will want to consider what you will be charging. Generally, low to mid-tier android phones and Bluetooth headsets aren't very strong consumers of energy. However, if you happen to be packing a tablet or iPhone, then you will probably need a high capacity battery.
Power Output: This refers to the rate at which energy can be transferred to your phone. Higher generally means better, but to be on the safe side, you should check the output rating of your device's charger.
If it matches or is slightly lower than that of your power bank then you're good. On the other hand, if the power output of your solar battery is lower than that of your device, it could end up failing to charge at all.
Number of Ports: How many devices will you be charging at the same time? For some people, one port is enough. However, there may come a time when the need to charge multiple devices will arise.
It really depends on how heavily you use your gadgets. You might have the need to charge your GoPro and your cell phone at the same time. Or your tablet and camera. It is important to note, that the more ports you have, the more expensive the device tends to be.
The Efficiency of Charge from Solar: The rate at which the solar battery charges while under the sun's rays should also be a consideration. At present, solar panels aren't as efficient as we would want.
As a result, it tends to take several hours of solar charging under ideal conditions for a 12 x 9-inch solar panel to charge a cell phone.
And take note, the smaller the panels, the less sunlight is captured. So it generally goes without saying that the smaller the panels, the slower the solar charge. Though this can easily be remedied by charging the solar batteries at home, but if you're going to be out in the mountains for days at a time, this will be a factor worth considering.
For charging up on the go, see our reviews of the best solar backpacks to juice up your gadgets.
Top Products Reviews
Voltaic Amp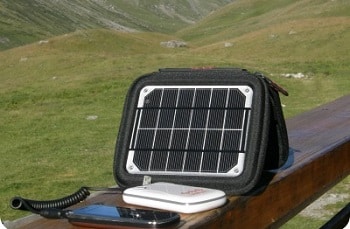 Weight: 1.1 lbs
Dimensions: 5.5 x  1.5 x 6.5 in
Batteries: Lithium-ion polymer
Battery Capacity:  4000 mAh
Average Charge Time: 5 hours & 15 minutes
Description: The Voltaic Amp is a rugged, versatile, and compact solar power option, great for long outdoor trips or casual domestic use. It features a pair of monocrystalline solar panels that provide a 4.4W peak current at either 6 or 12V (depending on setting chosen).
The panels are coated with a generous amount of self-healing urethane, giving them the ability to take a beating. Most bumps and bruises from falls can easily be buffed away with a quality cloth.
The detachable battery pack holds 4000mAh worth of power to  charge your devices. Aside from use with the solar panels, it can be plugged into an outlet or USB port allowing it to be charged via the included USB/microUSB adapter cables.
While easily eclipsed in daily use by high capacity external batteries, the 4000mAh battery of the Voltaic Amp is still very able to provide for the additional energy needs of an overworked mobile phone, GoPro, or Bluetooth headset.
[the_ad_placement id="in-text-2-type-a"]
In terms of solar charging capability, three and a half hours in sunlight should be enough to fully charge most cell phones. One hour of sunlight time can store enough power for three hours of mobile phone use.
To be able to easily end a day out in the woods with a fully-charged battery is no simple feat. Sure you can probably bring a power bank to a short outdoor trip.
For everyday use, high capacity power banks might be a better choice. But for long outdoor hauls, this is not an option to be overlooked. The ease of use and efficiency of the Voltaic Amp make it a good choice for anyone in the market for an external solar battery.
Solio Classic2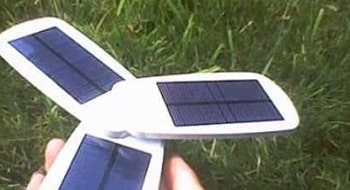 Weight: 10.1oz
Dimensions: 5.8 x 2.8 x 1.4
Capacity: 3200mAh
Average Charge Time: 9 hours
Description: The Solio Classic 2 is a highly efficient solar battery charger that builds on the successes of its predecessor. With a 3200mAh battery, it can easily take on the task of charging a power-hungry iPhone 6 plus without much issue.
Solio's amperage can be customized to suit the needs of Apple devices as it has a specific feature to this end.
This assures you of an optimal charge for your iPhone. Aside from relying on solar power, Solio Classic 2's battery can be recharged via USB power. It will take roughly 4.5 hours of charging time via USB for it to restore its power to peak levels.
Another nifty feature of the Solio Classic is its portability. Though a bit bulky when folded up, its 10.5oz body will easily fit the palm of a hand. To maximize its charging ability, it will have to be folded outward, and that will take more space.
While on the whole, it is a very capable solar battery charger. However, its solar panels have a total area of only 9 sq. inches. While very efficient, this hampers the ability of the battery to quickly charge while under the sun. It will take roughly 9 hours of full sun time to get a full charge out of the Solio Classic 2.
That's still pretty generous considering the charge time of some other options in the market. However, if you're fully dependent on its solar charging capability over extended periods in the outdoors, you might find yourself without a full battery on your device on some nights.
Solar Charger, Solar Power Bank 10000mAh External Backup Battery Pack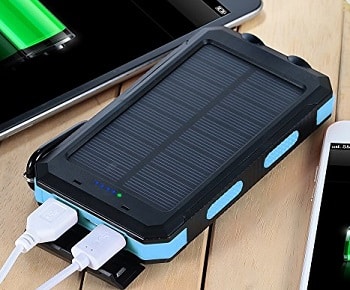 Weight: 17.6 oz
Dimensions: 7.6 x 4.5 x 1.4 in
Capacity: 10,000mAh
Average Charge Time: 10 hours via outlet/ 8-21 days solar
Battery: Lithium Ion
Description: The Solar Charger, Solar Power Bank of Absone is a pretty tough workhorse of a power bank but it stutters as a solar-powered battery.
At 17.6oz it's not the lightest item on the list. However, noting the high power capacity that the battery boasts, the weight shouldn't be that big a concern.
That 10,000 mAh capacity is enough to fully charge an iPhone or similarly energy-greedy android device four times over, with a little bit to spare.
It comes with several additional bells and whistles including a compass, and LED lights making it a cool back-up flashlight if ever you find yourself needing one. It can also be set to an SOS strobe should the need arise.
The compass is not that good, you will need to set the unit down on a flat surface to get any real use out of it.  It is shock proof and water resistant, allowing it to withstand splashes and some off rain.
While it is a formidable choice for backup power source for your portable electronics, its solar charging capability leaves a bit to be desired. It takes days of sunlight fully charge via solar energy. Solar is definitely not the primary charging method for this device.
Its solar charging feature can safely be classified as an add-on. Its panels are small and are very inefficient, especially when stacked up against the competition. Charging it up via an outlet is the way to go, but it will take roughly 10 hours of charge time.
As a power bank, Absone's offering is great with 10,000 mAh of power and a lot of spare features. But if you're looking for an external power source that's primarily solar powered, you're better off looking elsewhere.
XTG-SOL1500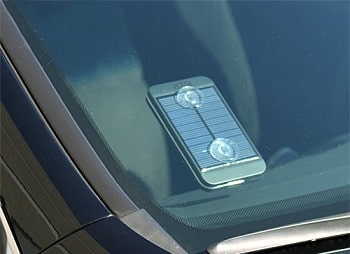 Weight: 3.5 oz
Dimensions: 2.5 x 0.5 x 4.8 inches
Capacity: 1500 mAh
Battery: Lithium-ion
Average Charge Time: 4 hours
Description: The XTG-Sol1500 is a lightweight and highly portable option for a quick charge. However, it falls short in many areas where other models shine.
It is one of the lightest external batteries available in the market. For anyone looking to scrimp on weight, this makes the XTG-SOL 1500 worth a look.
In terms of energy-storing capacity, it offers a 1500mAh. Quite small, especially when compared to the other items on the list. But it is still enough to fully charge a number of Android devices and older iterations of the iPhone.
With regard to its solar charging capacity, it isn't highly efficient. It can only charge until 50% of its total capacity. That is generally not enough to fully charge a mobile device. Still, it's probably enough to get you through a pinch where you really need the battery power.
Overall, the XTG-Sol1500 is only ideal for anyone with minimal recharging needs and really looks for a strong secondary power option. It isn't a great option for anyone looking for a solar battery charger, nor is its energy storage good enough to warrant calling it a great power bank.
Solio BOLT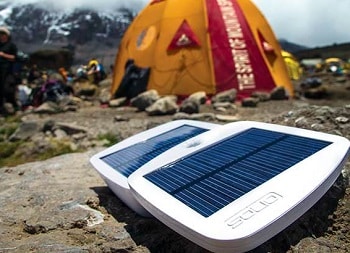 Weight: 5.3oz
Dimensions: 3.5×3.5x1in
Capacity: 2000mAh
Battery: Lithium Polymer
Average Charge Time: 8-10hours (Solar), USB/Wall: 4.5hours
Description: The Solio Bolt is a light-weight and efficient solar energy option, great for domestic use or slugging it out in the wilderness. At 5.3 oz, it's still very much lightweight, and can easily be slung on the back of a backpack or sling bag.
It comes with a 2000mAh charge capacity which will generally be enough to top-up most devices to at least near max levels.
Another great thing about the Solio bolt is that it can get a full charge of its batteries at 8-10 hours of time out in the sun. That's pretty good, considering how some other solar powered batteries can't supply more than several hundred mAh of power.
Though in terms of efficiency, the batteries probably won't be fully charged come nightfall, especially if you move around in cover a lot or if the weather is cloudy. Regardless, you still should be able to get a bit of juice for your device.
Add this to the fact that you can still charge it via USB for 4.5 hours and you have a very solid alternative power option.
Given its small size, however, you might have some problems in positioning it optimally. If it's sitting on a desk by a window, the pencil through the hole in the middle mechanic really works well. The capacity could also be bigger.
Voltaic Fuse 6W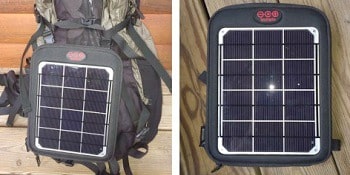 Weight: 19.2oz
Dimensions: 11 x 0.5 x 8.8 inches
Capacity: 4000mAh
Battery: Lithium ion
Average Charge Time: 11 hours in direct sunlight for 10" tablets, 3+hours for most mobile phones
Description: The Voltaic Fuse is a rugged solar battery option that works well for outdoor use with high-power consuming gadgets.
The Voltaic Fuse features a 4000mAh detachable lithium ion battery that functions as a standalone power bank when detached from the solar panels. The 4000 mAh also allows it to take on practically all types of mobile devices.
Though some power-hungry tablets will only take a single charge. It should be able to charge a typical phone 2-3 times when on a full charge. If charged for 3 hours it should be able to give a full charge. Alternatively, it charges quickly via USB as well.
[the_ad_placement id="in-text-3-type-a"]
Voltaic Fuse's straps allow you to strap it onto a backpack, messenger bag, a post or whatever is around, and practically whatever you need to attach it to. This makes it great for moving around while you're on a backpacking trip and need to have enough juice for your phone the next day.
The Fuse comes with panels that are built with self-healing urethane making it highly resistant to scratches and dents.
Structurally, it's roughly the same size as a notebook. So it doesn't take that much space. Also, the panels have rear pockets to place the batteries and the phone while charging making it highly accessible.
You may want to take a closer look at our article review of the best solar phone chargers to keep your device powered all day.
Charge It Up
Having a solar battery handy is definitely ideal for practically anyone. Whether you're really into the outdoors or are more inclined to spend your days in urban areas, a renewable secondary source of power for your device can go a long way. The key is choosing with your needs in mind.
To learn how solar power works, see our article on this interesting topic.
Some of the links in this post are affiliate links. This means that if you click on one of these links and make a purchase, I earn a small commission at no extra cost to you. Also, as an Amazon Affiliate, I earn from qualifying purchases. If the information in this post has been helpful, please consider purchasing through one of the links in this article. Thank you.