When planning for the worst case scenario there are a great many things to consider. Food and water supplies are essential, as is ensuring you and your family's safety. No amount of prior prepping will be enough if you are unable to communicate however.
Being unable to keep in touch with loved ones can lead to becoming separated needlessly. When disaster strikes it is chaos and more often than not, it is not possible to stay together. Perhaps you are at work while your family is at home.
What is worse than disaster? Many of us will agree that being separated from our loved ones can make the problem a hundred times worse. More common methods of keeping in touch may not be viable, therefore it is well worth considering preparing you and your family with two-way radios.
The best survival two-way radios are packed full of features that can ensure communication on a local level. Before we look at four great radios, we'll discuss why they may be necessary for the event of a disaster, how they can be used and which specific features one should look out for.
Methods of Communication During A Disaster
We have grown used to having contact with our friends and families at our fingertips. Cell phones and the internet have made it possible to reach anyone, anywhere with relative ease and minimal cost. However these may not be the most suitable means of communication when disaster strikes.
Cell phones
Typically, communication systems, such as cell phone networks, are among the first to go down during a disaster. This can be down to several factors. First of all, in the event of either a natural or manmade disaster, cell phone towers may become physically damaged.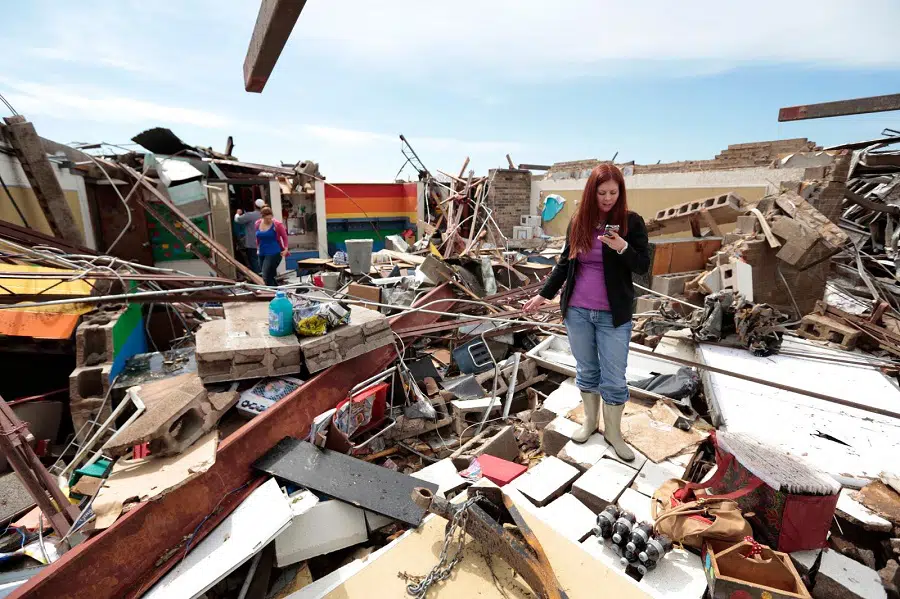 The same can be said for landlines. Several recent examples have shown how extreme weather can render both systems useless. Even if the hardware is not damaged there is another common problem. During a disaster, panic ensues and almost instinctively people reach for their phones to check on loved ones.
The sudden, sheer volume of activity on cell phone networks during these times is often far more than they can take. If one looks at any disaster, be it a hurricane or a terrorist attack, a common theme can be seen. Cell phone use becomes impossible. Therefore it is clear to see that we cannot rely on them during an emergency.
The internet
With the unstoppable advancement of the internet, more and more methods of communication are emerging. This includes video chatting, instant messengers, emails etc. These are fantastic, instant ways of talking to people and unlike phone networks they are less likely to be jammed up so easily.
However they are prone to the same disadvantages. In the case of a natural disaster, electricity will often be lost, rendering most devices useless. Even laptops and tablets that are able to run on battery power are of little use when there is no internet to connect to. Most of us have come to rely heavily on the internet and cell phones, but they will sadly offer little help in an emergency situation.
Two-way radios
Two-way radios, or walkie-talkies, will function without power and do not rely on a fragile phone network. However, they certainly do not share all the advantages of cell phones or online methods of communication.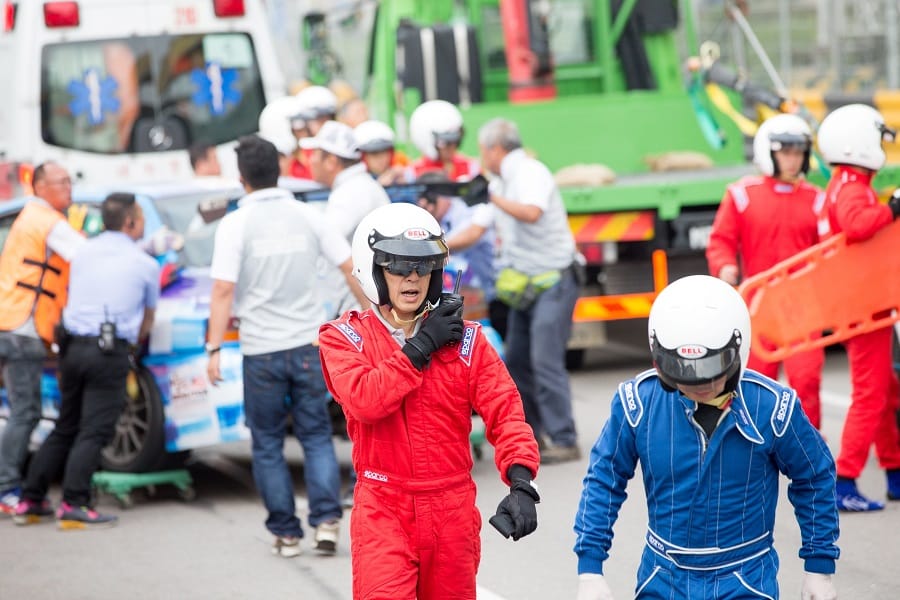 Their largest disadvantage is that their range is generally limited to a few kilometers. Having said that, they will function when nothing else is able to. Two-way radios can be a fantastic way to keep in touch not only with your loved ones, but with small groups in the local vicinity. They can also be used effectively to seek help.
Using A Two-Way Radio
While adding a set of radios to your survival kit is an excellent idea, they will be of little use if you're not sure how to use them.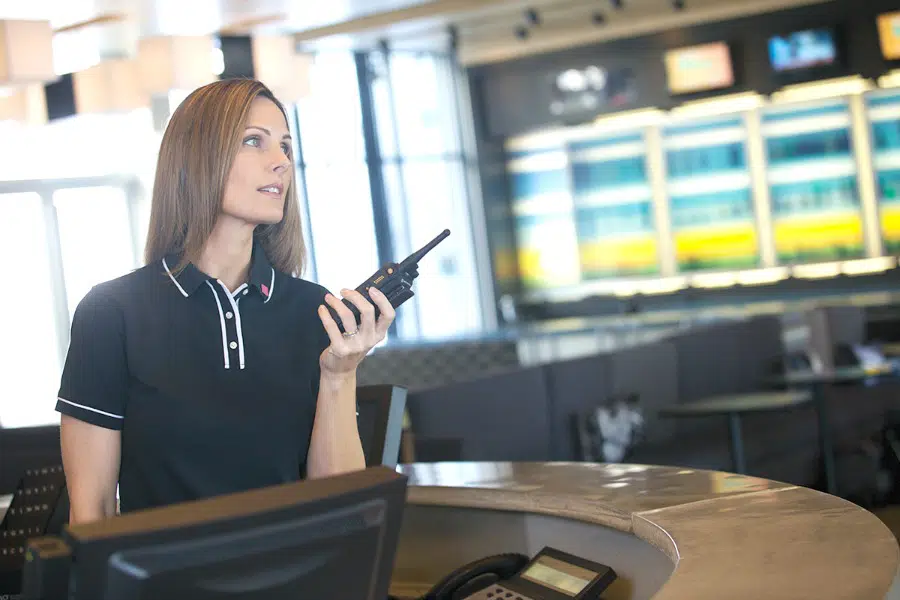 Fortunately they are easy to use and don't require a degree in rocket science. It is useful to know a few tips and tricks however.
The vast majority of two-way radios will not function in the same way a cell phone does, in that one cannot listen and talk at the same time. This is because they are half-duplex This means they use a single radio channel when communicating and can receive or transmit, but not at the same time.
Most models require that a button is pressed in order to transmit. Funnily enough this is referred to as a push to talk button (PTT). This stops the device from receiving. It's best to wait a second or so before talking, else the first part of the sentence may not be heard by other devices listening. Some radios feature voice-activated transmission (VOX).
Most radios will have access to several channels. Channels are basically radio frequencies that are numbered, making them easier to remember. With proper preparation a group can use different channels for communicating and setting up one on one channels.
It is well worth making use of your radio before it becomes a matter of urgency. This will familiarize you with the workings of the radio, as well as its limitations. To be fully prepared, ensure those around you, whom you will want to contact in the event of an emergency, are also familiar with using the radio. Agree on the channel you will use to contact one another should the worst happen.
Feel free to use them around the house or on trips out. It's fun and everyone learns how to use them effectively. This also ensures the batteries are working. Batteries left in the unit for several months without use may have very little power in them when you actually need them. Just remember to keep them charged and ready.
That covers the basics however there are many more features that can enhance the humble two-way radio.
Features to Look Out for
There are a great many options when looking to buy two-way radios. It's useful to know what to look for in a radio and which features will be suitable for you and your situation.
Batteries: You will want to ensure that your radio is capable of lasting for some time should the worst happen. Generally, radio batteries will be rechargeable, however if the power is out you may be stuck. It is worth buying spares just in case.
Range: It's important to consider the range in which your radios will be effective. Be aware that the range given on the product specifications is somewhat exaggerated.
That is to say that the range specified assumes flat ground, clear of obstacles. Hills, trees and buildings can all affect the range. In general they will be good for at least two miles.
Display: More and more two-way radios are incorporating a display. This simple feature allows one to monitor battery life, tell the time and read other useful information.
Some models will even include a timer, stopwatch and compass, among other tools. Text message capability is also now possible with radios using displays.
Water/weatherproof: Most radios are fairly durable, tough bits of kit and will be weatherproof. Some models however are fully waterproof and can be submerged without damage.
These can be extremely useful, especially when on the move over tough terrain. Waterproof models that float are even better, as these can easily be retrieved if dropped into water.
Emergency button: Pressing this button alerts others to the fact that you may be in danger, or require help.
GPS: Nowadays radios can be purchased that feature GPS. This is ideal when out and about and on the move. If the group gets split up an exact meeting point can be arranged and reached.
Size: It is well worth considering the size and weight of the radio you choose. A lighter, more compact radio packs away easier and can even be stowed in the pocket.
Our article review of the best solar batteries for your gadgets will help you with more options in powering up your gadgets.
A Review of Four Great Survival Two-Way Radios
Motorola DP4400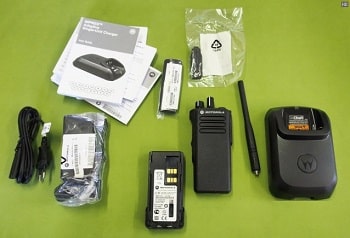 Range: 4km
Battery Life: 12 hours
Number of Channels: 32
Weight: 400g
Specific Features: Text messaging, emergency button, optional VOX, analog or digital, waterproof, transmit interrupt
Description: The DP4400 is a fantastic, solid two-way radio, with a proven track record. The tough design ensures it can stand up to a certain amount of abuse. It's also waterproof and can be submerged to a depth of one meter.
This makes for a sturdy, durable radio that will hold its own in extreme situations. You never know if you will need to take your family and abandon your home. If ever that scenario occurs, this radio is a great choice to ensure contact is maintained. The tough build is reason enough to consider this radio; however, it comes with many more desirable features.
The emergency button and VOX ability can be a real life saver. Should you be unable to use your hands, you are able to transmit just by speaking, while the emergency button can be used if you are unable to speak. Pre-written messages can also be sent among your group, which can also be useful if you are unable to speak at any time.
This radio is popular among many as it is capable of working in both analog and digital modes. Using analog gives better quality at closer distances but uses battery quicker. The digital mode preserves battery and will be clear right up until it is out of range.
The sound quality in both modes is very good. The intelligent audio cuts out loud, background noise allowing the receiver to hear clearly the spoken transmission. In the middle of a disaster this could be an essential feature in order to get your message through clearly.
The final feature is the transmit interrupt. This is useful if something important happens and you need to get your message to others in the group.
Related: Another great product to consider is Motorola DP4401 – includes GPS
Motorola DP4800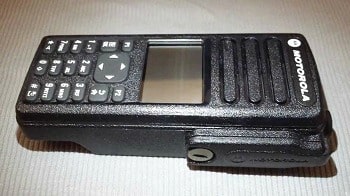 Range: 3km
Battery Life: 12 hours
Number of Channels: 1000
Weight: 400g
Specific Features: Group calling, text messaging, display and keyboard, analog and digital, waterproof
Description: Another durable radio from Motorola, the DP4800 will survive whatever is thrown at it. It's waterproof and can survive being submerged in water up to one meter deep. Again, this is great if you find yourself having to leave the comfort of home behind. It will survive being dropped or knocked and the worst weather.
This radio comes with a fairly large, color display and a full keypad. This allows far more flexibility than other models. Not only can full-text messages be written out, but the keypad can be used to program the radio in a number of ways. For example you can choose to block certain radios, set a button that calls one particular radio or send group messages.
This also features the emergency button, but also includes the lone worker mode. This can be set to sound an alarm if the radio is not used after a set time. If the alert is not responded to, a second alert is sent to another radio in the group. In this way, if someone is in trouble, but is unable to use their radio, another group member can be alerted.
The large screen adjusts to night time use and allows the user to keep an eye on battery level and manage a large number of tasks. With access to 1000 channels, private, one on one calls can easily be set up and managed, as well as group calls. Again, the sound quality is excellent.
Motorola DP4801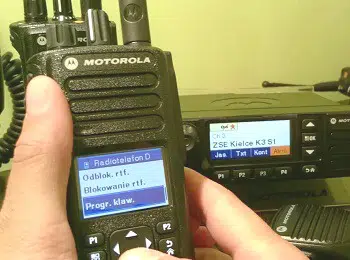 Range: 3km
Battery Life: 12 hours
Number of Channels: 1000
Weight: 400g
Specific Features: Group calling, GPS, Bluetooth, text messaging, waterproof, digital and analog
Description: The DP4801 is much the same as the previous model with two additions. GPS and Bluetooth take this radio up to the next level. Offering all the features of the DP4800, it is just as light and convenient to carry, while at the same time extremely durable.
This user-friendly model has incredible sound quality and many users agree the clarity is second to none. Background noise is canceled out to ensure your message gets through no matter what. The addition of GPS can be a great help in difficult situations.
For groups that have lost one another a meeting point can quickly be agreed upon. If a group member is not responding they can easily be located. This feature alone is an incentive to consider this model as one can never know what will happen. The time spent by not having to search blindly could make all the difference to the missing group member.
Kenwood TK3501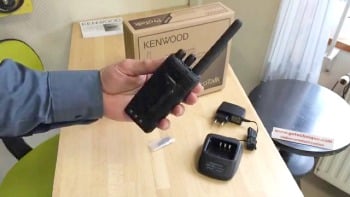 Range: 2km
Battery Life: 20 hours
Number of Channels: 16
Weight: 210g
Specific Features: Lightweight, durable, easy to use, optional VOX, analog
Description: This extra lightweight radio is simple to use and best of all, has an incredible battery life. Do not be deceived by how slim the radio is, or how light it feels in the hand. It'll survive a drop and a knock or two, making it great to have with you. It'll also fit easily in a pocket, allowing anyone to carry it with ease.
It is weatherproof rather than waterproof. It will hold its own in rain, but cannot be submerged. The sound quality is very good with users enjoying the clarity provided. Within the effective range you will have no trouble hearing or being heard.
Voice activation is optional and can be easily enforced, allowing communication even if you are unable to use your hands at any point. As such a simple device there is little to go wrong and as such this radio is one that will last several years as long as it's well looked after.
Finally, the battery life is fantastic ensuring many hours of communication.
Signing Off
Having looked at some great two-way radios and why and how we should use them, it is clear that they make an invaluable addition to any survival kit. The peace of mind gained when contact is easily established despite other problems, is well worth the investment.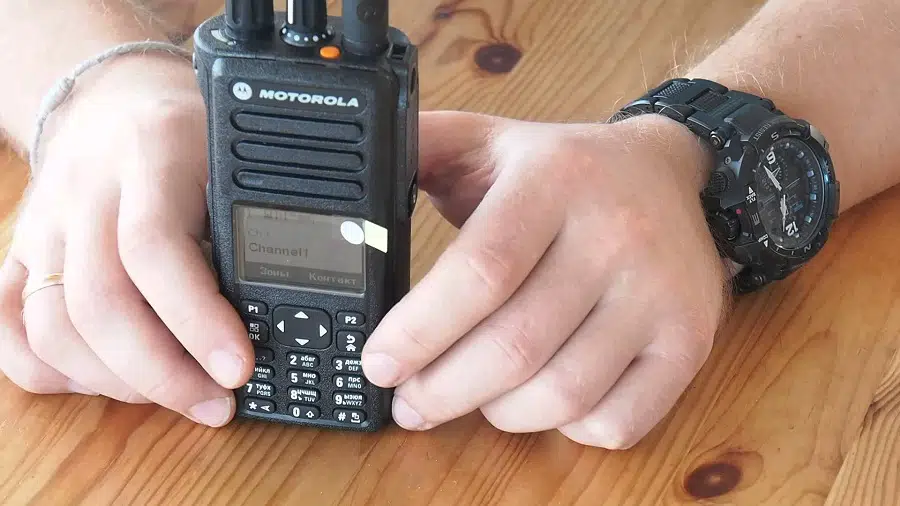 Remember to look for a radio with a great range, long battery life and the features that are of use to you. If, for example you live in an area known for earthquakes, or other natural disasters, look out for tough, durable radios. For the best weather radio, see our article on this topic for more information.
If you anticipate having to abandon home and spend time outside, look for a waterproof model, or at least weatherproof. Other features such as GPS can also be useful in this instance. Just ensure you and your group are familiar with using the radios and that the batteries are well cared for.
The provider for the models mentioned above is Brentwood Communications Ltd. They have been providing radio solutions across the UK for over forty years now. They supply and maintain radios for a huge variety of situations, from stadium security to the health service.
With a constant eye on the latest technology, there are few who know more about two-way radios. Check out their site for more information and browse their huge range of radios.
See our article review of the top solar radios to give you a lot more options.
What's your favorite two-way radio? Let us know below.
Some of the links in this post are affiliate links. This means that if you click on one of these links and make a purchase, I earn a small commission at no extra cost to you. Also, as an Amazon Affiliate, I earn from qualifying purchases. If the information in this post has been helpful, please consider purchasing through one of the links in this article. Thank you.