The best portable solar panels are an important piece of equipment for every survivalist's list. Today, the same portable panels are becoming a hot item for anyone looking for a way to charge portable devices like cameras, GPS units, cellphones, tablets, and other gadgets when on the go, camping, hiking, biking, cycling, or when not in reach of a home where electricity is all too easy to access.
[the_ad_placement id="in-text-1-type-a"]
The solar panel is also a green form of energy creation and many consumers are seeking environmental friendly means of producing energy without tearing up the earth, destroying our landscape, ruining our homes, and ruining the plant for others. Below are the top ten identified solar panels to choose from and why they work.
Powering devices
Solar panels are capable of powering different devices and what they can power is dependent on the amount of energy they put out. The portable devices requiring a recharge often include headlamps, mp3 players, cellphones, and other low power requirements. However, according to the size of your solar panels, you might charge bigger devices.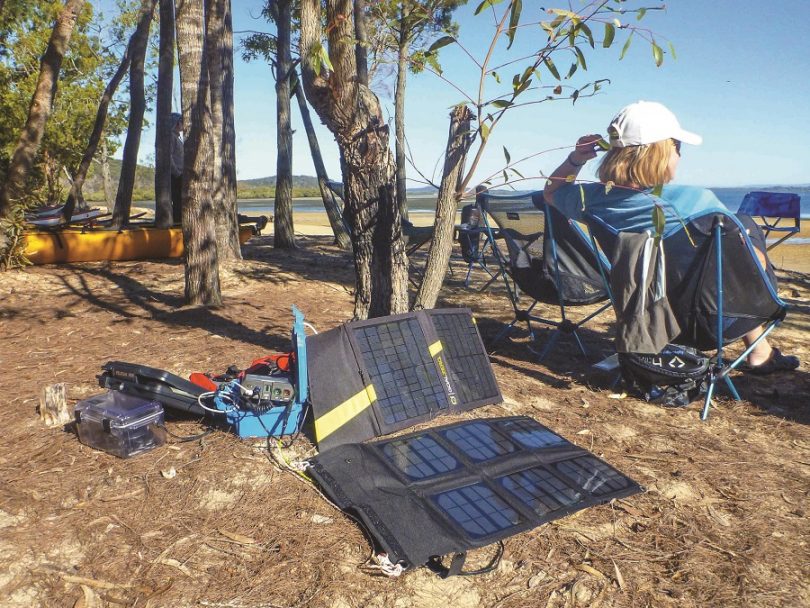 Thus, here are the main sizes available on the market:
Compact panels – best for small digital devices like small cellphones, PDAs, mobile devices. This item may not offer sufficient power to power up large devices.
Mid-Size panels, which are still portable, are those that can power larger cameras, bigger equipment, and a laptop. If you are well informed in using the laptop, you can definitely get what you need to do complete without being bothered about a connection at all if you have an Internet connection.
Much larger panels have to be chosen if you plan on getting everything in a house, RV, or camper to work. A heavy-duty panel is needed for things like a CPAP machine, a small or mini fridge, televisions, and video games.
No matter what size portable solar panel you buy, it is important to realize that these panels will collect more sunlight when the days are not cloudy. While initially it may take some time learning how to work around the portable sun panel and its natural energy production, eventually you can develop a smooth routine in accessing energy as it is created.
The top 10 products available on the market
#:. 20W Solar Portable Panel with iSolar Technologies
The 20Watt Solar Portable Panel is an impressive option when it comes to portable solar panels. Its low price, compact design, durability, and flexible use are what make it a fantastic investment. Priced between $44.00 and $99.00, the Solar Panel is a unit offering 21.5 to 23.5 percent efficiency in terms of transmission and the unit is made with highly durable materials.
Additional features include:
Measurements of 26.4 x 11.1 by 0.2 inches when unfolded
1 inches by 6.3 inches by 1.1 inches when the wallet is folded up
The unit weighs 14.7 ounces
Certified CE, RoHS, and FCC
PowerIQ will discover and then mimic a gadget's initial charging protocol and this allows for some serious speed when it comes to delivering green power for use.
Compact style, light, highly portable
The unit comes with a 3 foot micro USB cable, a guide welcoming you to the product and its technology, and solar unit and an 18 month warranty of the charging device
Eyeholes make the device easy to attach to other personal items
Surge and short circuit protections in place
Water resistant
You should also know that it will not charge products like Asus tablets, HP Touchpad, iPod Shuffle, iPod Classic, or iPod Nano due to incompatibility issues.
Like this amazing product? Then you can purchase it on Amazon.
#2: 20W Solar Portable Panel with iSolar Technologies
X-Dragon makes the 20W Solar Portable Panel with iSolar Technologies. The unit is decently priced between $54.99 and $169.99, depending on where you buy it.  You can use the unit to charge smartphones, Android devices, Samsung phones, iPods, iPads, and iPhones.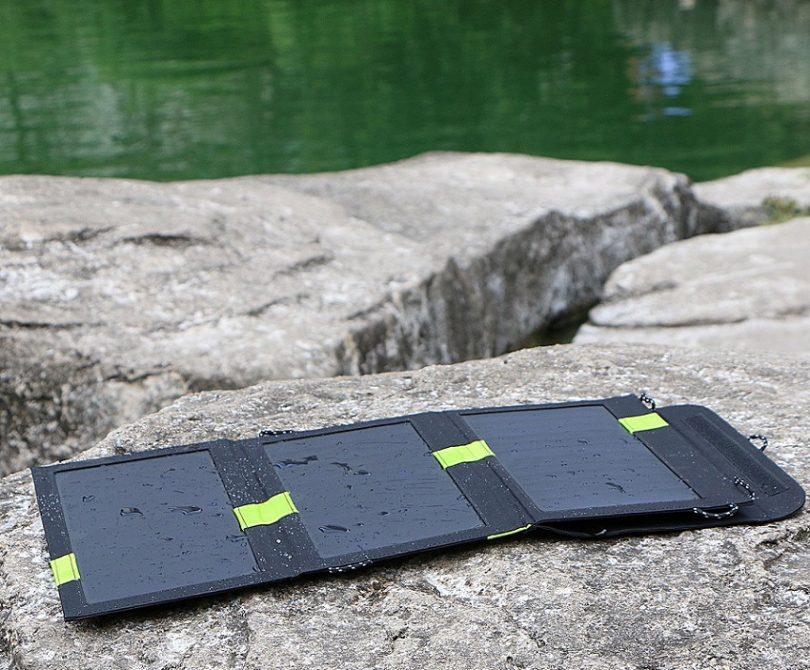 Additional features include:
A 20W carbiner/solar charger that is foldable
An instruction guide
Micro USB cable included
Eyeholes for easy attachment
20 Watts of sun power
Can charge your iPad and cell phone simultaneously
22 to 25 percent solar to energy conversion efficiency
Delivers up to 2.4A when in direct sunlight in terms of a current
iSolar Technologies regulates the voltage and current for the speediest current output possible
In terms of physical dimensions, the product features:
Measurements when closed are 12.1 inches by 7.2 inches by 0.51 inches
Measurements when open are 23.3 inches by 12.1 inches by 0.12 inches
Weighs all of 21.9 ounces
Product features a worry free warranty
If you interested you can check its price here.
#3: 14 Watt 5 Volt Foldable Portable Solar Panel
The 14 Watt 5 Volt Foldable Portable Solar Panel is a unit created by KingSolar. The unit is black, lightweight, and priced between $38.99 and $189.99 respectively. The entire portable package comes complete with a 12-month product guarantee. The package has a 14-Watt solar panel charger and a user's guide as well. The circuitry of the unit and materials used to make the solar panel are of the highest quality.
Additional features include:
Weighs 1.06 pounds only
Voltage regulator included to stabilize the current the unit produces
Two panels easy to fold, easy to tote design and framework
Scratch resistant materials
Rain/water resistance
Produces a USB 5-2SA output
Produces 5V for USB connected devices
PET Plastic surface
Nylon loops make for ease of hanging the panel if desired
No radiating issues
No pollution creation
A 23.5% solar to energy conversion rate
In terms of physical dimensions, the product features:
Measurements include 11.73 inches by 6.38 inches by 0.59 inches when folded
Measurements include 18.50 inches by 11.73 inches by 0.39 inches when open
Energy conservation solution
The product is compatible with Bluetooth devices, digit cameras, GPS devices, smartphones, Blackberry devices, Nexus phones, HTC models, and the Samsung Galaxy phones including 3, 4, Note, S3, S4, and S5. The device will also charge the iPod, iPad, tablets, and the iPhone 5, 5s, and 6.
If you interested you can check the current deal for it on Amazon.
#4: 22 Watt Foldable and Portable Solar Panel
The 22-Watt Foldable and Portable Solar Panel made available by Vinsic offers you much in the way of features. The price falls between $40.00 and $99.90 depending upon where you buy the unit. The solar panel offers the convenience of portability and it can provide up to 23.5% or 25% in terms of conversion efficiency between sunlight and energy.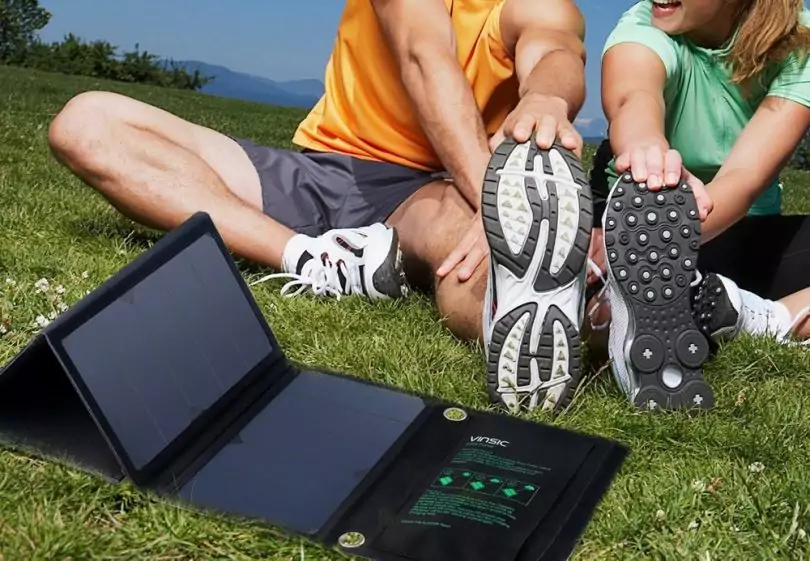 The moncyrstalline panel hosts a 15% conversion efficiency rating. If you invest in the industrial strength PET solution, you get a unit with panels that are made with plastic faced panels, each of which is sewn together and placed inside a canvas.
Additional features include the following:
Weather resistant product
Simultaneous charging allowed
PET plastic faced panels put into a canvas made out of high wear polyester canvas
No extra batteries required
No carbon footprint
No carbon emissions
Light design, durable framework
Dual USB port plug in solutions
22W solar panels with highly efficient features
18 month product warranty
The product is made with intelligently identify features. This means it can identify when two USB ports are in use, so it can improve how efficiently the unit charges the items you are charging.
[the_ad_placement id="in-text-2-type-a"]
It is compatible with: outdoor activities, backpacking, hiking, camping, emergency readiness, MP3 Players, Smartphones
If you interested you can buy it on Amazon.
#5. 100 Watts 12V Monocrystalline Solar Suitcase
Now you can tote your clothing in a unit that will provide you with portable solar power as well. The Solar Suitcase is a product made by Renogy.  The unit is foldable, attractive, light, and highly functional.
The unit costs between $264.00 and $279.00, depending upon the model you buy and the wattage you demand. The suitcase also comes in a 60-Watt solution and all units are equipped with a controller.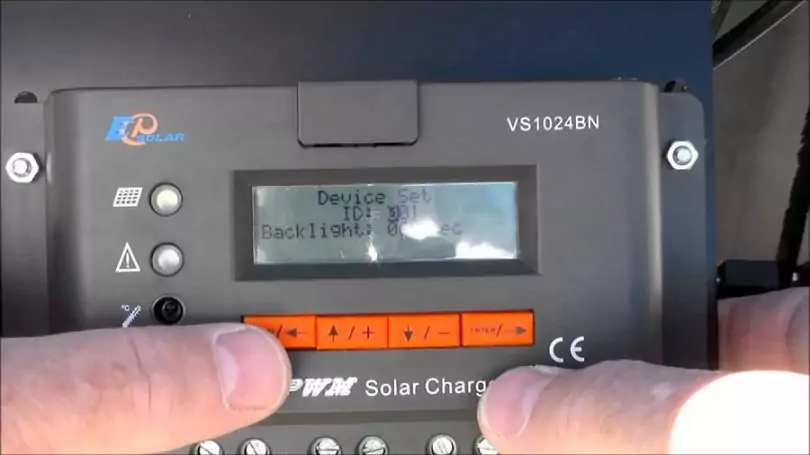 This off-the grid portable solar product is fitted with 50 Watt monocrystalline panels, a power regulation screen that is a liquid crystal display, and it is coupled with a 10 Amp ViewStar Series Charge Controller. The unit comes with alligator clips so you can connect your battery with ease.
Additional features of this portable unit include:
Heavy duty construction
Two solar panels
10 Foot Cable Tray
Charge Controller
Aluminum stand with adjustable features
Heavy duty handle and latches
Like this great product? Then you can buy it on Amazon.
#6: 50W Sun power Solar Panel
The 50 Watt Sun power Solar Panel is a device made by ALLPOWERS.  The panel is dust, shock, and water resistant and can be used to power items in your tent, cabin, boat, or RV.  The cost of the unit is between $191.00 and $299.99.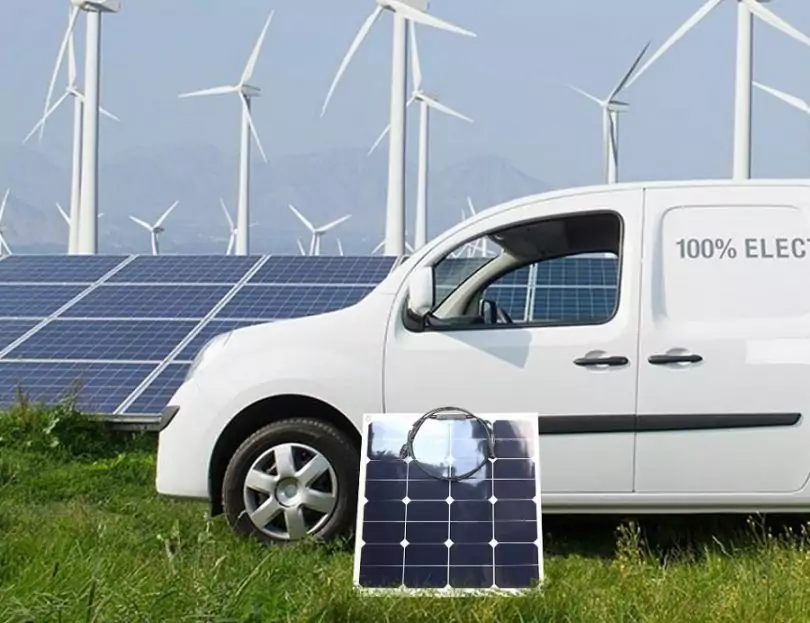 The unit supplies you with between 22 and 25% efficiency and it is made of flexible materials so you can use it easily in a crowded space while it stores just as easily.  The back sheet curves at a 10 degree arc and you can mount it.
Additional features include:
Weighs 2.5 pounds
Super portable and easy to transport
Easy to remove and hang
Frameless structure
Bendable solar panel
7A working current
18 Volt Working Voltage
50W Optimal Power
25mm hail impact
Snow resistant
Like this product? Then you can check its price on Amazon.
#7: The 12 Volt 5 Watt Solar Panel
The 12 Volts, 5 Watts, Power Solar Panel by ECO-WORTHY is an affordable portable option priced between $17.45 and $39.00.  The unit is easily portable and it is perfect for charging batteries belonging to tractors, snowmobiles, automobiles, and motorcycles.  The unit is an energy saving product and safe for the environment.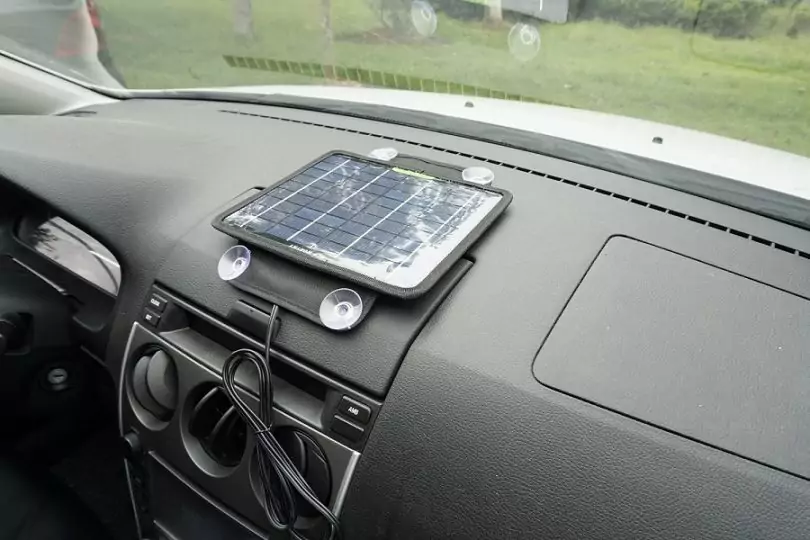 Additional features include:
12V battery that is rechargeable in emergency situations
Good for use when doing outdoor work
A good portable solar panel for using when camping or traveling
Easy to install and remove
Lightweight product
Dustproof
Rust proof
Shockproof
Trickle Charger capacity
5W power, 22.41 V, 17.9 Vop
12 Volt SLA Battery Voltage
Measurements are 8.7 inches by 7.5 inches or 220 millimeters by 190 millimeters
Four pieces of PVC suckers
One alligator clip adapter
One 0.5 m cord
Weight: 14.4 ounces
Can work in temperatures ranging from -40 to 80 degrees Celsius
Like this product? Then you can check its price here.
#8: 7 Watt Solar Charging Panel
The 7 Watt Solar Charging Panel by Ivation is priced between $70.00 and $159.99; the panel is fitted to a backpack with a hydration unit and bladder bag.  A great survivalist tool, this backpack has a flexible drinking pipe, and a 10,000 mAh power bank that has waterproof features.
The solar panel is removable and it is a 7 watt, 6 volt recharging panel great for acting as a backup battery for charging items during outdoor sports events, camping, hiking, or biking.  There are tablet and smartphone charging parts as well as special pockets in the bag for toting one's equipment.
Additional features include:
The option of buying the bag in one of four colors including: green, black, blue, or red
Big pockets with strong zippers for closures
Enough room to store a tablet and two cell phone devices
Dual USBs for simultaneous charging of two mobile phones
One USB cable
Juice your devices, and hydrate yourself solutions
The solar panel is seven watts and produces six volts
The cells of the panel are high efficiency cells
Antiscratch coating on the panel
Panel is removable so you can change up the direction the panel is facing
You can charge Bluetooth speakers, mp3 players, GPS devices, external battery packs, tablets, and smartphone devices.
Like this product? Then you can check the current deal for it on Amazon.
#9: 40 Watt Solar Charger
The 40 Watt Solar Charger is a product by Poweradd.  The price tag of the unit is on the higher end of the scale and falls between $340.00 and $499.99 respectively.  The portable, high quality solar panel is a five volt USB + 18 Volt DC unit.  Easy to use, light, portable, and made with durable parts and materials in order to ensure the longevity of the product.  It comes with the unit, connectors for laptops, a user's guide, and a DC cable.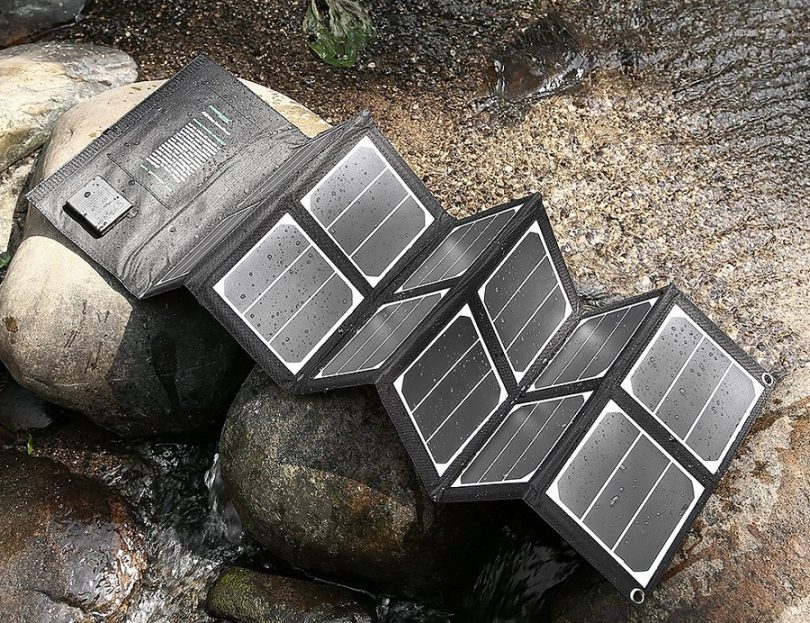 Additional features include:
Made with solar arrays by SUNPOWER®
Has conversion efficiency equal to 23.5%
5V/2A for charging any gadgets requiring 5 volts of power
18V/2.2A DC output for charging devices requiring 18 Volts
Fitted with a voltage regulator for current stability during charge
The solar panels that are PET laminated featuring fabric made of PVC for weather resistance and waterproofing. Also, the unit comes with up to ten notebook connectors including connectors that are compatible with the following notebook models:
Toshiba T1950, T4700 / Acer Aspire 1200
Toshiba Satellite A105, M35
Thinkpad R60, X60, and T60
Sony VAIO
Samsung N130, N310
Lenovo Ultrabook
HP Mini 1000/ 1100 Series
Dell Inspiron Compaq CQ 60, g60, 550, DV6, HP Pavilion, E1505, 1525
ASUS Eee 900, 1000
If you think that this product could be useful for you, then you can check its price on Amazon.
#10: 20 Watt Portable Solar Panel by SunKingdom
The portable 20 watt solar panel manufactured by SunKingdom is foldable and serves as a charger with dual USB ports. The highly efficient unit features PowermaxIQ technologies, which make the charger up to 23.5% faster when charging.
The panel has automatic recognition of what is being charged as well.  The unit is priced between $175.00 and $225.00, depending on where you buy.  To use the portable solar panel, all you have to do is unfold the unit and put it in a place where it can soak up direct sunlight. You can place it on a car windshield, windows, knapsacks, and more. You can connect the panel to your device using the power cord.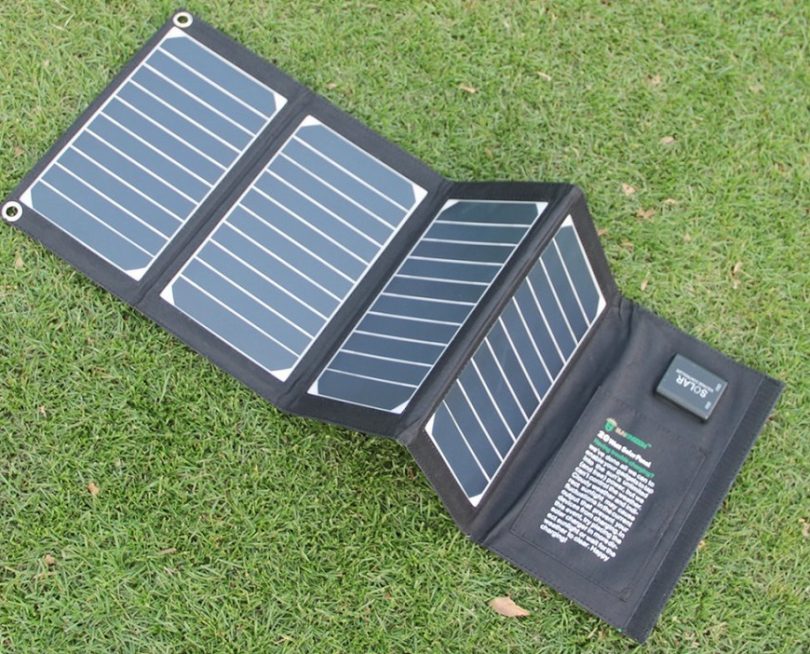 However, keep in mind that you cannot place mobile devices under the sunlight for a long time, even though we have the pocket design. Direct sunlight and overheat may damage your devices.
You also have to take care not to over expose the product to too much sunlight – doing so can actually damage the portable solar panel. With the panel, you get access to non-radiating, non-pollution causing, sun power.
Additional features include:
Scratch resistant surface with dull polish
Waterproof features
Compatible with any 5V USB device including Bluetooth headsets, GPS units, digital cameras, MP4, Personal Digital Assistants, Samsung Galaxy, and the iPhone 4, 4S, 5, 5S, and 6.
The panel is ultra thin for ease of portability.
It comes with a full user manual for ease of use and a 12-month product warranty.
Physical characteristics include:
Measurements of 10.35 inches by 6.10 inches x 0.59 inches when folded
Measurements of 30.87 inches by 10.35 inches by 0.59 inches when unfolded
Weight is 1.29 pounds in all so portability rating is high
The product features a voltage regulator so the stability of the current remains within norms and improves the longevity of the unit.
Like this amazing product? Then you can check its price on Amazon.
Things to consider
Cost: At one time the cost of solar panels was beyond ridiculous – so much so that it was next to impossible to get one in order to use for charging simple, small items on the go.  The solar panels of yesteryear were also large, bulky, and meant for heating buildings, not for smaller gadgets while you were camping, fishing, hiking, cycling, or looking to power items while you were sitting comfortably in her RV.
While cost is certainly a consideration for you, it is definitely not something of a huge concern, as it might have been when solar panels were just introduced as a form of green, environmentally friendly technology.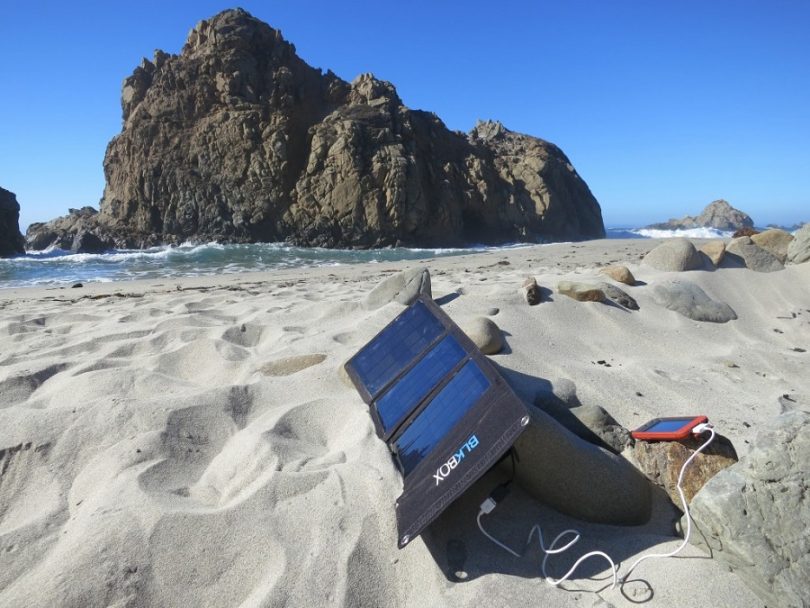 The cost of solar panels today is governed by the number of watts the panels produce, the actual size of the panels physically, material used to make the panels, the warranty that accompanies the panels, and the name brand you choose.  If the panels are certified, they might cost a bit more.  The quantity of panels you are getting in a portable unit will also influence the price you are facing when you are ready to buy.
Efficiency:  The portable solar panels on the market today offer a transmission efficiency between 21 and 25 percent.  This seems to be the average efficiency rating, but there are panels that only give 15 to 19 percent efficiency.  The panels that have the highest efficiency percentages will cost a bit more.
[the_ad_placement id="in-text-3-type-a"]
Warranty length: The more time the warranty covers, the greater the confidence of the product manufacturer in the durability, quality, and potential longevity of a product.   Keep this in mind as you search for the best portable panels.
To give you an idea on how to install solar panels that can help you, see our article on this.
Conclusion
The best portable solar panels are those that are cost efficient, powerful, and compatible with a number of devices.  The greater the compatibility, the better the unit will work for you.  A portable solar panel must be light weight, and its ease of use is yet another consideration you should think about before you buy it. Check out our article review of the best solar panels to give you more useful options.
The solar panels on the market today promise considerable diversity, compatibility options, and the units are decently priced.  They also make for a survivalists tool that can prove beneficial whenever you are in need of a green power source.
To find out how solar energy works, see our article on this topic.
Some of the links in this post are affiliate links. This means that if you click on one of these links and make a purchase, I earn a small commission at no extra cost to you. Also, as an Amazon Affiliate, I earn from qualifying purchases. If the information in this post has been helpful, please consider purchasing through one of the links in this article. Thank you.