Nutrient Survival Food offers the convenience of freeze-dried meals and beverages in small, easy-to-carry packs or large bulk survival kits.
I tried five "On-the-Go" meals, and there were some winners and some meals with "opportunities."
Freeze Dried and Dehydrated foods are expensive!
Take a look at my future review series before you make a purchase.
---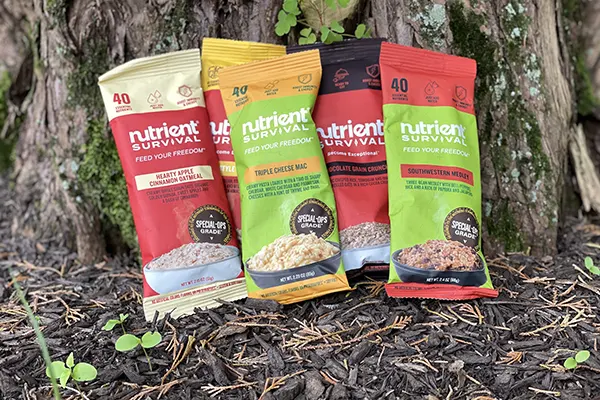 Nutrient Survival focuses on natural ingredients and the nutrition you need in any situation—good flavors in On-the-Go and long-term meals.
---
Pros
Good flavors
Nutritional Value
Natural Ingredients
Cons
Consistency (Instructions)
Lack of spice
Portion Size
Review Criteria
About the Company
Nutrient Survival (NS) is based out of Reno, Nevada, and manufacturers its products here in the United States.
The NS nutritional claims are not always something we find in today's survival or backpacking foods – 2.5x nutritional requirements, natural ingredients.
Nutrient Survival sets a high nutrition bar that most others don't match.
A good example is the Chocolate Chip Cookies they sell. Not only do they provide all the nutrients you need, but the ingredients are all-natural.
These are definitely on my list to order.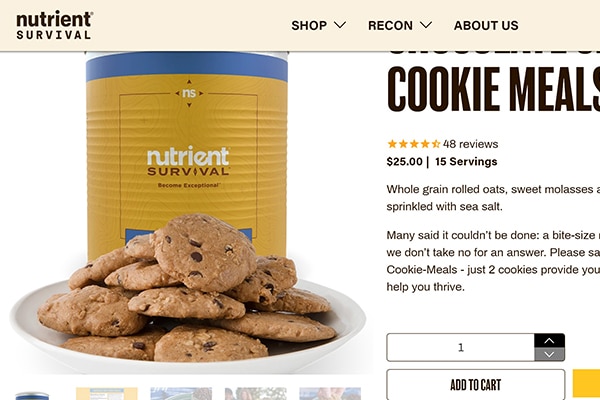 Company Products
Nutrient Survival offers several survival food categories.
Stock Up – Bulk Cans
On-the-Go – Individual servings
Immunity – Immune Boost and Revive Therapy
Hydrate – Nutrient shakes, powdered milk, liquid nutrient, vitamin coffee
Kit – One, 72-hour kit (dry bag)
Backpacker Magazine voted their Vitamin Coffee the "Best Camp Drink of 2021."
Interesting if you don't want to sacrifice your morning coffee.
Company Investment
This company has clearly invested in its products.
Packaging is high quality and it has good simple designs that are informative.
The website is also one of the better ones I've seen amongst the survival food group. It is clear, well-developed, and easy to use.
Finally, they don't throw hundreds of products at you. Instead, they focus on a few categories with a handful of products in each one.
Nutrient Survival Food – Competitors
Survival Nutrients competitors all make quality food with good reviews. I have not tried all of them YET, but they all have good reputations.
My goal is to review many brands over the next two months.
Dehydrated and Freeze-Dried food is expensive, and I will provide detailed reviews you can trust before you place an order.
Why I Qualify to Write a Review
I have backpacked, hiked, and camped all over this country for the past 35 years, backpacking almost 15,000 miles.
Over the years, I have tried just about every dehydrated and freeze-dried brand of backpacking food on the market – and there are a lot!
This food is expensive, so in this series of survival food reviews, I'll provide you with the details and perspective you need to help you make a decision.
Meal Ranking Summary
Hearty Apple Cinnamon Oatmeal
---
Ingredients
I mentioned the NS focus on nutrition earlier. NS focuses on nutrition, claiming "Special Ops Grade Nutrition" that meets military standards.
The ingredients are in their food are natural, but they don't use many spices, leaving some of the food a little bland. You will need to carry your own spices.
Although lacking in spice, the flavor of these meals is good.
I always carry salt, pepper, and hot sauce (Siracha) no matter what meals I carry, so I might like a little more spice than others.
Packaging
NS has sharp, quality packaging. The cans are, well, cans, and the "On-the-Go" servings are delivered in foil packages.
The foil packaging is not easy to open, even though the top is serrated. Make sure you bring something to cut open the packs.
Meals I Tried
NS sent me a sample pack I requested. I wanted a variety, and the sample pack contained the On-the-Go meals below. I've listed them from best to not the best.
Overall I found the flavors good, and these meals definitely rehydrated much faster than other meals I've eaten. I also appreciated the natural ingredients, and they were well-balanced as far as nutritional value.
The downside to the "On-the-Go" meals was the size. Other than the Chocolate Crunch, these were small quantities.
I don't know too many people that eat dehydrated sides. Most people rehydrate one main entree, and "On-the-Go" packs are not entree size.
Water requirements for rehydration were inconsistent. There were some meals like the Scramble that rehydrated perfectly, and others like the Southwest Medley and Mac and Cheese that were soupy with the directed amounts of water.
Homestyle Scramble
I tried this one last because I HATE hot breakfast backpacking foods. I already struggle with eggs, but eggs freeze-dried or dehydrated – YUCK!
Shockingly, this one was my favorite. I enjoyed the flavors, and the potatoes and peppers were mild. The eggs were not overpowering at all. In fact, I almost questioned if there were eggs in the meal. Everything blended nicely.
Hearty Apple Cinnamon Oatmeal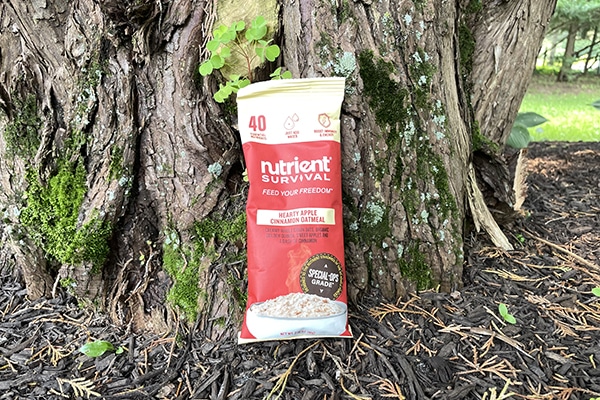 This was also a winner for me. It was not quite as good as the scramble because it was a little thick, but that could have been because it needed more water.
This was the most flavor-packed meal in the group. The apple and cinnamon really popped, and this oatmeal was almost like having dessert. As a matter of fact, it reminded me a lot of Apple Crumble.
Chocolate Grain Crunch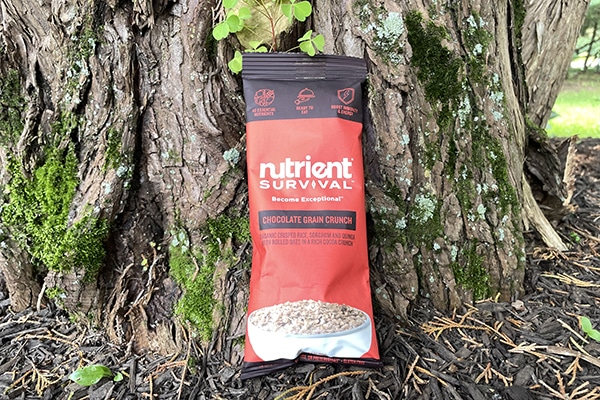 The two positive things about this breakfast cereal were the grains used and the fact that it was not too sweet.
I had this right before exercise and was surprised at how long I stayed full after eating the chocolatey grains. This cereal has a really nice crunch that stayed crunchy even after sitting in milk for a while. They might be on to something!
Unfortunately, mine was a bit powdery, almost like it had been beaten up in transit. There was also a slightly bitter taste, but I like milk chocolate, and this meal did not use refined sugar.
Like all of the other meals focused on nutrition, this cereal used sorghum instead of refined sugar, making it not too sweet.
Southwestern Medley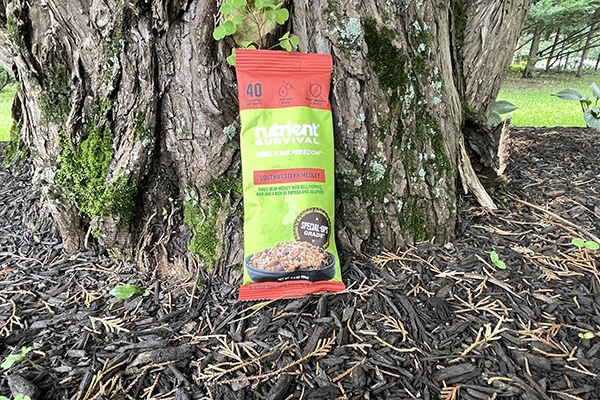 The Southwestern Medley by NS was one of the meals I found rather bland. It actually had good flavors, but they were muted, and there was definitely no spice in the meal.
The rice in my meal was a little mushy, but the water on the directions was more than this meal needed, so I probably oversaturated the food.
With just a little more spice and some of my Siracha, this would probably be a pretty good meal. The southwestern flavor was good.
Triple Cheese Mac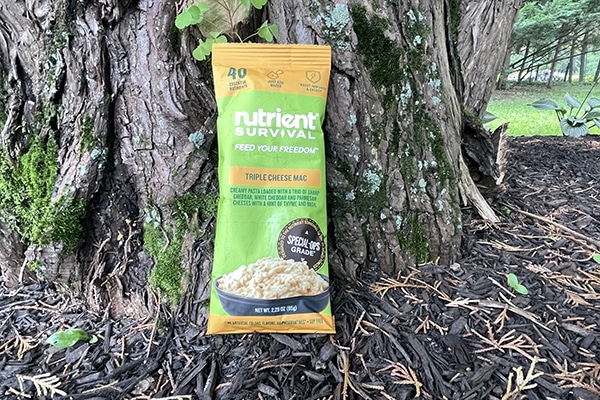 This was my least favorite meal. The portion was very small, about 5 spoonfuls of pasta, and I find it hard to believe this meal is 380 calories. The cheese was bland, and I had very little cheese in my meal.
This was definitely a Mac and Cheese meal that needs some work.
Mac and Cheese is one of my favorite entrees. I always carry bacon bits with me and add them to my Mac and Cheese, but I don't think bacon bits would have helped this meal.
My favorite Mac and Cheese is Velveeta Cheese and Shells, but it is a little heavy, so if I carry it, I rebag it in a freezer bag and eat it the first night out – with bacon bits.
Nutrient Survival Food – Final Thoughts
Overall, I like the nutritional focus of these meals and enjoyed most of the flavors. Even those meals that were a little bland can be "doctored."
Finding freeze-dried meals with this amount of nutritional focus is unusual, so I'm willing to create a little of my own taste. It's easier to add flavor than nutrition.
The packaging and website were high quality, and clearly, Nutrient Survival has made a solid investment in this business.
There were some inconsistencies in the instructions, i.e., water added and portion size, but these should be easy to correct with more quality control.
I'm looking forward to trying some other meals and will update this review when I try them – especially the chocolate chip cookies!
Related Articles
Some of the links in this post are affiliate links. This means that if you click on one of these links and make a purchase, I earn a small commission at no extra cost to you. Also, as an Amazon Affiliate, I earn from qualifying purchases. If the information in this post has been helpful, please consider purchasing through one of the links in this article. Thank you.