Are you planning to upgrade your AR-15 rifle with a new scope? You want to buy the best AR-15 scope, but have too many doubts about which one to choose? We completely understand your concern, but there's no doubt that the AR-15 is the best rifle gun on the planet. At least among hunters.
So if you're owner of a rifle that is one of the most popular ones, we understand the worry and need to have the best scope. They make your, already great, rifle accurate, precise and easy to take long range distance shot. Every hunter's dream. But, if you heard that the best rifle scope for AR-15 is pricey, let us prove that statement wrong.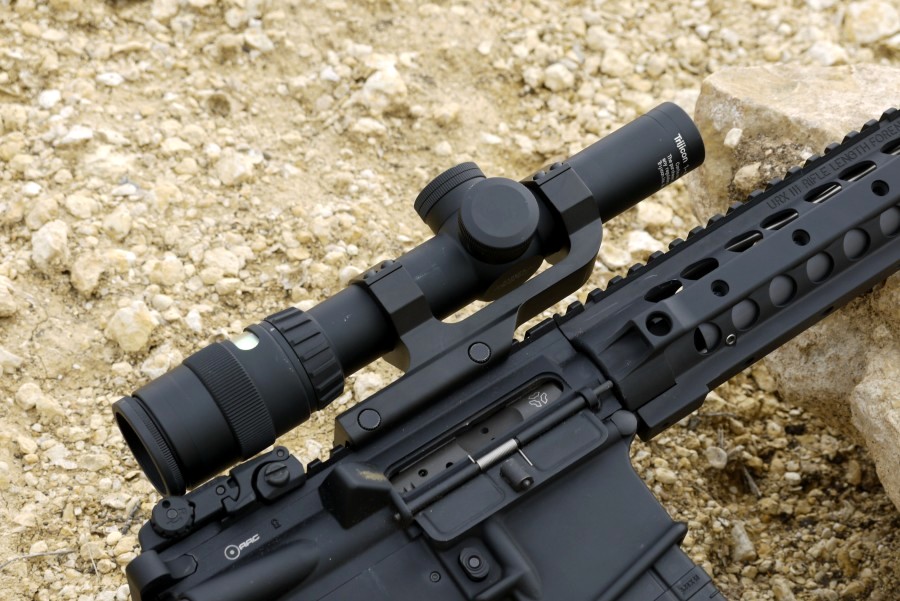 Below, you'll be able to check some of the most important features you should take into account before buying one and a list of best AR-15 scopes on the market under $500. As we mentioned in some of our previous articles, there's no perfect scope, but each scope is fantastic, and has some incredible features that will make you a hunting expert.
Our Top Picks
Features To Consider Before Buying
Before buying a new AR-15 scope, there are a couple of features you need to consider before choosing the one that will fit perfectly on your rifle and your shooting style and need, especially when it comes to those that are less than $500.
Keep in mind that not every brand is the same, but they all have their weaknesses and strength, so first, keep in mind when you will use it, conditions, weather, close distance, long range distance, etc. Features below will give you a better idea on what you should have in mind before sealing the deal.
Magnification
There is no doubt that magnification is one of the biggest factors you need to focus on. It's not only necessary for keeping a scope that is high magnifying working but to have a scope on which you'll be able to rely to focus on long distance objects, especially if you're a professional hunter. This becomes essential to choose a good magnification carefully and wisely.
Most AR-15 scopes come with variable and fixed magnification. If you're a newbie to this, we advise you opt for fixed magnification as it doesn't need any additional "moving" part and they are far less heavy than the variable magnification. You'll be more accurate and rugged with the fixed one. You can opt for a variable version only if you have a proper gear for it, otherwise, we don't advise spending money on something you won't be able to use.
Eye Relief
The recoiling of guns (AR-15 is no excuse) is a pretty usual and common phenomenon that you'll feel and experience while aiming and shooting and, over some time, it can be exhausting and stressful for your eyes. We don't have to stress the importance of having your eyes protected to the maximum and this is where eye relief comes in.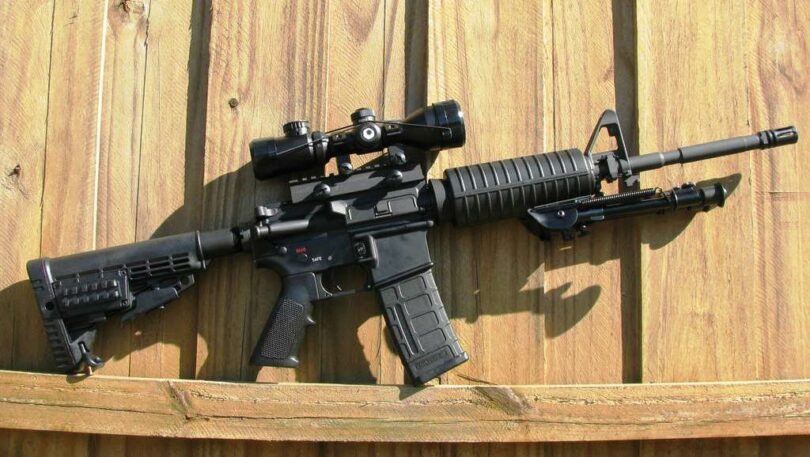 It keeps the distance between the scope and your eye. Most AR-15 scopes have approximately 4 inches eye relief which means that you should keep your minimum distance between your eye and the scope rear to keep your eyes safe at all times. Another thing to keep in mind is what plays a major factor in absorbing shocks is how you mount your rifle.
It's crucial to properly mount it, especially if you're beginner with this as your eyes might end up absorbing the shocks and this is something you don't want to deal with.
Reticles
Mostly dotted or cross type, reticles are the patterns that you see through scope's lens. Their main purpose is to focus targets accurately. A few years ago, there were only a simple plus (+) sign reticles that were used, but today, with so many new amazing designs we have more options for better aiming.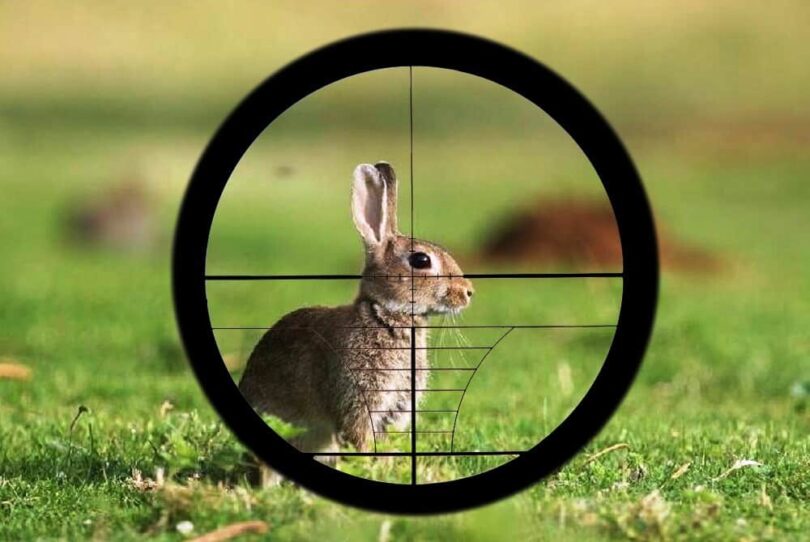 There are 4 popular reticles' types:
Mil Dot – this type has a cross line inside with a little dot, but are a bit more complex than other types as it requires a bit of gravity calculation.
Duplex – this type has a cross line that is a bit thinner towards the intersection which means you'll be able to see your target more clearly.
Illuminated – This type is perfect for low light conditions, especially during the night or evening, even in the dense forest.
BDC – This type is often used for long range shooting.
MOA (Minute of Angle)
Not advised for beginners as this is a technical term you need to become expert of in order to be a professional shooter. Think of it as a mathematics behind the shooting and can be related to the distance where your target stands. 1 minute of angle is 1/60 th and 1 MOA is 0.5 inch at 50 yard, 1 inch at 100 yards, etc.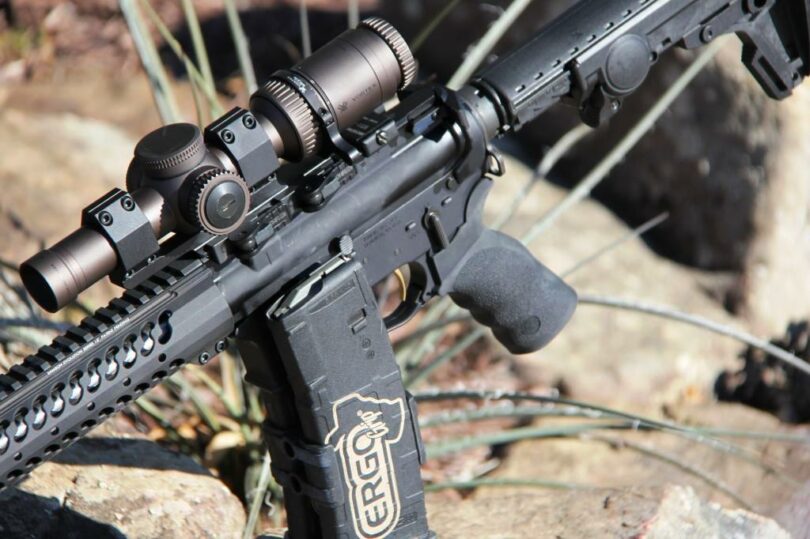 If you want to aim for long distance targets you need to set for MOA and each scope has a different minute of angle adjustment per click. For example, ½ per click, ¼ per click or 1 MOA per click.
Price
In this article we're talking about AR-15 rifle scopes under 500, so even if you don't find something on our list, make sure you search for the best scope that is tough, dependable and affordable.
Top AR-15 Rifle Scopes Under 500 Reviews
Now that we have established what features to keep in mind, let's have a look at some of the best AR-15 rifle scopes under $500. Check out their pros and cons, best features, price, etc. What we wanted is to give a well-researched and detailed information and comparison of the best scopes in this category and make your decision easier to make.
Leupold Mark AR MOD Rifle Scope
Price: Approx. $250
Weight: 9.6 ounces
Objective lens diameter: 40 mm
Reticle: Duplex reticle
Specific features: Tactile power selector, multicoat 4, 1 inch main tube, 2nd generation Krypton/Argon waterproofing
Best use: Shooting, hunting
Leupold is a brand that offers a vast variety of scopes, from tactical high end scopes to lower hunting scopes. Leupold Mark AR MOD Rifle Scope will provide you a precision and accuracy in millimeter. When it comes to this particular rifle, this brand built it to satisfy the most demanding wishes of all shooters and hunters.
From objective to eyepiece, this scope features a tactical power selector and a 2nd Generation Krypton/Argon waterproofing system so there's no weather that can stop you from hunting or shooting. It uses the quantum optical system and has a 1 inch main tube.
The eyepiece uses a not really fast focus eyepiece which has been basically used on most of this brand's scopes and comes with a lock ring. When it comes to fine adjustment and focus it's a bit slower comparing to the other scopes, but once you adjust it and set a lock ring you're good to go.
PROS:
Durable
Good quality for the price
Optics are clear bright and sharp
Waterproof
CONS
:
A bit slower when it comes to focus and adjustment
Related: Most buyers also opted for this Burris AR-P.E.P.R. Quick Detach Mount which will make your gear a bit updated for different shooting disciplines. It's easy to switch to iron sights and change optics and still keep the zero.
UTG AO Rifle Scope
Price: Approx. $130
Weight: 15.2 ounces
Objective lens diameter: 24 mm
Reticle: Mil dot range reticle
Specific features: 33 mm tube with emerald lens coating, power selector ring, EZ-TAP IE system, all weather conditions, all light conditions, zero resettable, premium zero lockable, adjustable turret, Mil dot range reticle
Best use: Shooting, short or long range
UTG AO Rifle Scope comes with emerald lens coatings that will make your scope achieve its maximum transition of the light and get the best clarity possible. It also comes with the fact that the scope is built on a strong platform, it's shockproof, fog proof and waterproof (sealed and nitrogen filled).
This scope has a side wheel for adjusting a turret for all Parallax adjustments (it's possible to adjust it from 10 yards to infinity), from 4x to 16x quick power selector ring which is perfect for zooming in and target acquisition.
Its innovative EZ-TAP IE (Illumination Enhancing) system comes in usual green or red dual color and multi color mode (30 colors) for all light and weather conditions. With a zero resettable and premium lockable target turrets you'll be more precise and consistent (¼ MOA per "click" adjustment, means you'll never lose your zero caused by some bumps).
With the help of "1 Click QUick Access" technology, you'll be able to switch colors easily and adjust reticle brightness. It comes with a top notch "flip open" lens cap and a UTG Max Strength Weaver/Picatinny rings.
PROS:
Well built
Adjustable
Accurate
Good quality for the price
Durable
CONS
:
Focus might move up
Low quality cover cap
Aimpoint PRO Patrol Rifle Scope
Price: Approx. $450
Weight: 11.6 ounces
Objective lens diameters: 38 mm
Reticle: Red Mil Dot
Specific features: Hard anodized aluminum alloy housing, waterproof, rear and front flip covers, modular mount set up for use on M16 rifles, flat top AR-15 and M4 Carbine, resistant to scratches, individual retainers, removable spacer
Best use: Patrol, shooting
This amazing Aimpoint PRO Patrol Rifle Scope offers an enhanced speed on target and the best first shot that will make you impressed every time you use it. It uses a 30 mm hard anodized tube that is highly efficient when it comes to the allowing your sight to be left running while the battery life will make all things easier for up to three years.
It's easy to mount it and comes with QRP2 rail grabber mount. It's recommended for using with M4 Carbine, flat-top AR-15 and M16 rifles.
When it comes to protection of valuable optics, this rifle scope comes with a flip open rear lens cover for fast, emergency use and front lens cover for anti reflection aiming.
It's a bit pricier than the rest of the scopes on our list but is still under $500, so if you're looking for a precise red dot scope, then we advise this one as it will meet your needs and serve you well in any conditions.
PROS:
Lightweight
Adjustable
Accurate
Eye safe
Waterproof
Resistant to scratches
Durable
CONS
:
Batteries might last less than advertised
Related: Although the battery will last up to 3 years, we advise you have Duracell Aimpoint Battery package always in your backpack, just in case.
Burris Fullfield II Rifle Scope
Price: Approx. $250
Weight: 15 ounces
Objective lens diameter: 56 mm
Reticle: Ballistic Plex reticle
Specific features: Long eye relief, ultra clear and bright, ballistic plex long range confidence
Best use: Shooting long range
Burris Fullfield II Rifle Scope has an outstanding optical performance and, what is important, is lightweight. It's perfectly suited for mounting on most rifles and keeps the feel of balance. With up to 5 inches eye relief, this brand keeps their rifle scopes at a safe distance from your eye no matter what rifle you use, position or conditions you're shooting.
With this rifle scope, you'll be able to take all the critical shots you want. The Burris brand made no compromise when designing and manufacturing this scope when it comes to quality and durability.
It features an index matched Hi Lume lens multi coatings which will provide magnificent resolution and brightness in low light conditions, not to mention that its lens system will deliver a true clarity. It's Ballistic Plex reticle is calibrated for long range aiming and shooting so you'll be able to take shots with confidence.
PROS:
Limited lifetime warranty
Lightweight
Price
Waterproof
Durable
CONS
:
Finger/coin turn turrets are tight
Related: Considering the fact that this rifle scope doesn't come with a cover, we advise you opt for this Burris Waterproof Scope Cover for waterproof protection and to prevent external fogging of the scope.
Leupold VX-3 Rifle Scope
Price: Approx. $415
Weight: 16 unces
Objective lens diameter: 40 mm
Reticle: Duplex reticle
Specific features: Blackened lens edges, Twilight Max lens system, Lockable eyepiece (fast focus), DiamondCoat 2 lens coating, twin bias spring erector system, scope cover
Best use: Hunting, target shooting
Although a bit pricey, Leupold VX-3 Rifle Scope will deliver a clear image absolutely every time. Whether you hunt whitetail from a stalk sheep or treestand, you'll have bright, clear sighting thanks to the updated Twilight Maxlight management system even during low light conditions and deep shadows.
This scope is designed for professional and serious hunters and shooters and is precise and extremely durable targeting gear that will serve you perfectly over a lifetime. In order to reduce backlash on components, this scope has a twin bias erector spring.
This scope will exceed all expectations and not only the adjustments were accurate, but the glass is magnificently clear. It can be mounted on various brands' rings and we can for certain say that Leupold hit a "home run" with this scope. Its clarity is simply amazing and the Duplex feature is great too. This scope is basically an attractive and functional piece of rifle equipment.
PROS:
Limited lifetime warranty
Accurate
Clear glass
Possible to aim under low light conditions
Durable
Mounting flexibility
CONS
:
First focal plane
1 inch tube
Related: This scope is frequently bought with Leupold Alumina Flip Back Lens Cover Kit for maximum protection.
Bushnell Optics BTR-1 Rifle Scope
Price: Approx. $200
Weight: 17.3 ounces
Objective lens diameter: 24 mm
Reticle: Illuminated BTR
Specific features: 1 mil click adjustment, fully multicoated optics, throw down PCL lever, high durability aluminum, low light performance, anodize finished and sealed, 1 Mil click value target turrets
Best use: Wide range shooting, hunting
The Bushnell Optics BTR-1 Rifle Scope is an amazing scope for max reliability and accuracy, from optical precision to uncompromising performance that makes this rifle scope outstanding. The reticle is illuminated, optimized, and ballistically calibrated for maximum accuracy every time. It provides clear aiming and accurate shooting to 600m.
As for the quick lightening changes, it's pretty easy thanks to the Throw Down PCL lever. It has a fast focus eyepiece and fully multicoated optics for brightness and reliability. It is O-ring sealed and Nitrogen purged which means that is waterproof and resistant to moisture and dust.
Designed and made of anodize-finished and highly durable aluminum alloy you'll be able to use this scope for a lifetime. What is interesting about this scope is that it's also rustproof and resistant to scratches and will complement every AR-15 rifle.
Just keep in mind that erector cap may limit the chance to use a low scope or extra low scope rings, so please check clearance necessary before buying rings.
PROS:
Accurate
Construction
Waterproof
Resistant to scratches
Price
Durable
CONS
:
Erector cap may limit the chance to use low scope or extra low scope rings
Related: This CCOP High Profile Mount Rings is the ideal item to buy for AR-15. It's pretty solid for their price and is well made. If you plan to use your rifle occasionally it will definitely perform great.
Vortex Optics Strike Eagle Rifle Scope
Price: Approx. $320
Weight: 17.6 ounces
Objective lens diameter: 24 mm
Reticle: Dead-Hold BDC
Specific features: Fully multicoated lenses, Fast focus eyepiece, fog proof, shockproof, waterproof, hard anodized finish, fully multicoated, illuminated reticle, unlimited lifetime warranty
Best use: Tactical shooting uses, hunting
By using Vortex Optics Strike Eagle Rifle Scope you'll have a hunting gear that is great, durable and high quality. Designed to achieve a huge range of versatility, it works brilliantly for all tactical shooting uses and hunting. Made by the trusted brand Vortex, you'll have a clear optics that will perform well in a variety of tasks and conditions.
Great for far distance shootings, the scope has fully multicoated lenses that provide a crystal clear image.
Manufactured from a single piece aluminum tube this scope is resistant to moist, water and fog (nitrogen gas will prevent internal fogging), so it's safe to use in all weather conditions. It's also necessary to mention that is shockproof, which means that this AR-15 rifle scope will withstand recoil,
PROS:
Accurate
One piece construction
Waterproof
Fogproof
Shockproof
Durable
Clear
CONS
:
Weight
May happen to fail to hold zero
Related: We advise you check out Vortex Cantilever Ring Mount and Vortex Switchview SV-4 Throw Lever, so if you want to have a full equipment designed and manufactured by the Vortex brand these two products are usually bought with this riflescope.
Redfield Revolution Rifle Scope
Price: Approx. $220
Weight: 12.6 ounces
Objective lens diameter: 50 mm
Reticle: 4-Plex, Accu-Range
Specific features: Fogproof, shockproof and waterproof, lockable RTA eyepiece, full lifetime warranty, Accu-Range reticle, durable, Accu-Trac adjustments, made in Oregon
Best use: Shooting, hunting
Redfield Revolution Rifle Scope offers functional, mechanical and optical superiority compared to other scopes for AR-15. Considering the fact that it comes with the Illuminator Lens system it combines vapor deposition coatings that provide high quality image and premium multicoated lenses.
This rifle scope is all about a design that resulted in RTA (Rapid Target Acquisition) eyepiece which means that, if you buy this rifle scope, you won't have missed opportunities. What is great about this scope is that it's made in Oregon and comes with a full lifetime warranty.
It's absolutely shockproof, fog proof and waterproof and comes with a full lifetime warranty, resettable finger click Accu-Trac adjustments (stainless steel) and Accu-Range reticle for combination of long range precision and speed. It's sharp and clear to every corner with a bright field of view, so basically it's a great scope when it comes to the field of view, image quality and durability for the price of approximately $220.
PROS:
Waterproof
Fogproof
Shockproof
Holds zero perfectly
Durable
Adjustable
Lightweight
CONS
:
Rounded elevation and windage adjustments
Wrapping It Up
AR-15 rifle is popular among shooters and hunter enthusiasts, so having a proper rifle is a must. Although you already have a great rifle, a quality scope will help you aim quickly and closely and take accurate shots. Although some of them are better for short range shots, scopes from our list are the best one in the category under $500.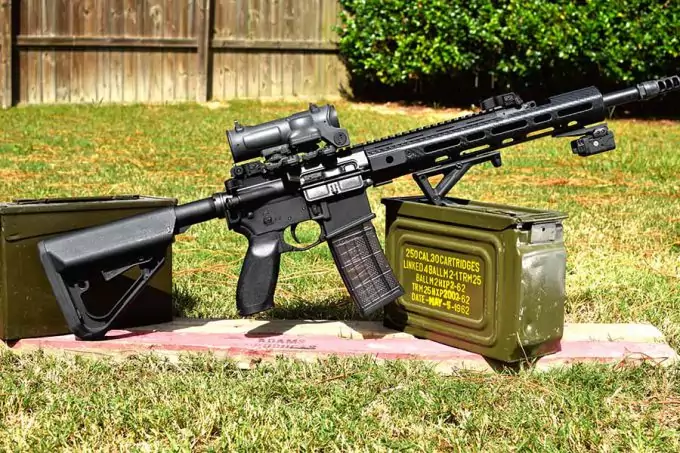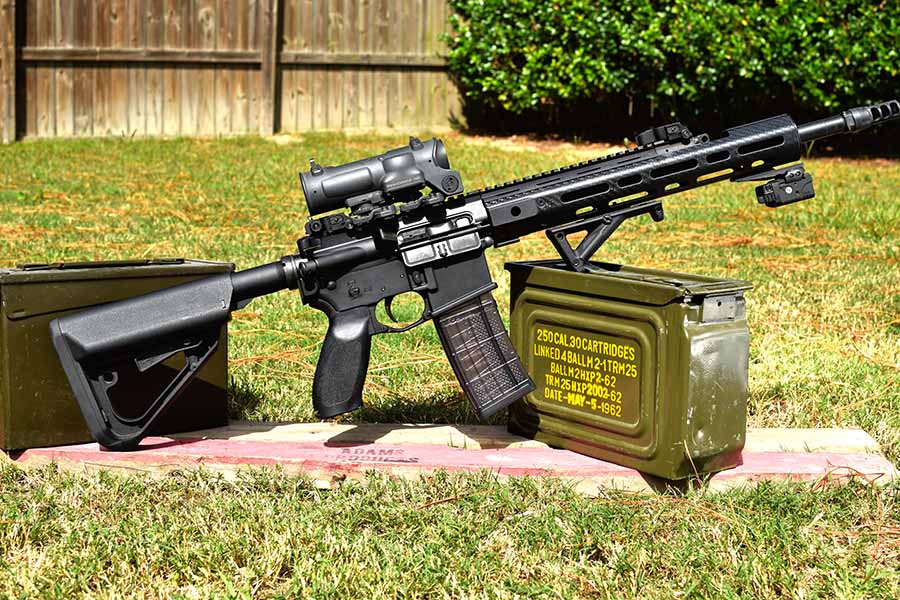 We did our best to bring you the best AR-15 rifle scopes under 500 and all of them are highly rated by reviewers and customers. They are all well researched and analyzed on some basic features and we hope you'll have a better idea of what is important to keep in mind before buying the best one for your rifle.
Take some time to go through our list of features and reviews and tailor gear to your shooting conditions and preferences. Feel free to share your experience, opinion or questions in the comment section below.