With so many buying options today, you must have experienced the paradox of choice at least once, right? But if you're after the best archery range finder, you've come to the right place. We're here to offer you our experience and research, that will help you make a worthwhile purchase.
So we'll start by analyzing a few factors that influence your choice, then move on to some of the most top notch products available nowadays. And all that info is synthesized in the table below, so you can compare the highlights.
Our Top Picks
| Product | Dimensions | Maximum Range | Modes | Price |
| --- | --- | --- | --- | --- |
| Bushnell G-Force DX | 6 x 21 | 1300 yards | Bow, rifle, scan, bullseye, brush | Shop Here |
| Vortex Optics Ranger 1000 | 6 x 22 | 600 yards | Line of sight, scan | Shop Here |
| Bushnell The Truth | 4 x 20 | 850 yards | Bow | Shop Here |
| Bushnell Scout 1000 | 5 x 24 | 1000 yards | Bow, rifle | Shop Here |
| Nikon Archer's Choice Max | 6 x 21 | 200 yards | Angle compensation, distance target priority | Shop Here |
| Simmons LRF 600 | 4x | 600 yards | None | Shop Here |
| Halo XL450 | 6x | 450 yards | Angle compensation | Shop Here |
What To Consider Before Buying
The things you need to take into account before getting an archery appropriate rangefinder all relate to your purpose, so think long and hard what you're planning to use this gadget for.
Type Of Archery
If you're planning to go hunting, you need a rangefinder that can help you take precise shots in the wild, where you have multiple moving targets. You should also take brush or trees into account, and get a rangefinder that doesn't mistake them for the game.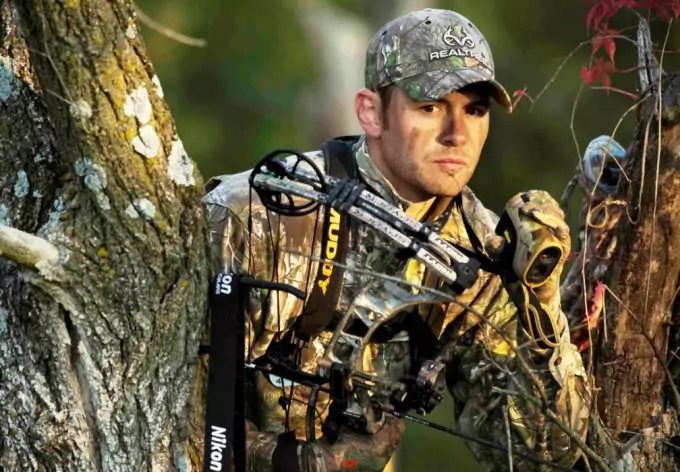 On the other hand, if you're more interested in target practice, you can acquire a rangefinder that works only in open fields. This might make the price more affordable, but you won't be able to use this device for brush hunting or tree standing.
Dimensions
The dimensions of the rangefinder are very important because they tell you when and at what length you can use your device. A small lens diameter might make your rangefinder harder to use in dim light, which is particularly important for hunting.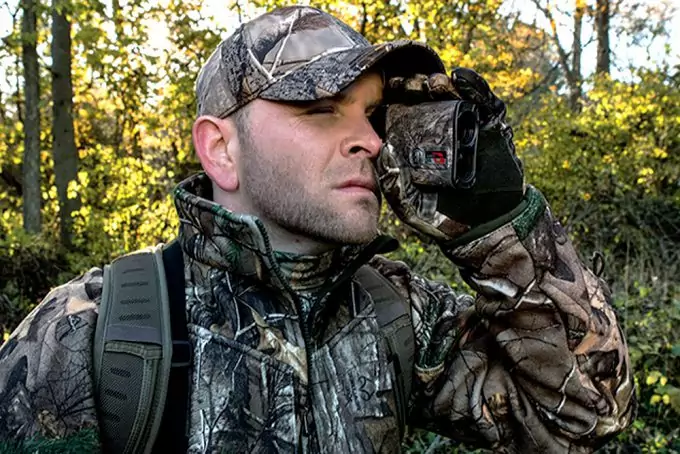 The magnification shows you how much bigger the rendered details are than in reality. That tells you if you can only hunt bigger game with your rangefinder, or if you can go after furry animals as well.
Maximum Range
This depends on what sort of shooting you'll practice. Target shooting might vary in distance depending on the competition you're in, or your skill level, so this is a two way street. A versatile range of 600-800 yards would probably be a good choice.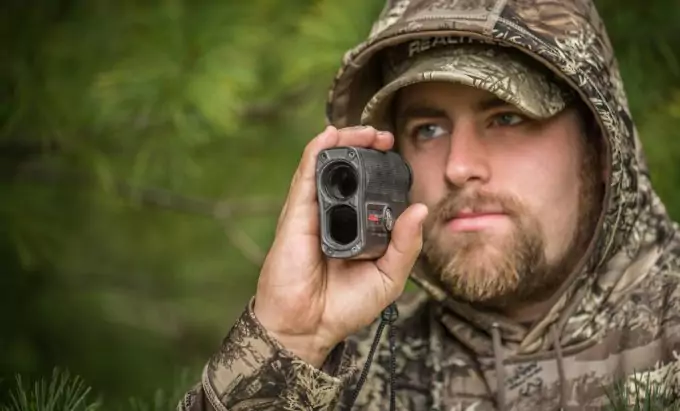 If you're brush hunting, you can limit your maximum range to 200 yards, or go about 1000 yards for long range hunting. Just make sure to check the game range and tree range too because the stated maximum range in the official specs only refers to reflective targets.
Laser Type
You need a good, powerful laser if you're to get the best measurements. A class 1 type is the best, but you can also do ok with a class 3, for instance. The average power output shows you how much battery the laser needs, and an output below 0.5mW is great in terms of conserving energy.
Modes
This is a particularly important feature in order to take accurate shots. For instance, the angle compensation mode is the most common, allowing you to account for elevation, which is a must for tree standing. You might also see a scan mode for most products, which is great for measuring the difference towards different targets.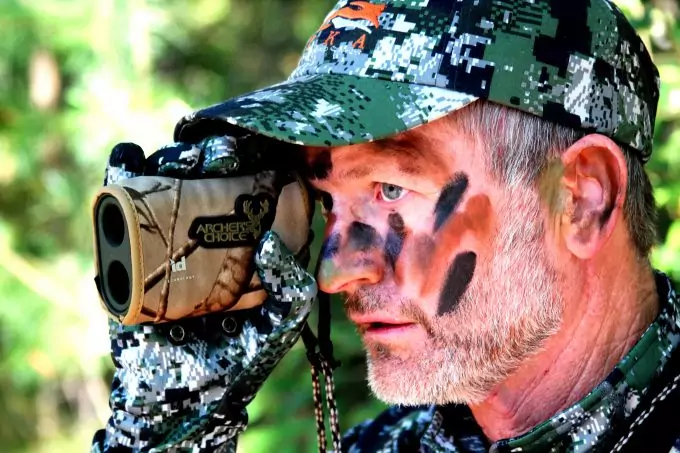 We really love it though when we see a brush mode and a target priority mode available. These take the cake in terms of versatility, allowing you to hunt in brush and to select one target to track.
Manufacturing
Don't forget to take the quality of materials and craftsmanship into account as well. We like sturdy and reliable products, so your rangefinder should be at the very least water resistant. That's so you can use it when it's raining.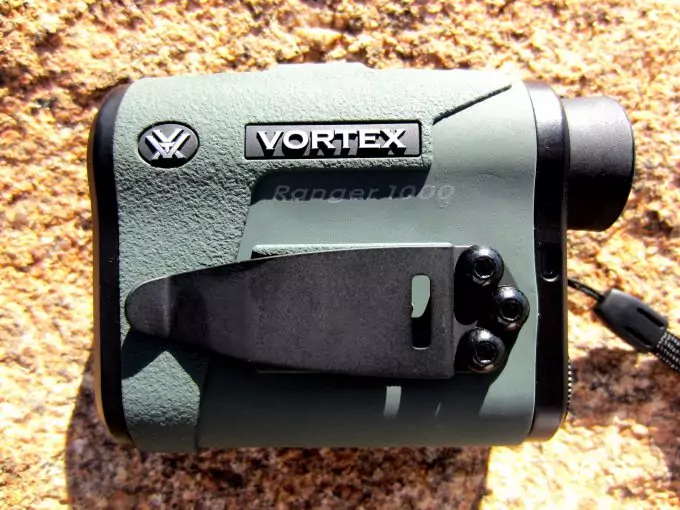 The best rangefinders are waterproof though, and also fog and dust proof. The best materials include a rubber or metal casing, and multi coated optics for increased image brightness. Make sure the display is readable in different circumstances too, particularly in very dim or very bright light, so you can use your rangefinder the whole day.
Best Products On Today'S Market
We've selected seven awesome rangefinders that suit different purposes. We've listed the pros and cons for each, so you know we're objective and you can make a rational choice, not an emotional one.
Bushnell G-Force DX Laser Rangefinder
Weight: 8 ounces
Dimensions: 4 x 1 x 2.9 inches
Specific features: 6 x 21; Realtree Xtra Camouflage; ESP Turbo processor; Vivid Display Technology; 5-1300 yards vertical range; bow and rifle ARC modes; scan, bullseye and brush modes; waterproof; fog proof; class 1 laser
Best use: Deer hunting
The Bushnell G-Force DX Laser Rangefinder is a reliable rangefinder that helps you take precise shots at a high speed. That's thanks to its ESP Turbo processor when it comes to speed and the 0.5 yard accuracy. The displayed distance will be given with a 0.10 yards accuracy too.
We like the Vivid Display Technology used too, which means you can read the calculations regardless of the light conditions. Although the 21 mm diameter would suggest this item doesn't perform well in poor light, that's not true for this rangefinder.
However, since the display is just red, not black, the readings are pretty hard to read in full daylight. So you cannot use this rangefinder a lot except at dusk, dawn or in overcast weather. Or you can shadow it with your hand.
Except for that, we love the versatile 6x that allows you to shoot at distances between 5 and 1300 yards. The various modes used allow you to take versatile shots, to track more animals at once, to follow just one deer, or to ignore the brush. However, you can't focus the display and target simultaneously.
The construction is also resistant to weather, waterproof and fog proof. The housing is rubber armored metal, and the weight is light enough. On the other hand, the laser used is class 1, with an average power output of below 0.5 mW.
PROS:
Versatile shots
Accurate measurements
Rugged
CONS
:
Display and target don't work at once
Not great for full daylight
Vortex Optics Ranger 1000 Rangefinder
Weight: 8 ounces
Dimensions: 5 x 3 x 5 inches
Specific features: 6 x 22; class 3R 5 mW laser; 17 mm eye relief; fully multi coated; O-ring seals; rubber armor construction; diopter adjustment; line of sight and scan modes; measurements in yards or meters; 600 yards range
Best use: Medium range shooting
The Vortex Optics Ranger 1000 Rangefinder is one of the top products for the money. It has a 6x which enables you to see details very well at a medium distance of 600 yards or so. The 22 mm lens diameter might not be great for dim light environments though, but the class 3R 5 mW laser is powerful enough.
The 17mm eye relief is pretty user friendly, and the fully multi coated optics are great in terms of image brightness. They're also anti reflective, which is a true help on the field.
The O-ring seals don't let any dust or water to get inside the rangefinder, and the rubber armor construction feels pretty solid. On the downside, you can't use this rangefinder in extreme weather.
We appreciate the convenient diopter adjustment along with the measurements given both in yards and meters. The line of sight and scan modes are very basic, but they do their job. However, you'll have to wait a while before you get the reading.
And, unlike other rangefinders on the market, you have to tap the button three times before ranging. That might seem counterintuitive, as most rangefinders need only two taps.
PROS:
User friendly
Excellent display
Accurate
CONS
:
Counterintuitive operation
Not extremely fast
Not for extreme weather
Related: If your hobbies include nature observation too, you can consider the Vortex Optics Diamondback Binoculars. With a 10 x 42 mm, these will help you see at an increased distance, no matter the light conditions. They have an O-seal construction too, and they're multi coated for crisp images.
Bushnell The Truth Rangefinder
Weight: 5.9 ounces
Dimensions: 3.8 x 1.4 x 2.9 inches
Specific features: 4 x 20; class 1 <0.5 mW laser; bow mode; ARC technology; 850 yards max range; one button operation; ClearShot technology; rainproof
Best use: Brush hunting/ tree standing
The Bushnell The Truth Rangefinder is another reliable Bushnell product equipped with the bow mode ARC technology. That means very accurate angle compensation, to a maximum range of 850 yards for reflective targets. But if you're deer hunting, the maximum distance is 200 yards, and the bow mode only works up to 99 yards.
We love the one button operation because it makes it easy to use. The 4x magnification is good for medium distances, and the 20 mm diameter is mediocre for dim light. However, the class 1 <0.5mW laser is powerful enough to perform well at dusk or dawn.
The ClearShot technology is another strong point, in terms of precision and timely feedback, so you can use this rangefinder even when you're brush hunting or tree standing. The rainproof housing is sturdy, though there is a faint ringing when you're using it.
The compact design and good grip are additional positives, but it's sometimes difficult to spot your target unless you restart it. The control buttons have various functions assigned to them too, and you need to learn the right sequence of pushes to take the desired action, which might be hard for beginners.
PROS:
Accurate
Angle compensation
CONS
:
Needs some learning
Faint ringing
Sometimes needs restarting
Related: We recommend the T-REIGN Small Retractable Gear Tether, which is a rugged carabiner style device to comfortably carry this light rangefinder.
Bushnell Scout 1000 Rangefinder
Weight: 6.7 ounces
Dimensions: 4.3 x 1.7 x 2.8 inches
Specific features: 5 x 24 mm; 5-1000 yards range; fully multi coated; class 1 <0.5 mW laser; ARC technology; bow mode; rifle mode; rain proof; rubber casing; tripod mount included
Best use: Tree standing
The Bushnell Scout 1000 Rangefinder is another Bushnell product which shows our love for the ARC technology. This helps you hunt with a bow, especially when you're tree standing or at a higher ground since you can compensate for elevation and get the correct distance for accurate shooting. Still, you should expect readouts given in whole yards, not decimals.
The Bow mode will help you get the precise distance to your target, but there's also a rifle mode available for bullet drop or holdovers. We love the 5x magnification for medium distances, but this rangefinder works well between 5 to 1000 yards, so you can even use it further than most similar devices. However, the maximum range for deer hunting is just 325 yards.
The optics are fully multi coated for very clear images. This is a rainproof item, that has a rubber outer case for which accounts for its ergonomic grip. We love how powerful the class 1 <0.5 mW laser is, and how complete the package is, with all the useful extras: case, neck strap, tripod mount, and battery.
However, the neck strap has a weird design and you might not be able to use the strap without looking at a video of how to hook it. The 24mm lens diameter might work ok under dim light conditions, but you'll need to take your glasses off if you're wearing any for maximum field of view.
PROS:
Excellent accuracy
Great optics
Complete package
CONS
:
No decimals
Weird neck strap design
Better for non eyeglass wearers
Related: Since this rangefinder operates on a 3-volt CR2 battery, we recommend getting the Duracell Cr2 Ultra Lithium Battery. This is a 6 pack of such batteries, at a convenient price and with a long shelf life so you can use them for other devices you have.
Nikon Archer's Choice Max Rangefinder
Weight: 6.9 ounces
Dimensions: 2.9 x 1.6 x 4.6 inches
Specific features: 6 x 21 mm; ocular contrast; 18.3 mm eye relief; 5-200 yards range; Active Brightness Control Viewfinder; angle compensation
Best use: Short range hunting
The Nikon Archer's Choice Max Rangefinder is great for shooting at a short distance because it performs well between 5 to 200 yards. The 6x magnifications tell you that you'll see minute details, but the 21 mm lens diameter means you won't have perfect vision at dusk or dawn when the light is fainter.
However, this rangefinder has an ocular contrast option and an active brightness control viewfinder, so it can adjust the reticle color. If the target is particularly reflective, it will use the gray LCD reticle. For darker targets, the orange LED is more appropriate.
We love the .1 yards measurements, the angle compensation mode, and the distance target priority mode in terms of accuracy. So the distances you'll get are very exact, taking into account the elevation, as well as any trees or brush that might stand in the way.
The optics are great, covered in multiple layers of non reflective coating, and the housing is waterproof and fog proof. The LCD display is uncluttered, and the operation is simple, with the push of a single button.
However, the orange LED doesn't just light the reticle, but the entire screen so you can't see a lot after that. So in order to avoid it, you should locate your target before actually pushing the range button.
PROS:
Accurate
Sturdy
Amazing optics
CONS
:
Orange LED too bright
Mediocre in low light
Related: We recommend the Nikon Retractable Rangefinder Tether to help you carry this rangefinder easily, even though there are a neoprene case and strap included in the package.
Simmons LRF 600 Laser Rangefinder
Weight: 8 ounces
Dimensions: 3 x 9 x 6.2 inches
Specific features: 4x; 10-600 yards range; +/- 1 yard accuracy; liquid crystal display; one button operation; class 1 <1 mW laser; carry case included; weather resistant
Best use: Medium range shooting
The Simmons LRF 600 Laser Rangefinder is one of the best rangefinders for bow hunting if you're using it for the short to medium ranges. The 4x magnification will enable you to see minute details at a range between 10 and 600 yards.
The accuracy of this device is great since you'll get precise measurements with an only 1 yard difference from the true value. However, there's no angle compensation, so this rangefinder doesn't take elevation into account. AS such, it's better if you don't use it for tree standing, for instance.
The whole construction is qualitative though. The liquid crystal display is very clear unless you're using it in very low light conditions. Since the display isn't lit you won't see much without an additional light source.
The class 1 <1 mW laser that's built in is pretty powerful, and you can operate this with the simple push of a button. The rangefinder is resistant to the elements, compact and light, plus you've got an included carry case for portability reasons.
PROS:
Qualitative
Accurate
Compact
CONS
:
No angle compensation
Display not illuminated
Halo XL450 Rangefinder
Weight: 3 ounces
Dimensions: 8.5 x 2.5 x 6.5 inches
Specific features: 6x; 450 yards maximum range; AI technology; +/- 1-yard precision; water resistant
Best use: Open field shooting
The Halo XL450 Rangefinder is better for target practice or hunting in an open field because it doesn't work in the brush. Without a distance priority mode, it considers trees or vegetation as potential targets. However, there's a trademarked Angle Intelligence technology here that will compensate for the angle so you can take more precise shots
The 450 yards maximum range only makes this appropriate for a medium or short distance use, unlike some other products in our review. The 6x magnification is amazing though, meaning you can hunt smaller animals well, or use it for hitting that bullseye. We also appreciate the water resistant construction, which helps you use it regardless of the weather.
The +/- 1 yard precision is great in regards to accuracy. However, you won't be able to see the readings if there's too much or too little light out. The display isn't in colors either, so it might add to the reading difficulty.
PROS:
Inexpensive
Compact
Precise
CONS
:
No color display
Difficult to read in bright or very faint light
Not for brush hunting
Related: Although there's a CR2 3V battery included in the package, you should stock up and get the Viridian CR2 3 Volt Lithium Battery too. This is a pack of three batteries with a 10 year shelf life and 30% more milliamps than the competitor's batteries.
What Will You Get?
We've shown you different types of rangefinders for your bow hunting trips. Some, like the Bushnell 202442 The Truth, are amazing for tree standing or brush hunting, while others, like the Halo XL450, are better for open fields and target practice.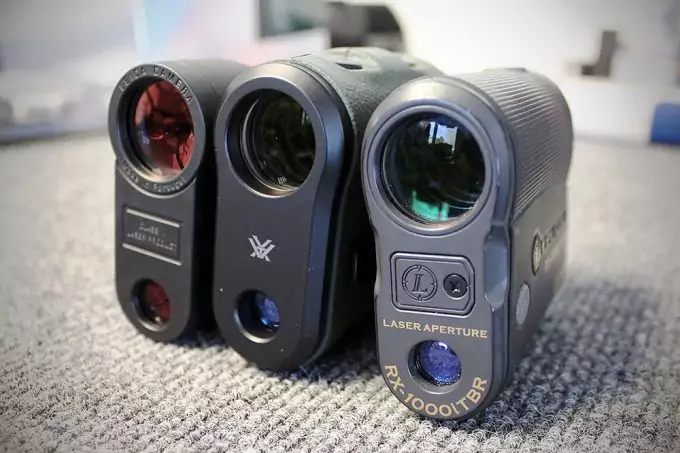 Some have various modes, like the Bushnell G-Force DX, which makes them particularly versatile gadgets. On the other hand, some others have a more basic function, like the Simmons LRF 600. Again, some are better suited for long distance, while others work well at a short range
But all these products are performant for their purpose, at an affordable price. So what will you get? Where will you be hunting next? Is there a better rangefinder we've overlooked in this article? The comments are right below.
Some of the links in this post are affiliate links. This means that if you click on one of these links and make a purchase, I earn a small commission at no extra cost to you. Also, as an Amazon Affiliate, I earn from qualifying purchases. If the information in this post has been helpful, please consider purchasing through one of the links in this article. Thank you.