If you are a hunter, a professional shooter or a law enforcement personnel, Sightmark devotes its effort to ensure that every category of gun user is well catered. There are best night vision scopes from sight mark which are readily available in the market and made from quality materials.
However, in case your product becomes defective or stops to function due to any cause, contact Sightmark support, and they will provide an immediate solution to your worries. The company's products are also covered by a lifetime warranty to back your money. They replace or repair their products immediately after they accept liability.
The table below gives a selected outline of the ideal night vision devices you can buy from Sightmark.
Our Top Picks
| Product | Dimensions | Weight | Magnification | Price |
| --- | --- | --- | --- | --- |
| Ghost Hunter Monocular | 4 x 3 x 9 inches | 0.9 pounds | 2x | Shop Here |
| Photon XT Riflescope | 18 x 4 x 4 inches | 2.3 pounds | 4.6x | Shop Here |
| Twilight Digital Monocular | 8.6 x 4.7 x 3.1 inches | 1.1 pounds | 5x | Shop Here |
| Ghost Hunter Binocular | 4 x 3 x 9 inches | 2 pounds | 4x | Shop Here |
| Ghost Hunter Riflescope | 4 x 3 x 9 inches | 0.5 pounds | 2x | Shop Here |
| Ghost Hunter All Weather Monocular | 4 x 3 x 9 inches | 2 pounds | 5x | Shop Here |
| Raider Scope | 12 x 3.9 x 3.5 inches | 2.2 pounds | 3x | Shop Here |
Factors to Consider Before Buying the Digital Night Vision Devices
The design of Sightmark products puts military requirements in the manufacturing process. As such, even without going into each identifying feature specifications, they are considered to be fairly competitive in the market. Sightmark has great prices for night vision devices though this depends on the underlying features of each particular device.
Despite having choices from a single company, there are many distinguishing features that you can look at while deciding on which particular brand to buy. These may include but not limited to the following:
Reliability
It is the ability of the device to offer quality service over a prolonged period. A majority of its night vision devices are covered with a three-year warranty on their image magnifying tubes and a lifetime warranty on their housing. However, this is not all that reliability involves; a good device should also be easy to adapt to changing temperatures without losing its focusing capabilities.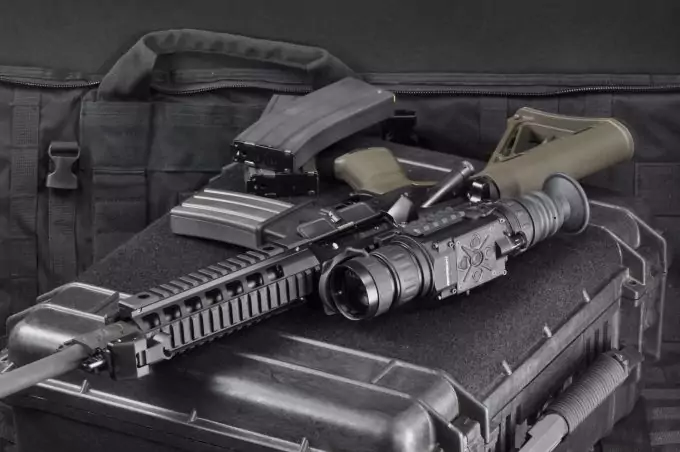 Magnification
It is the number of times an object is magnified or simply put how close the image is as compared to when seen with naked eyes. A magnification of 5x means that the image appears 5-times closer than it is when observed with a naked eye.
Since you might require using your night vision device in a variety of tasks, choose the magnification wisely because this also determines the field of view. As magnification increases, the field of view decreases. Thus, a lower power device is better if you want to observe an area or you are keeping surveillance.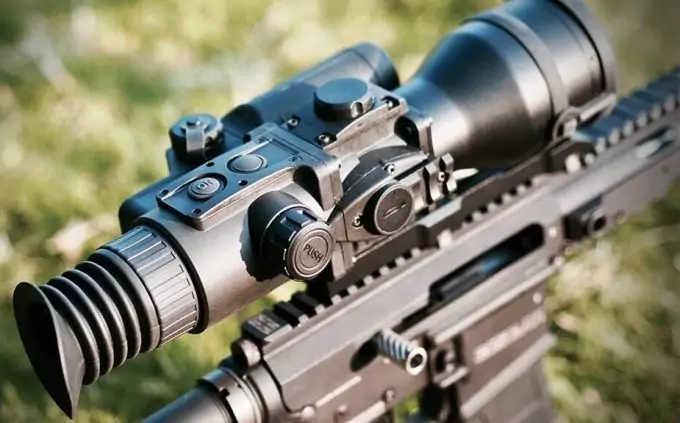 Size and Weight
Use of night vision devices mostly involves making some movements in the dark though sometimes you just stay stationed at one point. Due to this, it is wise to put weight into consideration as you do not want something that will be too bulky for your gun or when used independently.
A weight of 4 pounds or less is ideal though it is subject to other varying factors. Most of the night vision devices have a tripod mount socket in case you need to keep it stationed at one point.
Resolution
These are the number of lines as observed through the image intensifier tubes. The more the lines focused in a one-millimeter width, the clearer the image will be. In most of the image/ photo taking or transmission devices, resolution determines the brightness or blurriness of the image. The same concept applies to the night vision devices. Thus the higher the number of resolution lines per mm the better the device.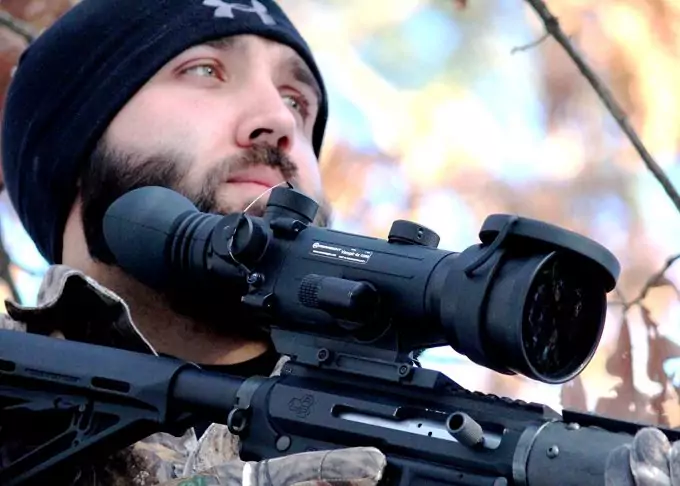 Pricing
It is one of the determinant factors on what you will buy. A lot of caution should be taken while putting this factor into consideration to avoid assuming all the other factors.
For example, Monocular are cheaper than Riflescopes, but their efficiency and reliability significantly differ, thus, rather than buying a cheap device that has a lot of limitations in its use, it might be better to buy a more expensive multi-purpose device that is adaptable to varying working conditions.
Size of Objective Lens
These are the eyes of the night vision devices, the larger they are, the better. They collect light and direct it to the magnifying tubes where it is multiplied and transferred to your eyes for seeing in the dark. The size is not always the only determinant factor of the amount of light collected since others have inbuilt infrared illuminators.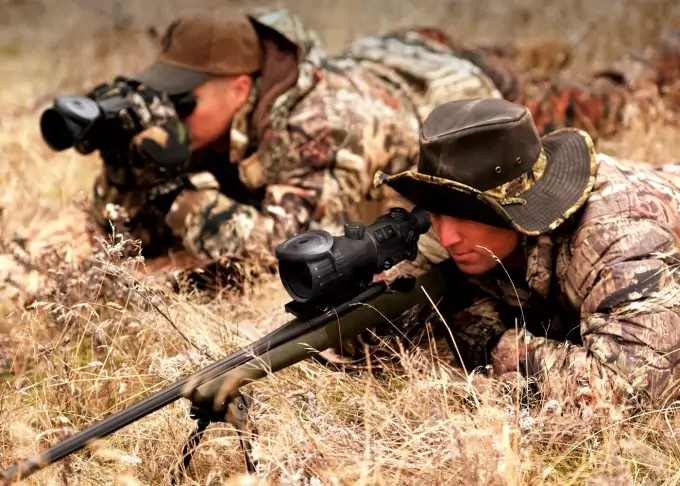 These help in situations of low lighting conditions or places where there is no natural light at all. However, even if there is no inbuilt illuminator system, there is always an option of buying an infrared flashlight illuminator on its own.
Best Products on the Market Today
Based on a thorough analysis and a detailed research process, the following products have been selected from a pool of night vision devices. These are the selected few that pass the test of durability, usability, and affordability among others.
Sightmark Ghost Hunter Night Vision Monocular
Battery: 2 AA batteries
Magnification: 2x
Dimensions: 4 x 3 x 9 inches
Weight: 0.9 pounds
Specific features: It is a generation 1 monocular with a tube of EP33-U and an objective lens of 24 mm. Its field of view is 24 degrees with an optimal eye relief of 12 mm. It has 36 mm resolution lines per millimeter
Best use: Tailored for use in the rescue missions, air soft and paintball shooting games, nature observation, and hunting
The Sightmark Ghost Hunter Night Vision Monocular is a generation 1 device that has a high-quality image resolution and an in-built infrared illuminator. The 805 nanometer infrared illuminator helps in situations where you want to use your monocular, and there is total darkness like in caves or tightly enclosed place or in rescue operations. Its ergonomic design makes it stand out among the competitors.
Its cover is made from an enhanced form of composite plastic. It is lightweight and built to endure even the harshest of the weather conditions. It's good for close range observation.
Bright light can destroy this device in a matter of seconds; fortunately, it has an automatic shut-off feature to save the tubes in case they get exposed to light by mistake. These capabilities should not be tested unnecessarily.
However, in case the worst happens, these monocular are protected by the three-year warranty on the tube and even a lifetime warranty for the device housing. It focuses easily by adjusting the rear and front focus rings.
The distinguishing feature of a monocular is that it has only one objective lens and one eyepiece. It is usually hand held though not always. The main advantage of these devices is that they expose only one eye to bright light and thus the vision can revert to a natural night vision with ease as opposed to when using a binocular. The purchase comes with a durable nylon carrying case, a warranty form and a cleaning cloth.
PROS:
It can be mounted on a weapon
It can work in passive or active form
It has multicoated optics
It has an automatic shutoff system in response to high light
Durable housing made from composite plastic
CONS
:
It has no auto focus, and you have to keep on adjusting it constantly
Its focus range is limited to around 100 yards only, which put it as a short range Night vision device
Related: If you want to convert this hand held monocular into a weapon mountable monocular, you can buy a Sightmark Ghost Hunter Weaver Weapon Mount. It attaches to Picatinny rails and it works best when mounted behind a red dot scope.
Sightmark Photon XT Vision Night Riflescope
Battery: 2 AA batteries
Magnification: 4.6x
Dimensions: 18x4x4 inches
Weight: 2.3 pounds
Specific features: It has a field of view of 4.3 m/7.5 yards and a wide objective lens of 42mm. Its maximum detection range is 120 meters with a resolution of 38 lines per mm. It has a tube diameter of 30 mm and a led IR illuminator with the strength of 810 nm
Best use: Its two duplex reticles make it ideal for hog and varmint hunting
The Sightmark Photon XT Vision Night Riflescope is a night vision device that is engineered for medium range focus. It has six digital reticle options for red, green, and white. It has 33% longer battery life and a 30% lighter weight than other digital night vision riflescopes. The scope consists of two crossbow reticles which are designed for 320, 350, 370, and 400 frames per second.
Its resolution is 640 x 480 pixels. It has a video output feature which gives it the capability to record everything whether day or night. The windage and elevation settings are digital. The purchase consists of the video cable, user manual, carrying case and a lens cloth.
It is a blend between digital rifle scope and a daylight sight. It can be connected to an external power source if a need arises with a power supply ranging from 8.4 v to 15 v. It should be noted that the external source of energy does not charge the batteries. Connecting an external power cuts the energy from the batteries instantly. You should never use batteries with different charge levels or from two separate manufacturers.
With the help of an integrated weaver rail, you can install the infrared illuminator, the video recorder as well as the external power supply. The riflescope can be used in temperature ranges from -15 degrees to +50-degree Celsius, however, if you have been using it in a cold environment and you return to a place with room temperatures, it should not be put on for at least 2 or 3 hours.
PROS:
It is adaptable to any standard rifle scope mount
It has a light filter for improved image clarity
It has adjustable image brightness feature
It has a low battery indicator; when it turns to red replace the batteries
It has a video output with a jack pin socket
CONS
:
It is a heavy power consumer, and ordinary AA batteries will last for about 2-3 hours. Consider buying the rechargeable batteries
The built in illuminator is not focusable
Sightmark Twilight DNV Monocular
Battery: 2 AA batteries
Magnification: 5x
Dimensions: 8.6 x 4.7 x 3.1 inches
Weight: 1.1 pounds
Specific features: Its objective lens is 50 mm, and its resolution is 36 lines per mm. Its angular field of view is 4 degrees with a maximum viewing range of 140 meters. It operates for around 6 hours with the IR off and 4 hours if the IR is on
Best use: It is best used for hunting, outdoor observation, hunting, boating, night navigation, and camping related sports
These are the scopes which require some level of natural lighting to make the image clear. It is the main reason they are called twilight since they give best results when used before dusk or after dawn. The Sightmark Twilight DNV Monocular features the latest technologies in the digital night vision devices. You can also install an IR flash light for an enhanced viewing.
The device is activated by turning the on or off wheel until you hear a click and a green indicator is emitted. Leaving the device in open sunlight is detrimental, and it can cause damage. To prevent condensation of the lenses do not immediately switch on your devices if they have been exposed to wide temperature changes. Allow it to cool or warm up.
The plastic casings are cleaned by use of a soft piece of cloth and petroleum jelly then drying it thoroughly. If the device isn't used for more than two months; ensure that the batteries are removed, put the device into its casing, and put it in a dry place which is well ventilated. If you notice low-quality image on your device, try checking the objective lens as well as the eyepiece settings.
PROS:
It can be used at night or during the day
It has a video output capability to an external monitor
It has brightness control features
It has multi coated optics which gives high resolutions
It is a light weight device
CONS
:
It feels a bit fragile
It requires some level of brightness to work
Related: If you do not intend to carry the monocular, you can use a head mount to place it directly before your eyes with your helmet on. With the appropriate rings, NiteRider Lumina Helmet Mount Strap will make it easier for you to use the device.
Sightmark Ghost Hunter Night Vision Binocular
Battery: Standard AAA Batteries
Magnification: 4x
Dimensions: 4 x 3 x 9 inches
Weight: 2.0 pounds
Specific features: It is a generation 1 device with a tube type of 33-u and a minimum focusing distance of 1 meter. It has an eye relief of 12 mm, and a resolution of 36 lines per mm. its battery can survive 20 hours with an infrared on and 70 hours without the infrared illuminator
Best use: For prolonged night time observation more so in search and rescue missions as well as hunting and shooting games
The Sightmark Ghost Hunter Night Vision Binocular is a generation 1 device which is built for the best value for your money. The durable polymer material used is ideal for maximum endurance against damage. It has a bright light automatic control system to protect it from bright light damage. A three year warranty protects the purchase on its tubes and a lifetime protection against the housing.
Its 4x magnification and the wide 50mm objective lens enables the device to collect enough light to allow it to deliver bright and vivid imaging for medium range targets. They can operate both in passive and active mode. The infrared illuminator is only recommended to be used in conditions of total darkness or ambient light.
The ¼ tripod socket enables it to be mounted on a head mask or tripod to free the hands. While doing any testing of your device in a lighted place, ensure the cap is closed.
In case your binocular cannot turn on after storing it, you can check the batteries to make sure that they are inserted correctly, check for any incidences of corrosion which might inhibit power transmission. If the scope flickers due to usage in a bright environment, place back the cap over the objective lens and put it in a dark room. The scope will restore itself in a matter of hours.
PROS:
It has fully multicoated optics
It has a ¼ socket for tripod mounting
Rather than getting damaged when exposed to bright light, it shuts its functionality and only restores them when the right light levels are detected
It also has an automatic bright light sensor
It has an ergonomic design and quickly powers up
CONS
:
You have to focus each lens separately
Related: Since these binoculars are best suited for prolonged viewing, using a Ravelli Tripod would make the work more convenient and free your hands for added efficiency. Being in the dark requires total alertness and readiness. Rather than unnecessarily tying your two hands with a binocular, use other machines to make your work easier.
Sightmark Ghost Hunter Night Vision Riflescope
Battery: 2 AA batteries
Magnification: 2x
Dimensions: 4 x 3 x 9 inches
Weight: 0.55 pounds
Specific features: It has a resolution of 36 mm and a Diopter adjustment of +/-5. Its battery can last for 20 hours with an IR and for 72 hours without an infrared device
Best use: These are designed for hunting and nighttime observation
The Sightmark Ghost Hunter Night Vision Riflescope is a generation-1 night vision device that can also be used as a monocular and it has a built in infrared illuminator for use in completely dark areas. It also shuts off when exposed to high light conditions. It's build of polymer material and can be mounted on a tripod with ease. It has an operative capability of either active or passive form.
It is good for close to mid range shooting. It's field of view of 25 degrees and a minimum focusing distance of 1 m. Its eye relief is 12 mm and operates in the temperature ranges of -20 degrees to +40 degrees Celsius.
In case the device develops any technical hitch, you should never try to repair it, but rather you should return it for a replacement. Extra care should be exercised while handling this gadget to avoid any act of negligence that can cause any unwarranted damage.
Never test your riflescope unnecessarily especially during the day or in a highly lighted area. If you have been using your scope in low temperature areas, give it about 2 to 3 hours to warm up before putting it on and starting to use it again.
PROS:
Automatically shuts off when exposed to bright light
The ¼ socket enables the ghost hunter to be mounted on the tripod
It doubles as a night vision monocular
It has a built in infrared illuminator for enhanced viewing
High quality polymer construction
CONS
:
It works with a red dot that has low settings
Due to its price, it does not give quality images especially if no IR illuminator used
Related: Despite the fact that this device has a built in infrared illuminator, you might require enhancing its focusing capability by fixing a flashlight. The best option is the Sightmark Ir -805 Compact Infrared Illuminator which helps to increase the detection range as well as acquire a more detailed image.
Sightmark Ghost Hunter All Weather Digital Vision Monocular
Battery: AA batteries
Magnification: 5x
Dimensions: 4 x 3 x 9 Inches
Weight: 2.0 pounds
Specific features: It has 34 resolution lines per mm and an eye relief of 12 mm. Its field of view at 100 meters is 7 meters with a minimum focusing distance of 1 meter
Best use: Good for nature observation or a search and rescue mission
The Sightmark Ghost Hunter All Weather Digital Vision Monocular is suited for a short range focus, and it has a high powered in built infrared illuminator. It has a socket for tripod mount. It can work either at day or the night. This device can be compared to generation 2.It has a rubber gripping and a high-quality housing made from a quality polymer of nylon.
It can withstand the harshest of the weather conditions like the heavy sand storms, heavy rain showers, and the chilling snowstorms. Its batteries can last up to 9 hours without an IR and 5-hours if an IR is used. Its maximum detection range is 140 meters in a natural night. It has a 0.25 tripod mount for efficiency in usage.
It uses the most recent digital image technology which makes it a multi-purpose device automatically. It has bright light sensors to protect the device from getting damaged by too much light.
PROS:
It is lightweight and suited for outdoor activities
Its price is affordable
It is made from quality materials
It offers extremely clear images
CONS
:
It cannot be easily mounted on a weapon but efficiently handheld
Related: For easy mobility you can get a sling to hang the device on your neck while you are not using it, this will reduce risks of losing the monocular and increases the satisfaction level. After fixing the right QD ring on the monocular, you can buy the DYZD Adjustable Sling at the cost of approximately $10.
Sightmark Raider Night Vision Scope
Battery: AA Batteries
Magnification: 3x
Dimensions: 12 x 3.9 x 3.5 Inches
Weight: 2.2 pounds
Specific features: Its reliability is approximately 1000 hours, and its minimum focusing distance is 5 meters. The eye relief and exit pupils are 45 and 6 mm respectively. It has 35 resolution lines per mm. Its detection range is 220m/240 yards. It is IPX4 weather proof
Best use: For night time observation and hunting
The Sightmark Raider Night Vision Scope is a passive device implying that it does not need any artificial lighting to be able to operate. However, the inbuilt illuminator enhances its focusing capabilities considerably. It is designed for short and long range viewing. It's 60 mm Objective lens helps a lot in gathering light which enables it to provide great resolutions up to 250 yards.
The batteries are inserted vertically on the gadget which enables it to resist recoil which can cause power interruption after every shot. Its reticle has two range finding colors of either red or green. It has an inbuilt infrared illuminator for enhanced viewing. The purchase kit consists of the carrying case, the remote control, the operating manual, the warranty card as well as the weaver rail for the camera.
Its infrared illuminator strength is 780 nm and a power of 150 mw. Its batteries can run for 70 hours without the illuminator and for 9 hours when the IR is on. Its operating temperatures are -30 to 104 degrees Celsius.
PROS:
Its lens is made from 100% glass
Its housing and body materials are made from titanium
It's a highly light weight device
It has an ergonomic design, and it easily powers up
It can be remotely controlled with a secure attachment
CONS
:
It is a bit bulky
Difficult to put it on a Picatinny rail
Related: For improved efficiency in the execution of your work, it is always wise to have backup power in place. To achieve this, you can buy the AA Energizer Batteries which are rechargeable. They retain power up to 12 months if not put in use after charging.
Conclusion
A majority of the Sightmark purchases are covered with a lifetime warranty on the housing and three years on the tubes. However, just like insurance policies, there are some actions which will render your warranties void. These include but not limited to:
Knowingly switching on your night vision device during the day without a protective cap or pointing it to a bright light like fire or car lights.
Leaving your device on for a prolonged period without the protective cap in areas with a light level exceeding 1-10 lux
Trying to repair the device yourself; in a case of default, return it for repair or replacement
Exposing your devices to water or excess moisture without a justified cause
Leaving your device with children to play with it
If you put all these factors into consideration, hardly will you have any conflicting warranty issues with Sightmark; their customer care is efficient and doing business with them is just a wonderful experience. Everybody wants to put his/ her money in a place where he/she will be listened to, and your money is protected or is it not true?
Some of the links in this post are affiliate links. This means that if you click on one of these links and make a purchase, I earn a small commission at no extra cost to you. Also, as an Amazon Affiliate, I earn from qualifying purchases. If the information in this post has been helpful, please consider purchasing through one of the links in this article. Thank you.