Do you wish that your shot was more accurate while you are hunting? Have you thought about getting a scope for your shotgun? If you have been puttering around with the idea of using the best shotgun scope to enhance your accuracy and successfully make a kill, then we have a lot of information for you.
Having a great shotgun scope will definitely help you as you hunt. Here, we have some affordable scopes that you can use to kill your next turkey, rabbit, or deer. You will learn that having a scope is a great solution to increase your accuracy out in the wilderness.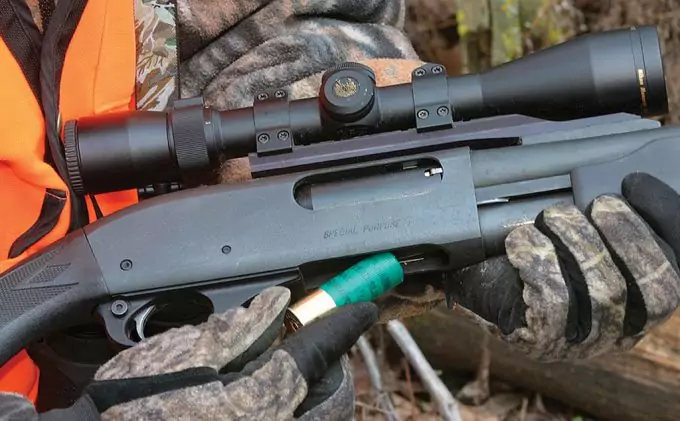 With this article, you will learn about some of the best shotgun scopes on the market currently, that won't break the bank, that you can use easily. This way, you can have a fun experience while hunting and making the shot the first time. Now, let us help you find a scope that will help you improve your shot.
Our Top Picks
Product
Weight
Multi Coated Lens
Waterproof
Defining
Features
Price
Remington Express
1.7 pounds
Yes
Yes
Made of aluminum, eye relief
Shop Here
Konus Black Powder
0.88 pounds
Yes
Yes
Field of view is 100 yd, eye relief
Shop Here
Bushnell Trophy
0.89 pounds
Yes
Yes
1 inch diameter tube, fog proof
Shop Here
Nikon ProStaff
0.87 pounds
Yes
Yes
Offers clarity, quick focus
Shop Here
Simmons ProHunter ProDiamond
0.58 pounds
Yes
Yes
TrueZero wind and elevation adjustment, clarity
Shop Here
Truglo Red Dot
0.44 pounds
Yes
Yes
Wide field of view, shock resistant to 1000 g
Shop Here
Nikon SlugHunter
0.92 pounds
Yes
Yes
5 inches eye relief, open circle design
Shop Here
Bushnell Trophy MM
0.79 pounds
Yes
Yes
Circle X reticle, fog proof, shock proof
Shop Here
Features to Consider
Not all scopes are the same, even if they do have some of the same features. The below features are important when purchasing a new scope for your shotgun because it needs to fit right, have good magnification and clarity.
When you are using a scope, you don't need to check the movement of the animal as often, so you can keep your eye at the scope without looking up, which otherwise you may miss your shot. Below, you will learn what makes a scope great, and then you can decide what you need from there.
Magnification
No matter what type of game you are hunting, having magnification on your scope will significantly increase your chances of making an accurate shot. Many shotgun scopes have a magnification from 1x to 5x, and some even higher.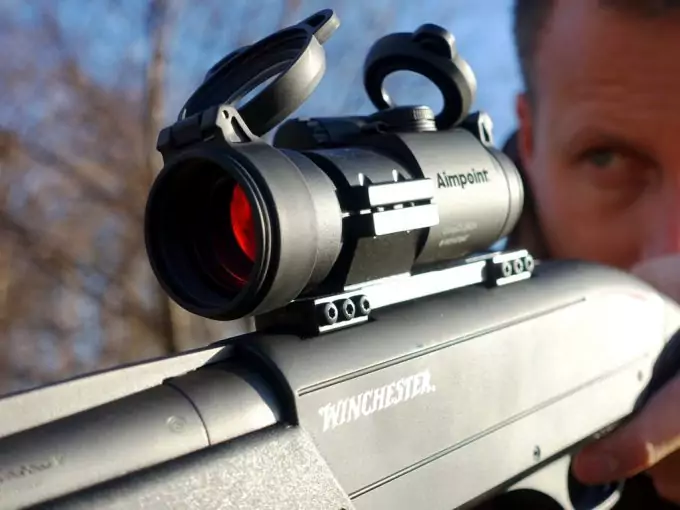 You will have a better view of your animal, and won't have to second guess when to make the shot, even if your target is moving. You will need higher magnification for certain animals like deer, where the lower magnification will help with animals like rabbits and turkey.
Durability
The durability of your scope should be good enough to handle brush, thickets and anything the wilderness can throw at it. You will be going through some dense areas in the woods to hunt, so your shotgun scope needs to be able to handle some scratches and bumps on occasion. Finding a scope that has a warranty is nice, as it ensures that you will have a great product no matter what.
Clarity
The clarity within your new scope needs to help you to discern between your target and the background. Having a clearer shot will not only help with the accuracy but will allow you to see perfectly, so you can tell if there is another animal in the area, or if your target is moving.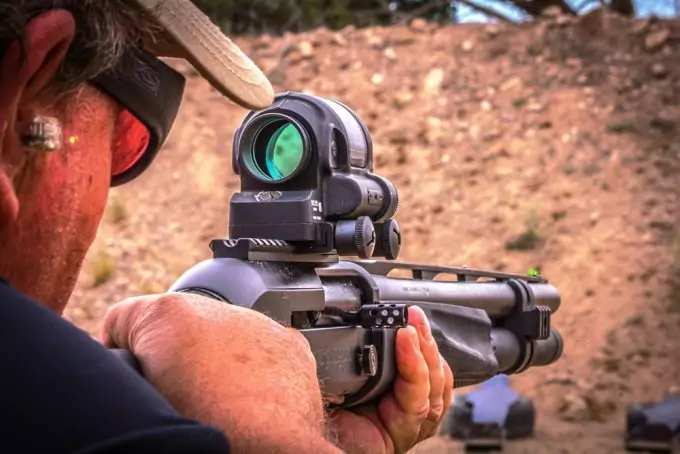 You will want a sharp view of your target, which is also easier on the eyes, and gives you the maximum resolution possible, for the price.
Price, Keeping It Simple
The scopes that we show you here will be mostly affordable, while there may be a few that are at the higher end of the spectrum. You do want to keep things as simple as you can when purchasing a scope, including the price. You don't need something extravagant, as you just need something that works well with some great features.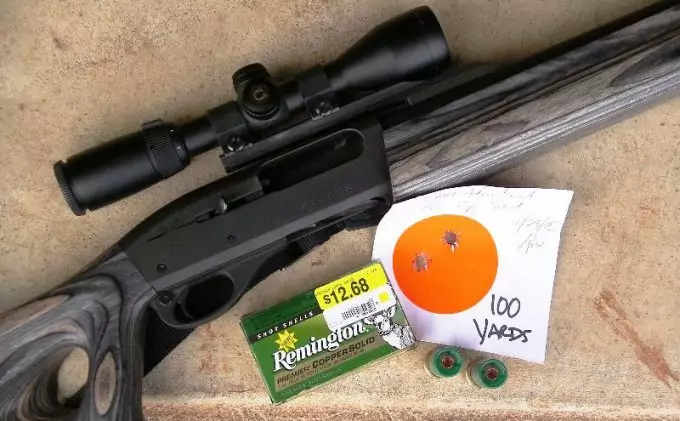 Your new scope won't have to be heavy or big. You want something that is just about a pound or so in weight, and something that is roughly a 1.5 long or so. This will help you carry it easier and you won't feel so weighed down.
Bright and Shiny
If you plan on hunting into the evening, or even during the early morning hours, when the sky is dark, you will want something that offers brightness so you can see your target clearly and won't have to second guess yourself.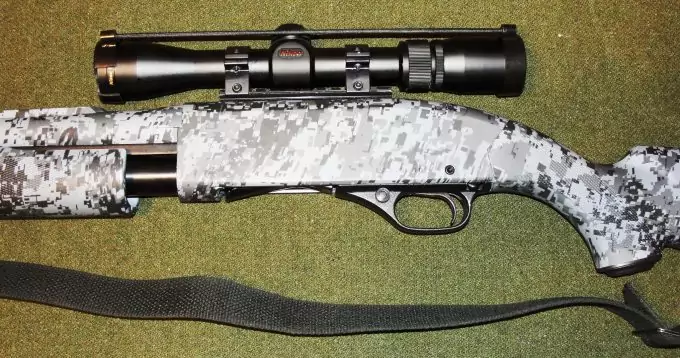 But, keep in mind if your scope is shiny, this can alert the target that something is nearby and they may possibly get scared and run away. Get a scope that is matte black or has some type of anti-shine on it so you don't have to worry about glare, and missing the shot.
Top Product Reviews
Now that you are aware of some of the features to keep an eye out for, we can now show you some of the top rated shotgun scopes that should help you get your shot off successfully, and give you what you are looking for in such an accessory.
Remington Express Shotgun Scope
Weight: 1.7 pounds
Waterproof: Yes
Specific features: Made of aluminum, eye relief, shock absorbing
Best use: Short to medium distances, any weather
Made from strong aircraft grade aluminum material, the Remington Express Shotgun Scope is made to contour to your shotgun, with a thicker rail on it. There is also a thicker, more shock absorbing recoil on it, that makes it easier to use.
Not only is this scope tough and made to last, but it is fully fog proof and waterproof, so you can use it in any weather and hit your target. Plus, it has a lifetime warranty, so you really can't go wrong here.
Full on multi coated, you will find the 6 inch eye relief a nice tough. The high definition blue lenses help with the brightness while hunting before the sun comes up, as well as it gives you a wide field of view to see everything. Hunters love the ability to adjust the wind and elevation with the audible click fingertip adjustment.
PROS:
Light and durable
Adjustable wind and elevation at fingertips
Reticle lens has blue coating for brightness
Comes with a mount
CONS
:
Saddle isn't raw enough
Cannot be used on all types of firearms
Related: Made from aircraft grade aluminum, the P2M Laser Bore Sight helps with getting the most accurate shot, without wasting your ammunition and has a fast zeroing in system built in.
Konus Black Powder Scope
Weight: 0.88 pounds
Waterproof: Yes
Specific features: Field of view is 100 yd, eye relief, 1/4 MOA mm at 100 meters
Best use: Long range shooting, good and bad weather
This high grade shotgun scope is made with a tactical style and includes a glass etched reticle, which is not normally seen when it comes to scopes. The Konus Black Powder Scope offers a 1.5 to 5 x 32 engraved reticle and looks very sleek as far as scopes go.
Hunters agree that this is a great scope for slug shooting and has high clarity, with the diamond reticle. You will find that this scope really holds to True Zero, even when mounting and dismounting it on different shotguns. It even comes in a matte black color to reduce glare while you are outdoors.
Overall, this is a great scope that will fit your needs when it comes to getting a clear and accurate shot. The Konus is a highly rated product among hunters, and it is easy to see why, because of all the nice features that it includes, for such a low price.
PROS:
Affordable price
High clarity, glass etched reticle
For use on various rifles, shotguns, and more
CONS
:
Not for use on all types of firearms
Some recoil, but not much
Related: Hunting scope rings help to keep the scope secured tightly to your shotgun. The Weaver Quad Lock Rings stay clipped on tightly, are made of high grade materials, and are affordable. They also come in a matte black so they won't shine and scare off your target.
Bushnell Trophy Shotgun Scope
Weight: 0.89 pounds
Waterproof: Yes
Specific features: 1 in diameter tube, fog proof, shock proof, matte black
Best use: Big game, inclement weather
The Bushnell Trophy Shotgun Scope includes fully multi-coated lenses and is not only waterproof, but fog and shock proof as well, which helps during any weather, so you can hunt in the rain or snow. While this scope is at the higher end of the price range, you will see that it has many features that make it worth the extra cash.
This Bushnell scope is matte black, fairly light, and highly durable, and is beloved by many hunters all over. The great things about this shotgun scope is that it offers a wide field of view, so you don't have to keep looking away from your rifle to get an accurate shot. It includes a fast focus eyepiece, 91% light transmission, and has a rain guard lens coating.
With up to 4x magnification, you can hit nearly any target with a preciseness that only a scope can offer. You will enjoy the 3.5 inch eye relief, the ability to use it for many types of hunting, and the lifetime warranty should anything go wrong.
PROS:
Can be used for various types of hunting
Lifetime warranty
Up to 4x magnification
CONS
:
More pricey than some on this list
Does not have flip covers for the lens
Related: While hunting, you will need some good tactical gloves to wear while shooting and handling the target. The M-Pact Coyote Tactical Gloves are under $30 and are reinforced, has knuckle and finger guards and can be machine washed.
Nikon ProStaff Shotgun Scope
Weight: 0.87 pounds
Waterproof: Yes
Specific features: Multi coated lenses, offers clarity, quick focus
Best use: Short and long distance shooting
You will love the Nikon ProStaff Shotgun Scope as it offers up to 7x magnification, which is great for long distance shooting. You can easily make any field adjustments and you won't have to worry about brightness, because this Scope includes multi coated lenses so that light transmits well, no matter the time of day.
This light weight scope offers a quick focus eyepiece as well as a nice 3.8 inches of eye relief, which helps with the recoil. You'll enjoy the 100 yard field of view with the ability to block out moisture and fog with the nitrogen filling in the housing. Hunters love that they can use this scope in various angles and get a successful shot.
It works well with many types of rifles and muzzle loaders, and offers a lot of clarity for a nice, clear view. With the zero reset turrents and spring loaded knob, you will enjoy many hours in the wilderness hunting for turkey, deer, or literally any animal.
PROS:
Nitrogen filled housing
Clear views of 100 yards
Great at various angles
CONS
:
Not great for crossbows
Cross hairs are thin
Related: Do you have a case for your rifle or shotgun? The Plano Pro-Max Rifle Case allows you to keep the scope on and store it away easily. Under $30 you will like the foam padding and locking ability.
Simmons ProDiamond ProHunter Shotgun Scope
Weight: 0.58 pounds
Waterproof: Yes
Specific features: Quick target acquisition, 4x magnification, durable
Best use: Short and medium distances
The super affordable Simmons Prodiamond Prohunter Shotgun Scope offers a ton of clarity in high definition, and is made from highly durable materials. The design is sleek and easy to handle, and it offers up to 4x magnification so you can shoot at short to medium distanced targets. The multi-coated lenses offer clearer images so you can attain your target with ease.
This scope has the ability to adjust the wind and elevation with a TrueZero adjustment. Durable, this scope can also resist a thousand rounds from a 12 gauge gun. Plus, it has an O ring for sealing and is completely waterproof.
Overall, you will love the pro diamond reticle and how the adjustments are easy to make as well as the scope itself is easy to grip and mount. Another thing that we like, and you will too, probably, is the sharp focus, which helps to get a clear shot, no matter what the weather is like.
PROS:
Easy to adjust and grip
Multi coated optics
Highly durable, waterproof
CONS
:
Not a long life
Not super accurate compared to others
Related: Protect your ears with the Do-All Outdoors – Sound Soldier Quad Muff which are comfortable and well made. They have 200 hours of battery life and include the ability to use microphones in them.
Truglo Red Dot APG Scope
Weight: 0.44 pounds
Waterproof: Yes
Specific features: Anti reflective interior, fog proof, wide field of view, shock resistant to 1000 g
Best use: Dark skies, any weather
Shock resistant up to 1000 g, the Truglo Red Dot APG Scope is affordable and offers a lot of eye relief with a wide view of your area. Made for use in all weather, you will like the flip up lens caps, clarity and the adjustable rheostat which helps with adjusting the brightness level.
The multi-coated lens offers 95% transmittance of light and it includes an anti reflective interior so that no light can get inside. Like some others, it also offers the option to adjust your elevation and wind so you can get a more accurate shot. This scope is great for those late nights and early mornings, or really at any time during the day.
With an integrated Weaver mounting system, this scope is great for not only shotguns, but muzzle loader, crossbows, and paintball, among others. Hunters love the affordable price as well as the high light transmitting that lets them hunt any time of day.
PROS:
Shock resistant, fog proof, waterproof
Battery included, lifetime limited warranty
Great for many types of firearms
CONS
:
Red dog looks like a blob that lights up
Lens can be crooked
Rubber can gouge
Related: If you want to go hands free, then you can get a gun sling to put around your shoulder as you are making your way to the hunting grounds. The Shootmy Adjustable Slings are affordable, come in a 2 pack, and are easily adjustable.
Nikon SlugHunter Scope
Weight: 0.92 pounds
Waterproof: Yes
Specific features: 5 inch eye relief, open circle design,
Best use: Night time use, long range distances
Made with the BDC 200 reticle that has an open circle for long distance shooting, the Nikon SlugHunter Scope offers a lot of great features you will have to check out. With 5 inches of eye relief, you will keep your eyes from straining or withstanding any recoil at all.
The spring loaded instant zero reset turrets are easy to use, which hunters of all kind love, and you can use this scope with the Nikon Spot On Ballistic Match Technology. Users love how well this scope can handle shock as well as some abuse in the field. They can shoot accurately at 100 yards and the scope is easy to mount and dismount.
Overall a great scope, this is one to look out for with all of the nice features. While some had a harder time with the adjustments, the good points outweigh the bad, and most can agree that this scope is great for shooting in any weather and at longer distances than some of the other scopes out there.
PROS:
Great for farther away shots
5 inch eye relief
Spring loaded turrets
CONS
:
Hard to zero for some
Turrets are hard to adjust
Related: If your shotgun stands out, or produces a glare that can scare off your target, you might want to look into the McNett Tactical Camo Wrap as it will help conceal your gun so you can make your shot. It simply cuts out and wraps around your shotgun.
Bushnell Trophy MM Shotgun Scope
Weight: 0.79 pounds
Waterproof: Yes
Specific features: Circle-X reticle, fog proof, shock proof
Best use: Short to medium ranged distance, all weather types
With a 1.75 to 4x magnification, the Bushnell Trophy MM Shotgun Scope is affordably priced and made to shoot from short to medium distances. With the Circle-X reticle, you will be able to hone in on your target and make a successful shot. This scope comes in a camouflage color and is shock proof, waterproof and fog proof, so it can be used in even the worst of fog or rain.
Perfect for some big game hunting, it can take slugs and offers a lot as far as multi-coated optics and clarity. The fast focus eyepiece is a great addition, and you can make all kinds of adjustments for the elevation and wind, which makes your shot super accurate.
Overall, you will like this scope because the eye relief is a huge benefit to this scope. Plus, the Camo color helps to blend in with the scenery and it won't scare off your game.
PROS:
Great for all types of weather, comes in Camo color
Multi-coated lenses
Circle-X reticle
CONS
:
Some say it works better with rifles
Expensive
Related: If you feel strain while looking through your scope, you can use the UTG Rubber Scope Eyeshade as it is made to be comfortable for your eye. It also comes with a connector kit, too.
Concluding Thoughts
We have reached the end of our article, and by now, you should be able to know which features to keep an eye on when choosing a scope for your shotgun, and you should have a good idea about which the best models are.
Regardless of which scope you end up choosing, you can rest easily knowing that having a scope that will not only improve your accuracy but has the clarity and brightness needed as well. You will be able to see better, even in the dark hours of the morning, with such ease that shooting the turkey or deer will seem nearly effortless.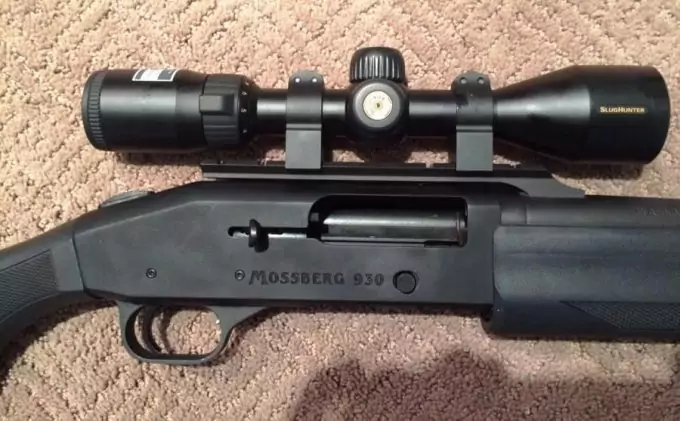 Keep in mind the above features and try to keep it simple when you buy a new shotgun scope. A higher price does not necessarily mean that the scope is better than a less expensive scope. You need to be sure that the scope offers enough clarity, brightness, and other features (such as fog proof, waterproof and shock proof) so you have an easier time using it.
We sure hope that we have provided you with enough information about shotgun scopes. Now that you are better informed, you can make a successful purchase and then improve your shot accuracy. Have we missed anything here? Do you have a story to share? Please do so in the Comments section, and share with us!
Some of the links in this post are affiliate links. This means that if you click on one of these links and make a purchase, I earn a small commission at no extra cost to you. Also, as an Amazon Affiliate, I earn from qualifying purchases. If the information in this post has been helpful, please consider purchasing through one of the links in this article. Thank you.