The fishing rod is the back bone of the entire fishing gear and if you don't choose it carefully you could miss your chance to glory. If the rod is not flexible enough to support that mammoth of a fish you dream of catching, it could break and the fish would run away with half of your gear, laughing at you. The right rod can make the difference between catching a few small fishes and going home with a great catch.
[the_ad_placement id="in-text-1-type-a"]
The fishing gear that includes a rod is useful in recreational fishing and competitions as it doesn't allow catching a large quantity of fish. If you're planning to get more than 10 to 20 fish per fishing round, it's best to use a net. But this is an entire other subject and this article is about best fishing rods on the market. See our article on how to choose the best fishing rods for more information.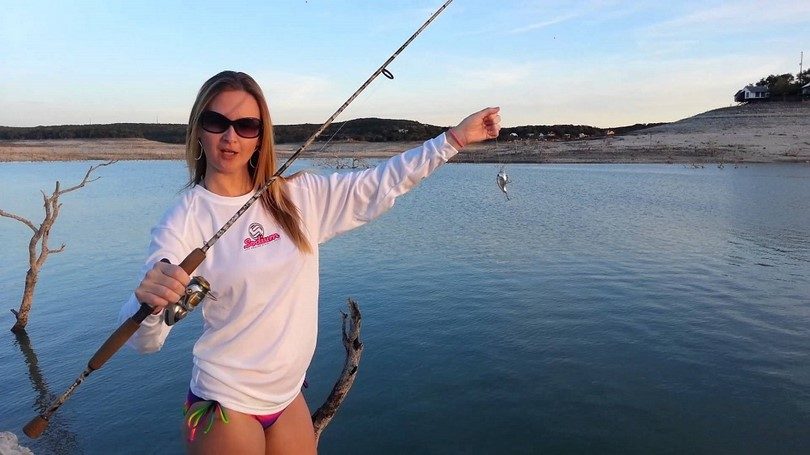 Fishing rods can start simple, from a flexible stick, with a line and a hook to professional rods made of complex materials. The difference consists in reliability and ease of use. A professional rod is specially designed for the type of fishing you want to practice and can be of great help in landing the fish.
A stick is never recommended if you want to do some professional fishing but, if you're in an emergency situation, it can prove very useful for finding food.
A few tips on choosing the best rod for you
Let's discuss a bit about what to look for when on rod shopping.  These ideas are fit for both beginners and professionals as things change and it never hurts to be up to date with the latest products and their characteristics.
Type – according to the type of fishing you want to practice, there are several types of fishing rods like: fly rods, spinning rods, bait casting rods, ice fishing rods, and trolling rods. Most of these types are defined after the type of bait they support, except for the last two ones. Ice fishing rods are especially made for fishing through a small hole in the ice and trolling rods are created to drag the bait behind a boat on the move.
Material – modern rods are made out of various materials like graphite, fiberglass composite, carbon fiber composite, or bamboo (the more classic approach).
Fish size – according to your target size, the rods come in a variety of configurations, sizes, actions (the necessary time to return in a neutral position) and lengths. Fish is usually categorized as small, medium or large and you also have to consider if you're going to fish in fresh or salty water.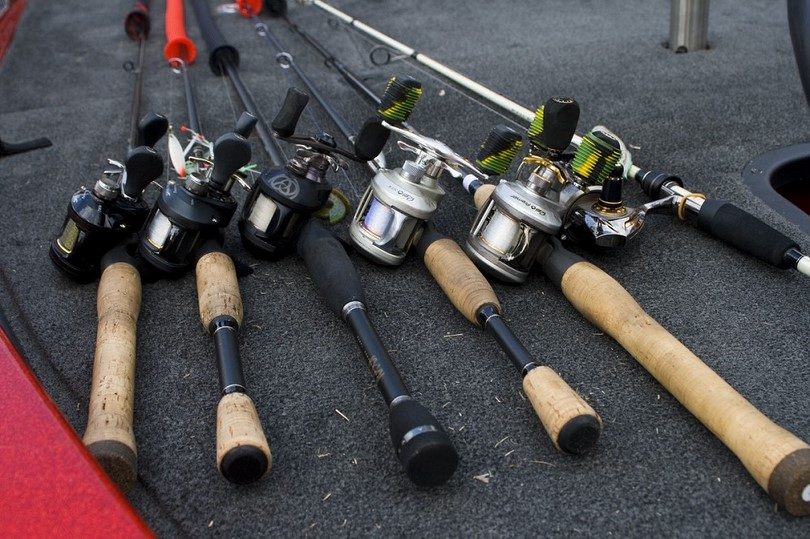 Shape and weight – the perfectly shaped rod is the one that gradually tapers from bottom to the tip smoothly and progressively.
Grip – Regardless of your preferences when it comes to the material, you'll definitely need a good grip from your rod. The most used material for this is cork due to its durability and capability to transmit rod vibrations.
There are three main types of rods that fishermen prefer these days and those are: graphite, fiberglass and bamboo.
Bamboo ones are considered to be the heaviest and anglers use them for the feel. Still, if you're a beginner in the art of fishing, you should not start with a bamboo rod.
The fiberglass ones are among the most popular for both beginners and professionals. They are less expensive than the graphite ones and lighter than bamboo ones. These rods are also more durable and shock resistant so anglers that fish in places where there's a higher risk of breaking due to knocking the gear on the rocks prefer them.
Graphite rods are light and allow the fisherman to do a further and more accurate cast. They are also more sensitive, meaning that the holder will be able to feel the fish bite easier.
Of course that with the perfect rod, you can also purchase accessories that will help you catch and keep the biggest fish in the area.
Choosing the best fishing rod when you're on a budget (under $100)
Sometimes you need to combine the fun you're having while fishing with the budget you have available. Still, you shouldn't worry; there are plenty of good offers out there for under $100. The following rods are perfect for catching fish of various sizes and types in various types of water.
When you're fishing on a budget, you won't be able to afford different rods for each type of fish you are trying to catch. This is why you need something flexible and durable enough to sustain various shocks and actions.
Check out our article on DIY fishing rods to save more money and learn a new skill at the same time.
The Shakespeare Ugly Stik GX2 Spinning Rod Combo
This rod can be used by both left and right handed fishermen and it's built in one single piece. It features a 4/8″ Ultra light Spinning Combo and the price vary from around $50 to around $90. The name suggests from the beginning that this is not an attractive rod but you'll rarely find the same responsiveness and durability in a good looking rod without breaking the budget.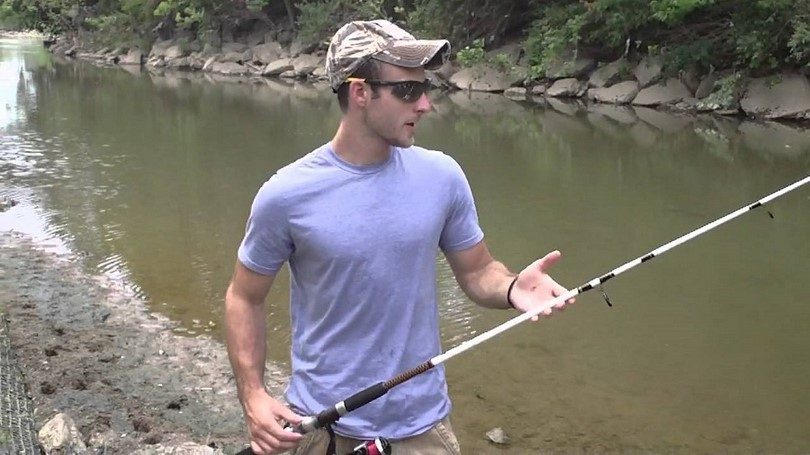 A spinning rod is best suited for beginners as it offers a better experience in all possible conditions in both salt and fresh water.  The body is made of nylon and filled with glass fiber and comes equipped with 2 or 3 ball bearings.
The rod has great balance and is more sensitive thanks to the graphite and fiberglass combination that features. While trying to make the rod look more modern and sleek, the design is matte with a black finish and tones of red and silver.
| | |
| --- | --- |
| Pros | Cons |
| A very solid pole | It doesn't come with a line so you'll have to buy some separately |
| It's made from one single piece | The reel will hurt your fingers if you handle the rod without gloves |
| It performs very well with various types of lures | There is no marking to help you align the rod segments |
| Easy casting | |
| It has a good grip | |
| It is light and sturdy | |
| Reduced rod flashes due to its matte finish | |
If you like this product you can find and check its price here.
The Shakespeare Medium Action Ugly Stik Bigwater Combo
This is another fantastic spinning rod from the Shakespeare ugly stick category having a 10' dimension. The two piece M action rod is accompanied by a great 70 size Shakespeare Encore USP260 reel. With genuine Fuji guides and a reel seat, this rod has a dependable multi-disc drag system.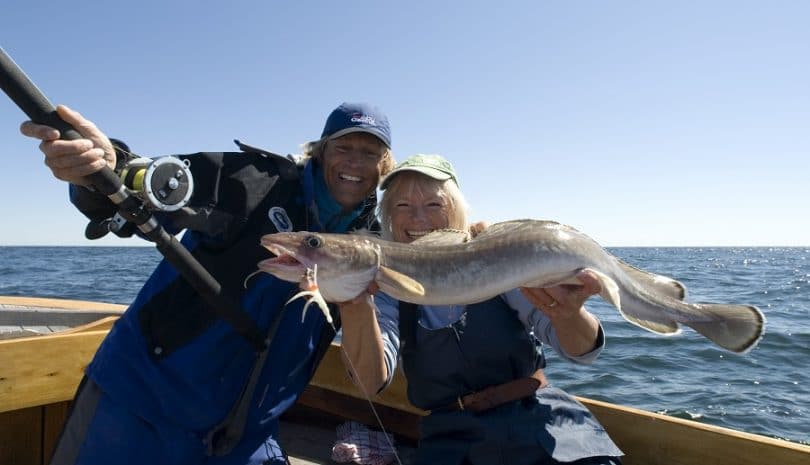 According to users' reviews, the Ugly Stick Bigwater is a large rod that goes perfectly with pier fishing and inshore, surf fishing and deep sea fishing. The rod is perfectly capable to help you catch the greatest, biggest fish of your fishing career but it's also extremely effective in catching all size fish.
| | |
| --- | --- |
| Pros | Cons |
| Great value for the money | The reel may not have the not have the anti-reverse on & off switch |
| High quality product | The reel is too small for the pole |
| Great for all size fish | The reel may not be greased so you'll have to do it |
| Feels awesome and the rod's weight is great | |
| Perfect for long casts | |
| Can used for both artificial and fresh bait | |
If you like this product you can find and buy it here.
The Pflueger GX7 Trion 30 Spinning Rod and Reel Combo
A smart choice for any passionate fisherman looking to catch bass or trout! The combo comes with 6 stainless steel ball bearings, on/off instant anti-reverse bearing, an aluminum handle with soft touch knob, and double anodized aluminum spool. This is a one piece rod with a threaded main gear design that eliminates play in the handle and the medium size is of 6'6".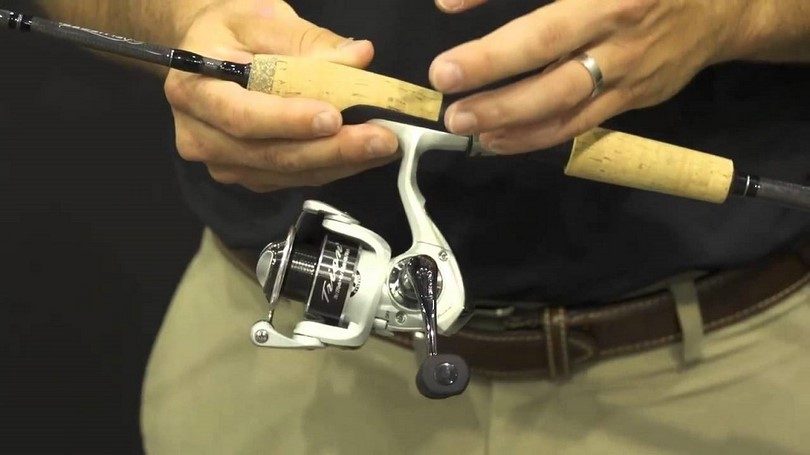 The online price is somewhere around $60 and all users experiences were positive when using this rod and reel combination. Users say that the rod is strong but manages to maintain a high sensitivity so you can feel the fish bite. The casting is great and you can even use small lures without affecting its action.
The rod is highly recommended for fishermen looking for a good quality and versatile rod at a smaller price.
| | |
| --- | --- |
| Pros | Cons |
| Great and smooth casting | The reel may be a bit problematic but it's still very good for the price range |
| Strong pole but still sensitive | The rod is a little light for jigging |
| The combination is well chosen and they work great together | The tip can be easily snapped |
| Best price-quality ratio | |
| It's a wide action rod | |
| The rod looks great and the balance is perfect | |
| Increased durability | |
If you like this product you can find and check its price on Amazon.
The Okuma Safina Pro Spinning Combo
This rod is the perfect embodiment of the fact that you don't need to spend a ton of money for good fishing gear. You can buy a perfectly good rod that operates smoothly and supports outstanding durability for around $60.
The rod is made of graphite composite and comes with a 4 ball bearing reel that makes the casting and retrieving a child's play. The rod is built for lightweight sensitivity, with stainless steel guides and comfortable EVA foam reel grips.
The size of the rod (around 7') allows you to catch fish of all sizes, including big ones due to its natural bend. The sensitiveness level is high, especially when using spin bait and the alignment is perfect.
The rod also looks great, having a nice tone without being too flashy.
| | |
| --- | --- |
| Pros | Cons |
| Great for fish of all sizes | It may snap when stressed with catching larger fish |
| Strong yet sensitive | The line guides are wrapped only on one side |
| Lightweight, flexible and easy to cast | The hook holder may be missing |
| Great for slinging a small lure | |
| The sleek design makes it attractive | |
If you like this product you can find and buy it on Amazon.
The Master Fishing Tackle RLP60/RHP8 Saltwater Lite Combo
This two piece 8 feet rod is a bit feminine looking (it has pink areas) but it can be used by both men and women. The price is affordable being established around $50 and you will receive high quality and good action in return. The rod is sturdy and yet, sensitive, allowing you to pull that big fish you always wanted to catch.
Usually, this rod is used by women or children, to its girlie aspect and can be a very nice gift for a passionate angler woman.
| | |
| --- | --- |
| Pros | Cons |
| Fit for women and children | It's not very durable in time |
| Strong pole with a good sensitivity level | It's a bit flashy and it might scare the fish away |
If you like this product you can find and purchase it on Amazon.
The South Bend Worm Gear Spinning Fishing Combo
This combination of rods and reels is absolutely fantastic for beginner anglers! The Worm Gear rods in this package come in three different colors: orange, blue and green allowing you to have an interesting looking rod when on the lake with your friends. The rods are made of fiberglass blank and have ceramic guides. The reel seat is made of graphite and the handle is EVA foam for a great grip.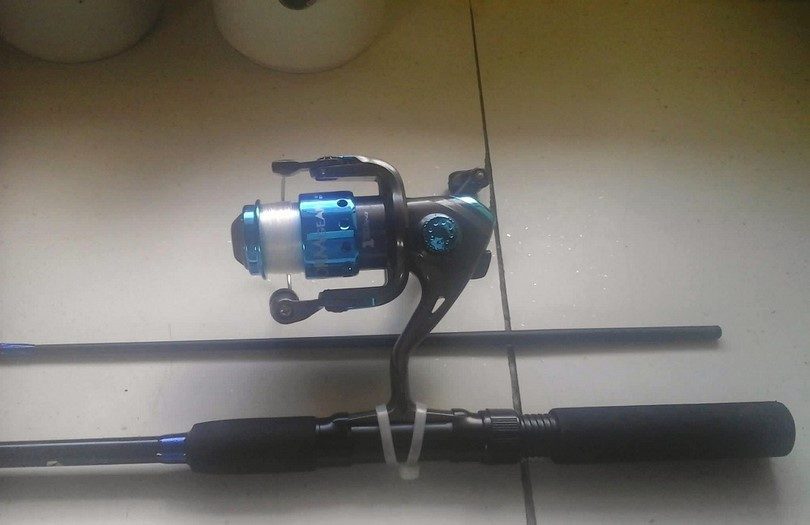 These rods are so great to handle that even an 11 year old could use it. Also, this makes it a fantastic rod for teaching your children how to fish. The strike and girth are amazing and you will be able to enjoy every moment of your fishing time due to this high quality, amazing rod. It's perfect for fishing various fish sizes and you can use it in the ocean or in a canal just as easily.
| | |
| --- | --- |
| Pros | Cons |
| Easy to use and great for teaching kids | The stick can seem a bit short |
| Extremely affordable and of high quality | It's a basic combo that may not be suited for a professional angler |
| It usually comes pre-spooled | You can't pick the colors when ordering it online |
If you like this product you can find and check its price here.
The Daiwa Mini System Minispin Ultralight Spinning Reel and Rod Combo
This is a package for anglers who are always on the move and need a compact, light fishing gear. It comes in an ultra-compact hard case and you can simply add it to your luggage or tuck it under the car seat. This combination features an ultra-light MS-S500T reel, a five piece ultra-light rod of 4 ½ foot for two to six pounds test lines and 0.0625 to 0.25 ounce lures.
[the_ad_placement id="in-text-2-type-a"]
The main advantage with this rod is that you can't snap it by mistake on the back of your truck. The hard case will protect your precious fishing gear against any shocks or bumps you may hit on the road.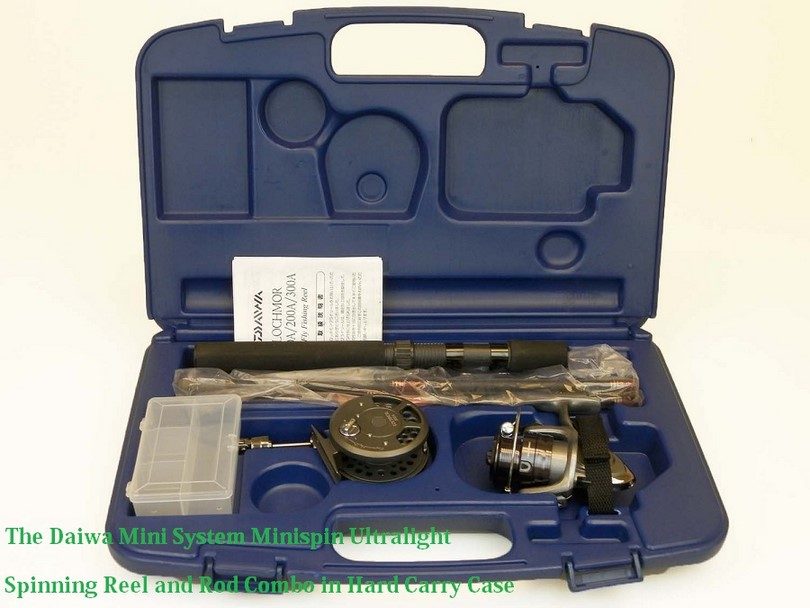 The ultra-light term used in the name of this fishing rod is not something that describes the weight of the rod but the fact that this equipment is best for catching small bait fish like pan-fish. Also the pole assembles extremely easy, without raising any problems to the beginner or experienced angler. In the end you will get a sturdy, yet sensitive pole that will be of great help during your fishing activity.
| | |
| --- | --- |
| Pros | Cons |
| Hard case to protect the gear | The reel may feel a bit cheap |
| Easy to assemble rod | The pole grip needs some adjusting time but you will get used to it |
| It's a great spin cast | It's a tiny rod, reel, and case |
| Feels both sturdy and sensitive | You need to load the spool with line |
| The pole stays together perfectly | You can't use it to catch big fish |
| It's great for children | |
If you like this product you can find and buy it here.
The Shimano Stimula 2-Piece Spin Rod
The Shimano Stimula products are built for the spinning angler who enjoys having a high quality rod with a fantastic look. The main features that make the Shimano Stimula such a fantastic rod are: aluminum oxide guides, custom shaped cork handle, and EVA butt caps.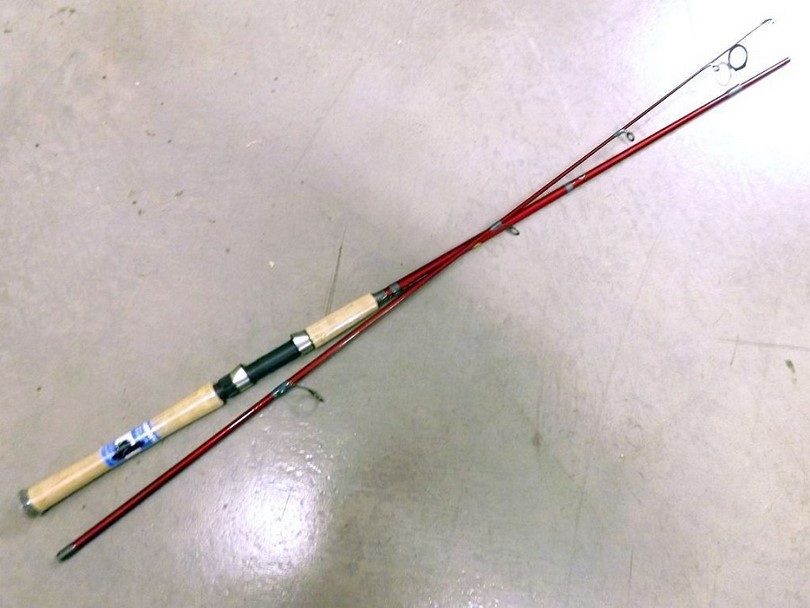 This is an ultra-light, two piece spin rod with fast action and a length of 5'6". The price is affordable (from $20 to $50) and you will receive a great rod for fishing small bait fish. Given the fact that the rod is a two piece, you can keep it in the car trunk or behind the seat of your pick-up.
| | |
| --- | --- |
| Pros | Cons |
| Sturdy and sensitive pole | There may be problems with some rods due to some defects from the producer |
| Great for long casting | There may also be problems with the eye falling out of the tip |
| Handles well small lure | It can break easily if used for large fish |
| Great quality for the price | |
| Great for  both saltwater and freshwater fishing | |
| The design is attractive | |
| Lots of hook setting power | |
| Strong backbone and good build quality | |
If you like this product you can find and purchase it on Amazon.
The best professional rods on the market
You might think that your budget will take a strong hit if you're going for a professional rod, but times have changed. With the recent financial problems and economy still on the edge, producers and traders had to redefine their selling strategies.
This is why, most professional rods can be found at an affordable price. It's true, they may be a bit more expensive than the ones we discussed up until now but you will receive a guarantee of quality and durability.
You just have to keep in mind that a more expensive gear usually means higher quality and better production standards. Cheap rods are great too but they may snap more easily and be difficult to adjust to.
Mitchell 300 Pro Spinning Rod and Reel Combo
Mitchell is a producer with great history among professional anglers that knew how to transform the characteristics of an already great rod and reel into a new and innovative product. The Mitchell 300 is a rod and reel with tradition and the new 300 Pro Combo inherited all that history and experience.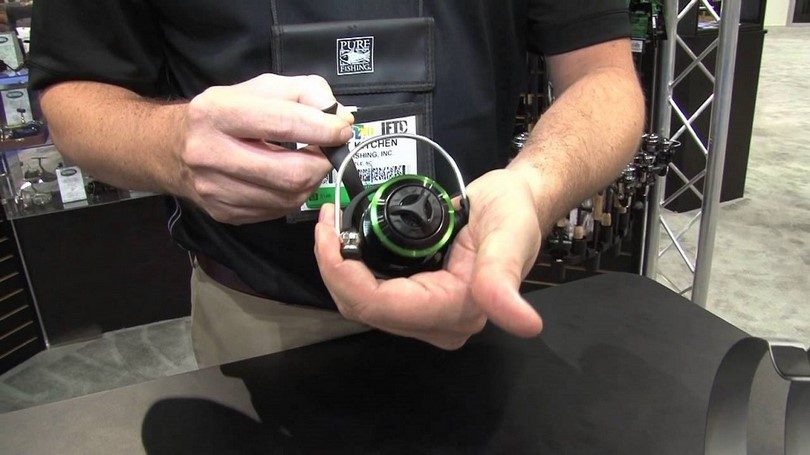 The innovation is represented by the improved level of performance obtained due to the following characteristics:
the carbon hybrid drag;
the machined aluminum spool and a great handle that give the professional angler the freedom and certitude of using a great product;
the reel is equipped with instant Anti-Reverse system to make the operation smoother;
the 24Ton graphite rod that is both strong and sensitive;
stainless steel guides that help obtain a lighter and more durable rod;
EVA foam grip for extra comfort.
All these com at the price of $90 – $100 but those who have bought this product are extremely happy with the level of comfort and professionalism it brings. With experience, you'll learn that expensive doesn't always mean the best quality but with this product, the price delivers what it promises: high quality and durability
| | |
| --- | --- |
| Pros | Cons |
| The rod is two piece and measures 7 feet | There may be some defective reels but they are replaced by the producer |
| The design is elegant and attractive | |
| It feels great in your hands | |
| It's a fantastic rod for beginners | |
| Great quality and price ratio | |
If you like this product you can find and buy it on Amazon.
Abu Garcia Veracity Casting Rod
This rod has a 35 Ton graphite blank construction, high density EVA foam handlers and a Texas rigged hooked. The price usually varies between $115 and $200 but you will receive the best performance in lightweight and balance. This is definitely a rod for the professional angler who wants quality above all, offering titanium alloy micro guides for a better balance and sensitivity.
This one piece rod is equipped with nano technology to protect it from various shocks and impact related problems that could affect its performance. The line weight is of 12 to 20 lbs, it supports a lure weight of ¼ to 1 oz, the power is at a medium to heavy level, and it has a length of 6'6".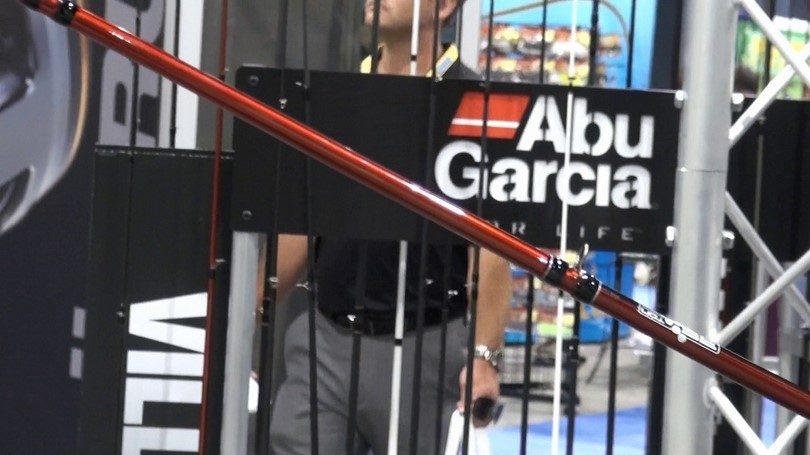 This rod goes perfectly well in both recreational fishing and competitions allowing you to impress your friends and fishing partners. Also, according to users' reviews, the rod handles big fish amazingly and offers a comfortable grip and feel.
The final conclusion is that, if you want to practice fishing professionally, you should have the right gear for this. It makes a great difference when the rod takes over part of the job.
If you like this product you can find and check its price on Amazon.
Fenwick HMX Spinning Rod
Versatile and reliable, the Fenwick HMX Rod is a favorite to all professional anglers who appreciate high quality and tradition. The price ranges from $70 to $145 according to the model you select but it is definitely worth it. This one piece rod has a cross-scrim graphite construction with overlapping carbon fiber layers for exceptional strength and action.
The rod also features stainless steel guides for durability and titanium oxide inserts. The handle offers a fantastic grip which helps with increasing the performance.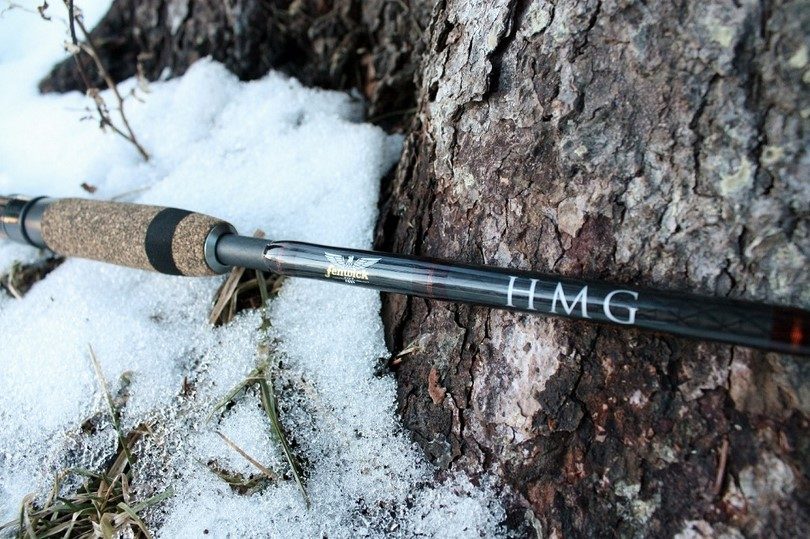 According to the model you prefer you will get a rod with the following characteristics:
the length of 5'3" to 6'6";
power from light to medium;
action from medium to fast;
weight from 2 to 8 lbs and ending with 4 to 10 lbs;
various lure weight capabilities.
| | |
| --- | --- |
| Pros | Cons |
| Great for  inshore/near shore fishing | The packaging is flimsy |
| A beautiful and well built rod | It seems to be built more for ultra-light action than for light |
| It is able to cast far without problems | |
| Light and durable | |
| Very sensitive to fish movement under water | |
If you like this product you can find and check its price here.
Duckett Fishing Ghost 6'10 M Casting Rod
This rod is perfect for the angler who wants to try various techniques of tackling like pitching, flipping, jigging, cranking, worming and others. Thanks to the blank construction and the highest quality multi-modulus pre-pegs, the rod offers a very good feel with any type of bait.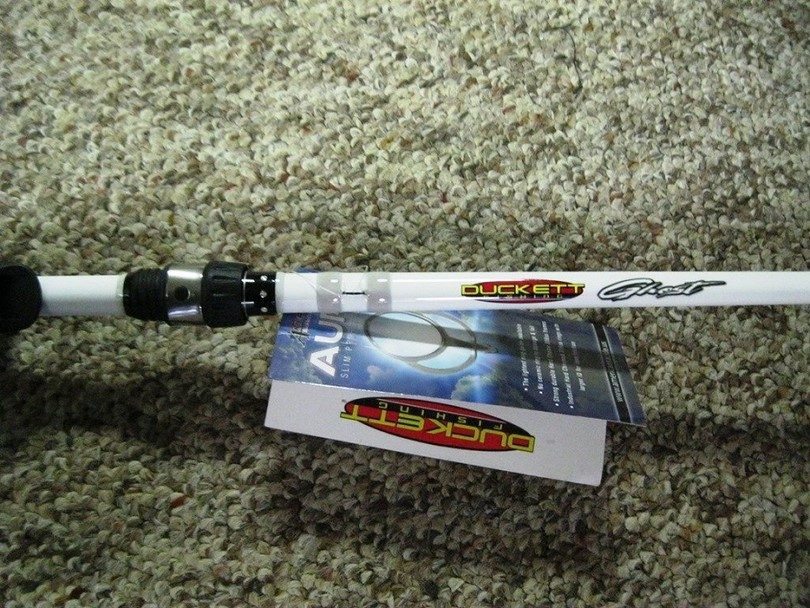 The rod is lighter and stronger offering greater sensitivity thanks to 316 stainless steel frames and hand chrome inserts. Also, the problem of ring loss is eliminated due to the construction specifics. The split –reel seat offers free access to the blank and transmits the vibrations of the rod x towards your hands in a better, more efficient way.
If you like this product you can find and buy it here.
Redington PATH Fly Rods
This is a moderate to fast action rod that works great for beginners or anglers with a bit more relaxed casting stroke. The rod is fit for all types of water thanks to its durable anodized aluminum reel seat. To make the setup job easier, there are alignment dots to guide the angler (effective especially for beginners).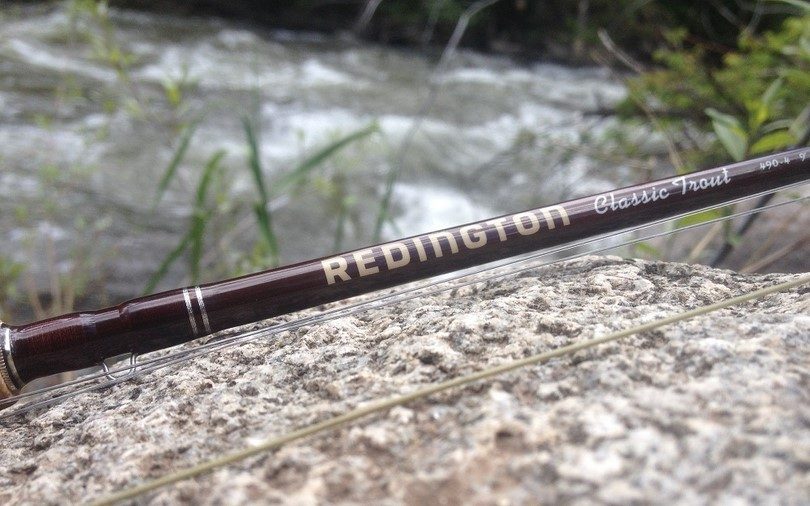 The price is somewhere around $110 to $130 but this shouldn't matter so much when you're looking for the highest quality. If you choose to, the package is delivered with a case which will be fantastic at protecting your rod from various impact related problems.
It will also be extremely useful in adding the rod to your fishing luggage or transporting it with your car. Usually the car ride is the time when most rods are damaged when they are not protected accordingly which is why the case will definitely prove extremely valuable.
[the_ad_placement id="in-text-3-type-a"]
If you like this product you can find and buy it on Amazon.
What to buy?
Regardless of the fact that you are on a tight budget or not, you have the possibility to buy a great rod that will make the fishing adventure more fun and comfortable. You have access to great products and you only need to follow a few simple rules to select the best product for you.
High quality rods don't have to cost you a fortune, they just need to be flexible, durable and sensitive enough to fit your needs.
For tips on river fishing, see our article featuring this important topic.
Some of the links in this post are affiliate links. This means that if you click on one of these links and make a purchase, I earn a small commission at no extra cost to you. Also, as an Amazon Affiliate, I earn from qualifying purchases. If the information in this post has been helpful, please consider purchasing through one of the links in this article. Thank you.