A boresighter is a device you cannot afford to miss; particularly if you are a regular gun user. It will help you adjust the telescopic sight of your rifle. Or do you want to do test shooting every time you need to check the alignment in your gun? You don't. You need the best boresighter to be able to get a precise shot.
A boresighter is easy to use since it comes with a comprehensive user guide manual showing a step by step outline on how to correctly install it on the gun's bore.  The ease of use enables you to sight your weapon from the comfort of your place of choice, even at home. That being said, make sure you have the right gear. Check out our piece on the best shotguns for home defense for your guidance.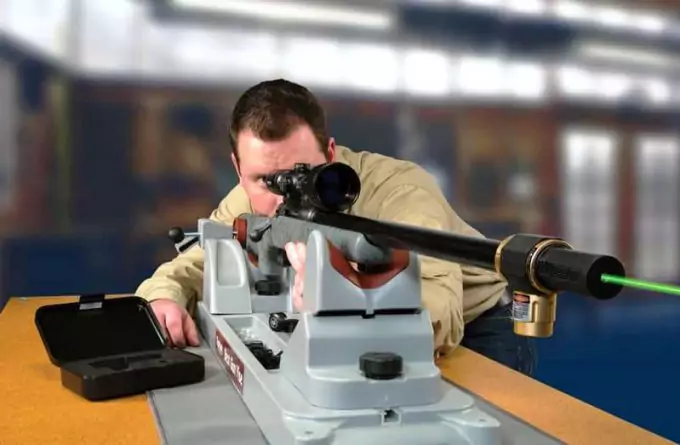 The new boresighters have a laser and are even backed up by LED lights to enable you to work on your rifle no matter the time or the weather condition. Check out some of the best selections here.
Our top picks
| Product | Dimensions | Weight | Laser Colour | Price |
| --- | --- | --- | --- | --- |
| Sight Straight 223 Laser Boresighter | 6.5 x 9 x 2 inches | 16 ounces | Bright red | Shop Here |
| Bushnell Professional Boresighter Kit | 3 x 2 x 2 inches | 14.4 ounces | No laser | Shop Here |
| Leupold Zero Point Boresighter | 10 x 5 x 5 inches | 3.2 ounces | Red | Shop Here |
| Sightmark .45 ACP Boresight | 0.9 x 0.5 x 0.5 inches | 3.2 ounces | Red | Shop Here |
| ELENKER Cal 223 Boresighter | 3x2.3x0.5 inches | 0.8 ounces | Red | Shop Here |
| Sight Straight 223 Laser Boresighter | 3 x 2.3 x 0.5 inches | 0.8 ounces | Red | Shop Here |
Factors to consider when selecting a bore sighting device
Though there are boresighters that are capable of fitting in most of the rifles and guns since they use magnetic cohesion, there are many reasons which might make you not like such kind of boresighter. There are different factors to put into consideration when selecting a boresighter.
Some carry more weight than others, but the final decision rests on your preference and choice. Read through the text below and get yourself armed with the buying information to enhance the performance of your armory.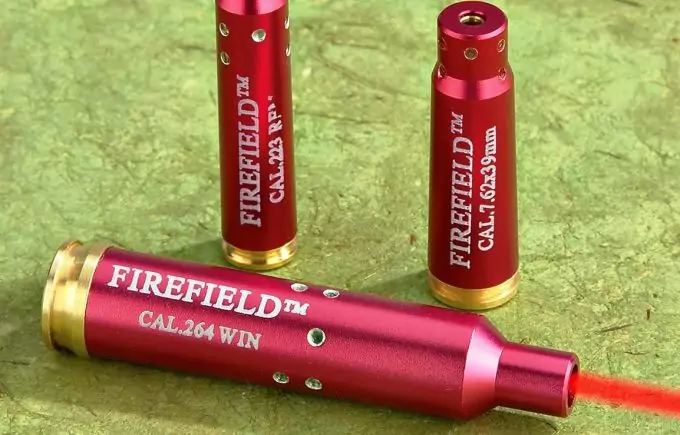 Type of the boresighter
These can be either
These are the boresighter that requires insertion at the muzzle or the gun calibers. It's economical because it can fit in various firearms depending on the adapter used and the o-ring utilized in the exercise in comparison to cartridge lasers. The only drawback with these kinds of boresighters is that the stem of the boresight may be too long for some short guns.
These are calibers inserted in the chamber of the gun and illuminated when the bolt close. The main drawback of these types is the custom settings making it hard to use in a variety of rifles or guns. These types of boresighters are loaded into the machine just the same way you load a bullet.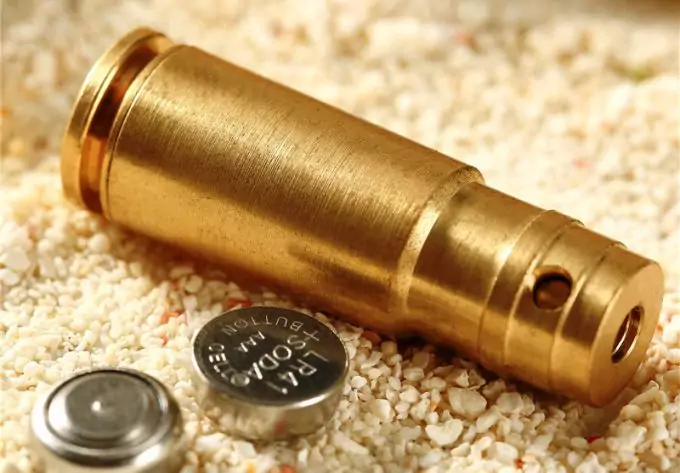 Magnetic attachment lasers
These are the best selection since they fit in all the firearms you can think of in the market. Whether it is a short gun or a rifle, they are all covered by the design of this boresighter. Due to this dual capability, they might be a bit expensive, but they will save you a lot in the long run.
It is the best buy option for hunters or professional shooters since you might be using different guns and rifles at various times.
Convenience of use
The boresighter should have the capability to be used on as many rifles or guns as possible. Don't put too much weight on price as some features which make a boresighter expensive are irrelevant. You won't require them at all.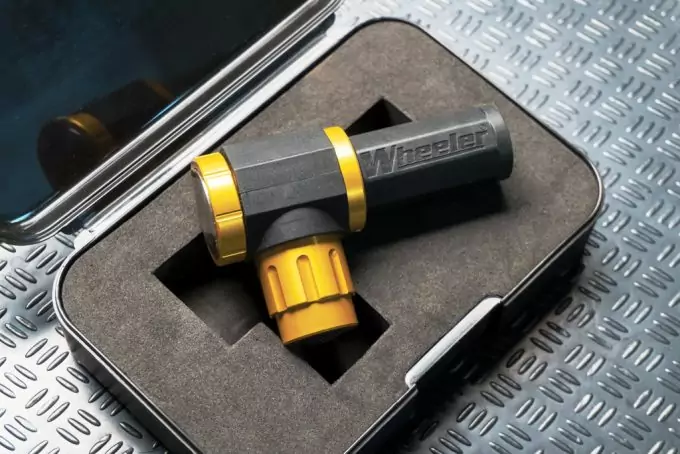 Check out the ease with which you can put the batteries in the device, the ease of switching the laser on or off, take note that some of the boresighters have no switch anyway. Lack of switch might be a big put off since you have to keep opening and closing the boresighter to remove the batteries.
Type of laser emitted
There are only two choices when laser color is concerned; there are only green or red lasers. The green lasers are more expensive than the red ones, and they are much brighter to use during the day. Holding all other factors constant, the illumination distance of the laser is what is more important. Based on that fact, red lasers are better.
The size of the laser beam is a big point to consider too since it will be hard to zero in with a laser which has a large windage diameter.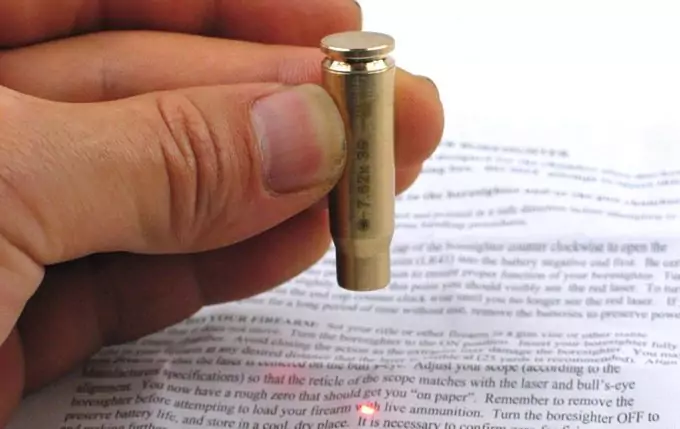 Battery life
Just like illuminating torches, lasers quality depends on the available charge in the batteries. If you notice the dimming of lights, it is the time to change the battery. The lifespan of the batteries will depend on the frequency of use.
See also: How to Sight in a Rifle Scope: Eyes Wide Shot!
Batteries are readily available in the retail shops and customer stores. However, most of the boresighting devices come with a battery set or even a spare battery at the time of purchase.
Lifespan of the boresighter
They are either made from iron, aluminum, brass, and other metals. However, bearing in mind the sensitivity of the device, you do not want something that will be prone to corrosion. Aluminum is both corrosion resistant as well as easy in handling.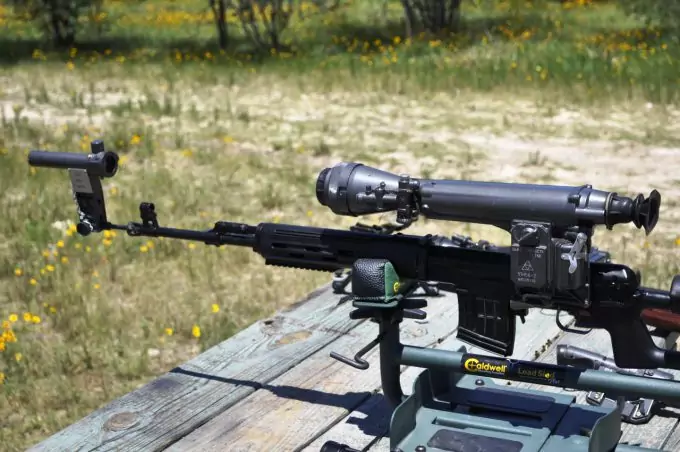 The lifespan of your boresighter also depends on your level of care exercised while using the device. Take care also not to use the boresighter on your loaded guns; you might blow it off unknowingly.
Top product reviews
Based on a thorough analysis we have selected some bore sighters which can give you a good value for your money. Though some might look as if they are expensive, they will give you long service and can last more than five years.
SiteLite Ultra Mag SL- 150
Specific Features: Very easy to use, a bunch of how to guiding materials
Battery:  CR2 lithium battery, battery life is excellent, lasting up to 40 hours, best for hunters
Lifespan: It lasts long even up to more than five years, no wonder the lifetime warranty
Warranty: Unlimited or lifetime warranty
The purchase of SiteLite Ultra Mag SL-150 is well catered for since it comes with the siteLite BTS program. The program enables you to print out any rifle fitting specification, and this fact makes the boresighter very user-friendly. The purchase comes with a scope reticle leveler to ensure efficient leveling of cross hairs before boresighting.
Not only that; you also get a full hunting DVD from muley crazy which is fully approved by the boresighter manufacturer chief executive officer, Rich Langner. You do not have to worry after purchase since the company gives a professional customer service.
There are incidences of fake site Liteboresighters, and you need to double check your purchase to ensure that it has none of the following features
Cheap white packaging box with white foam
Cheap high gloss light red with anodized finish.
The laser is not aligned.
Return to the buyer and report any cases of counterfeit you come across
PROS:
Very accurate
Fit well in all the .22 to .50 cal
Ideal for short range setting
Has a boresighting target
CONS
:
Under direct sunlight, the laser is not highly visible conditions
Related: Having a well-aligned reticle is always good, especially when there are external factors which might influence that from time to time. Along with this boresighter, you can use Wheeler's Reticle Leveling System, to keep that line of sight straight.
Bushnell Professional Boresighter Kit
Type of laser: Red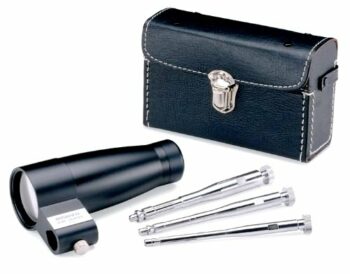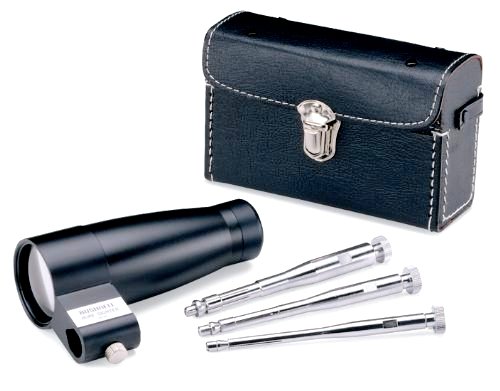 Related: If you are shooting from a single stationary point; a Cvlife Tactical Rifle Bipod will give you more accuracy as well as a good resting place for your gun well above the ground. The bipod gets the weight off your arms and reduces fatigue significantly.
Leupold Zero Point Boresighter
Type of laser: Illuminated scale,  no laser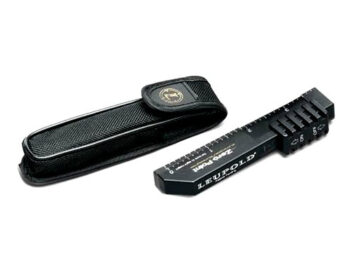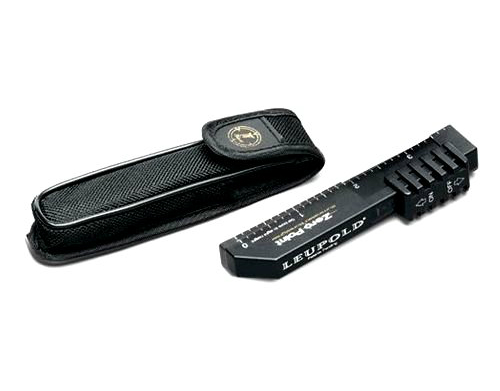 Convenience of use: Requires a bit of practice
Battery life: 2 SR60 and they last long on full time use
Warranty: Lifetime warranty
Leupold Zero Point Boresigher is well designed and can punt quickly on a majority of the steel barrels. It has easy adjustment knobs for adjusting the windage as well as the elevation scopes. It puts you directly on paper at 100 yards with at most 10 inches windage. Despite its cost, it easily pays back through saved ammunitions.
PROS:
LED illumination
Batteries can last up to 25 hours
Magnetic boresighter
CONS
:
Bit expensive
Stiffer learning curve
Related: A good rifle requires an excellent rifle scope. The CVLIFE Hunting Rifle Scope is the best one to complement your rifle. The scope can be used in varying light intensity environments since it has both green and red illumination.
Sightmark .45 ACP Boresight
Specific Features: Chamber the boresight like a regular bullet
Warranty: Sight Mark lifetime warranty within the USA and a 10 year warranty outside the USA
Sightmark .45 ACP Boresight is a cartridge type of boresighter which offers specific features due to its custom measures. Since it uses cartridges ensure that the batteries are loaded correctly with the flat or the positive side facing the battery cap.
After putting the batteries, do not tighten the cap a lot as you may damage the thread. When sighting with this device, a 25 yards setting results to a 4 inch off the bull eye at 100 meters.
PROS:
Very fast set up
Elevation of the laser is at acceptable levels
Cheap compared to competitors
CONS
:
Laser is not accurately centered
Battery life is quite short
Different cartridges for different calibers
Related: Sometimes the weather may be too dusty or too misty to a point where you cannot clearly see through your sight scope. Mudcat Iron Sights can help you maintain the focus no matter the weather condition.
ELENKER Cal 223 Boresighter
Specific features: Simple put in the batteries twist the head to put on and insert into the chamber
Battery: 4x AG3 Battery
Warranty: Lifetime
The ELENKER Cal 223 Boresighter fits in 223 REMcaliber rifles and projects straight laser beam to allow optimum optic settings in your weapon. It's a convenient power gadget with less than 5-mw in output. Its wavelength travels at 650 nanometers.
When you make a purchase, you need not worry about the batteries since they are catered for too and are of high quality.
With its laser bore set at 25 yards, you are sure to be as few clicks as possible to the to the target spot. Zeroing in your gun takes you the least time possible; up to 1 minute.
PROS:
Fits well when chambered
Excellent customer support
Greatly priced while compared to the competition
Fits well into the caliber
CONS
:
Laser is not very bright
Batteries are not sustainable
Does not have an on or off button
Related: While out there in the wild, you will not have benches to rest your gun on while shooting. An STI 2 Point Rifle Sling will help you in gaining the shooting stability to avoid missing your target. It has an adjustable fly, and thus you can change the length without detaching the sling.
Sight Straight 223 Laser Boresighter
Specific Features: Very easy to use
Battery: AG3-3X and can last up to one hour
Warranty: Lifetime warranty exclusive of the battery
Sight Straight 223 Laser Bore Sight is a device you cannot afford to miss especially if you are a professional shooter or a hunter. It will fit in a variety of guns and rifles since it is shaped like a normal cartridge. You can easily carry it around because it has its pouch and this offers the convenience required in the field.
Its ease of use will enable you to sight your rifle within the shortest time possible. You can easily achieve optimum settings at 25 yards.
PROS:
Very high precision accuracy
Price is great for the product
It has a carrying pouch
CONS
:
Red laser is not very bright
Boresighter has no on or off switch
Batteries last for a very short time
Conclusion
While planning on how to get a boresighter, it is good to keep in mind the decisional factors.Red laser boresighters are sometimes affected by sunlight intensity and may not be the best to use during sunny days.The capability of the boresighter to fit in various rifles and guns is the biggest user important feature especially if you have a variety of shooting devices.
For more options and choices, see our guide on the top laser bore sighter to help you make the right decision.
While sighting your rifles; ensure they are not loaded, and the muzzle is facing in the safe direction.The cost of ammunitions you can use trying to zero in your weapon cannot compare to the price of a boresighter. Buying a boresighter is such a huge saving and if you think we missed something, feel free to let us know in the comment section
Some of the links in this post are affiliate links. This means that if you click on one of these links and make a purchase, I earn a small commission at no extra cost to you. Also, as an Amazon Affiliate, I earn from qualifying purchases. If the information in this post has been helpful, please consider purchasing through one of the links in this article. Thank you.