ArmaLite rifles are great for sporting and hunting. Having one is good but learning how to derive the maximum benefit from it is great. You can achieve this by taking easy actions like mounting a scope on the rifle. To enhance your gun performance; it is advisable to fit it with the best night vision scope for AR 15.
See also: Best Pellet Gun Scope: Ultimate Buying Guide Plus 6 Scopes Reviewed
Choosing the right scope might seem like an overwhelming task bearing in mind the number of models and brands in the market. However, this scoping review will take away all the hard work of going through numerous brands before making a decision.
There are many riflescopes in the market, but we have selected a few for analysis, check the table below to have an idea of the best purchase options
Our top picks
| Product | Magnification | Dimensions | Weight | Price |
| --- | --- | --- | --- | --- |
| Sight Mark Photon Scope | 4.6x | 18 x 4 x 4 inches | 2.3 pounds | Shop Here |
| Firefield NVRS Scope | 3x | 9 x 3.2 x 3.4 inches | 1.8 pounds | Shop Here |
| Yukon NVRS Titanium Scope | 1.5x | 3 x 3.3 x 8.6 inches | 1.9 pounds | Shop Here |
| ATN X-Sight Scope | 3-14x | 10 x 6 x 6 inches | 2 pounds | Shop Here |
| Armasight Orion Gen 1 Scope | 5x | 12.7 x 4.6 x 4.1 inches | 3.7 pounds | Shop Here |
| ATN Gen 2+ Scope | 4x | 11 x 4.1 x 3.7 inches | 3.1 pounds | Shop Here |
| Burris AR-332 Scope | 3x | 12 x 6 x 6 inches | 1 pounds | Shop Here |
| Pulsar Digisight N750 Scope | 7-11.9x | 7 x 4 x 18 inches | 2.2 pounds | Shop Here |
Things to Consider When Buying a Bore Scope
It is always better to know all the factors needed in making the best decision for the scope of your rifle. After all, depending on your budget, you might end up using it all the time.
Magnification scope adjustments
The NVRS is meant to give you a clearer picture of the target. Having a magnifying lens which can rotate to a higher variation is important since you can shoot at long and at short distances with precision.
For example, a scope with a magnification power of 3-9x means that you can shoot accurately at 400 yards while magnification is set to 9x and still achieve an accurate shot at 80 yards when the magnification is set to 3x. Avoid buying fixed magnification scopes. Check out our reviews of the top scopes for 30-06  for more insight.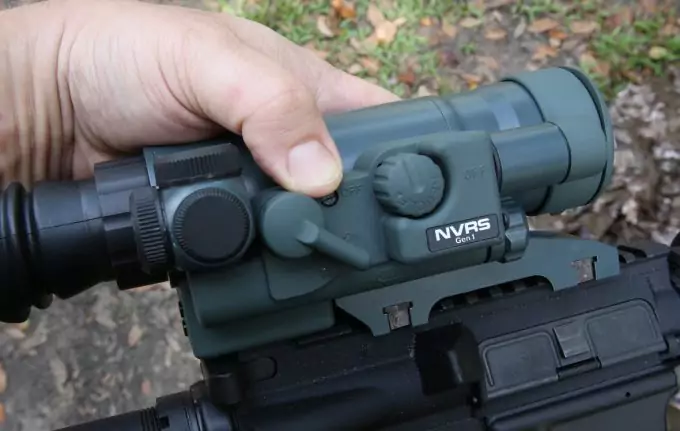 The size and weight of the scope
It should not be too bulky to cause an inconvenience of use; large NVRS are hard to look through due to cheek weld balance though you can buy a cheek riser. Big scopes may also add too much weight and affect the stability of the rifle while shooting. If the gun is used while mounted on a bipod, the weight of the scope may be irrelevant.
Generation
Scopes are categorized into generations. Currently, there are four generations with the 4th one being the latest. Any plus (+) sign on a gen symbolizes that more features have been added to the referred generation. Thus a generation 2 would be more inferior to a generation 2+.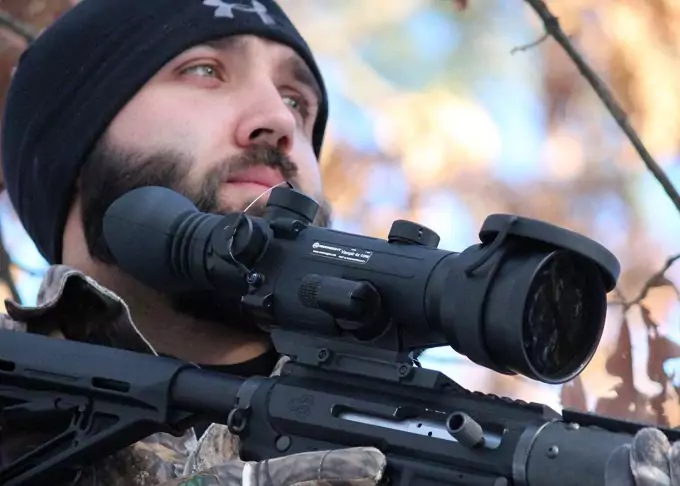 Budget
In most of the times; price is the major limiting factor in our purchase decision. However, even if you have limited finances try not to buy very cheap scopes as they will give you poor quality service and for a limited time. It will be wiser to halt the purchase plan and save a little more to buy at least a medium scope.
The objective lens and the signal to noise ratio
It is the lens at the front part of the scope. It determines the size of the field of view as well as gathers light to the target.
Thus, the bigger it is, the more the light which gets to the target and this result to a brighter image especially under conditions of low light or at night. An optimum lens size is 30-40 mm; beyond that, the lens will demand a bigger mount to prevent it from touching the gun.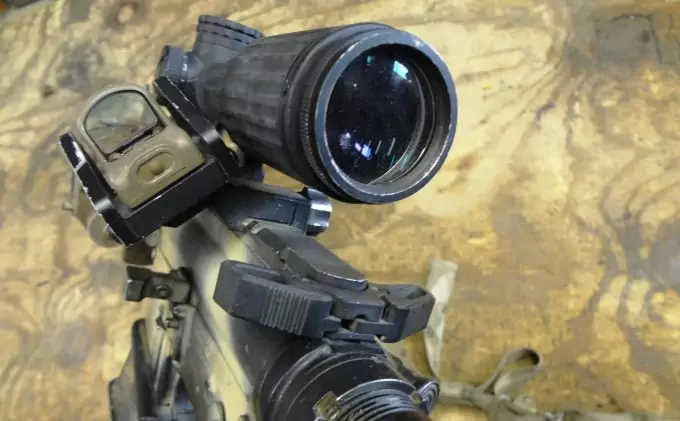 In a night vision scope, a signal is the amount of light you can see through the scope. What you cannot see is the noise. The lower the ratio; the better the scope,
Auxiliary adjusting devices
There are some critical things which need to be present on NVRS for efficient functioning. These may include:
Windage – Adjusts how wide from left to right you can see. Mostly the settings are a ¼ inch to 100 yards adjustment.
Elevation: – It adjusts how high or low you see, and same settings as in windage applies
Parallax: – It reduces the blurriness when you are shooting at long ranges.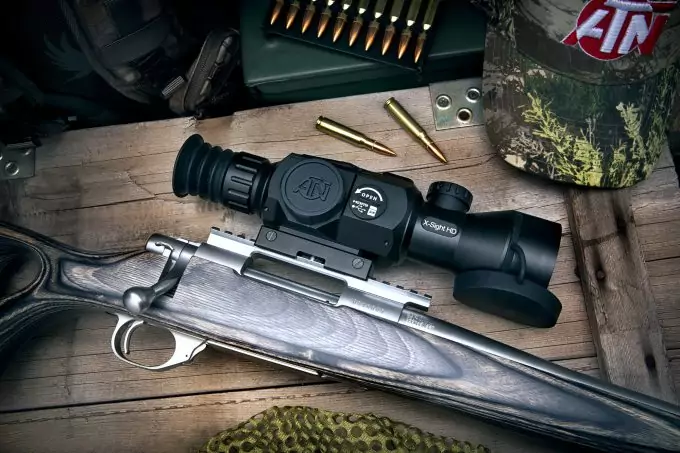 Reticle, Detection, Recognition, and Identification (DRI) range
It is the net of fine lines in the eyepiece of the scope, and there is a variety of them, some include crosshair, mil dots, BDCs, and duplex reticles. The list is long, but the best one to look for is the duplex reticle since it has bold lines on target and yet still they are thins enough so that you can see the target through the scope.
Some reticles are even illuminated to provide more sight clarity but that is not a must have feature.
Detection and recognition range is the distance from which you see something and the range at which you can solidly identify what it is. These capabilities mostly depend on the lens power. Choose a scope whose recognition range is a safe shooting distance.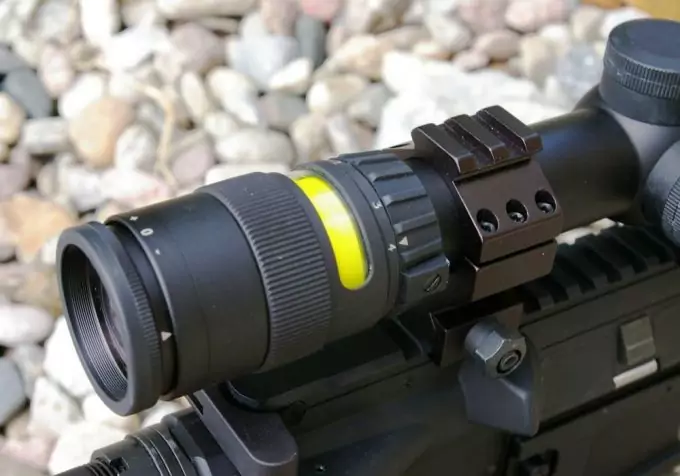 Durability
An NVRS should be made in a way that it can withstand harsh weather conditions, whether rain or hot sun. Look for the scopes whose lens are multi-coated rather than fully coated, but all in all, consider covered NVRS.
It should also be airtight and have a synthetic covering to protect it from the water. Durability has a direct correlation with price. Avoid buying very cheap rings or any other enhancing device.
Luminance gain
It is the distance you can see through the scope. It mostly depends on the lens quality and the conversion ratio of input light to output light.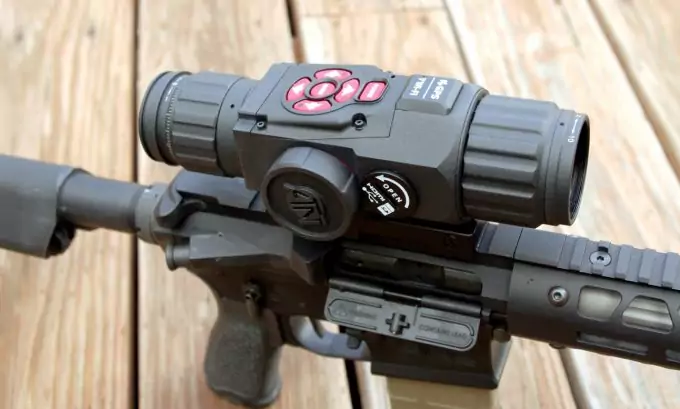 Some reticles are even illuminated to enhance this capability.
Top product reviews
Putting all the above factors into consideration; it might appear impossible to narrow down on a single or two options to choose from, but that won't be the case with you. We have taken all the hard work of evaluating a countless number of scopes and picked the best scopes for your rifle.
Sightmark Photon Scope
Magnification: 4.6
Weight: 2.3 pounds
Dimension: 18 x 4 x 4 inches
The Sightmark Photon Scope is a rifle scope engineered for medium range shooting. It offers 30% lighter weight and 33% more battery life in comparison to the other night vision devices. It features six options of red/green and white digital reticle.
The scope includes two crossbows, two Duplex reticles, a mil-dot reticle and a German style reticle.Its resolution is more than average at 640×480 pixels. It has digital windage and elevation adjustment features. It uses CMOS sensors, and an LCD powered display.
It has a field of view of 7.5 m at 100 m and maximum recoil of 1000 G's. Its battery life is about 4-5 hours and has a detection range of 120 m. The scope is activated to capture videos in darkness or daylight. In addition to the scope, the purchased kit consists of a carrying case, user manual, video cable, and a lens cloth.
PROS:
Multi purpose scope
Digital reticle option
Long eye relief
Built in infrared illuminator
Enables recording
CONS
:
Vision is blurred without an infrared illuminator
Takes up a lot of power
Field of view is very narrow at short ranges
Firefield NVRS Scope
Magnification: 3x
Weight: 1.8 Pounds
Dimension: 9 x 3.2 x 3.4. inches
The Firefield NVRS Scope is the scope of choice to use for nights where there is no moonlight. It has a100mw LED infrared illuminator that makes it easier to see the target details as well as increase the viewing range in total darkness. You can hit a 3-inch bull's eye at 100 yards with this NVRS.
It withstands an intensive hunting episode since it can withstand high shock levels during shooting as well as recoils. Its weaver mount design enables it to be easily mounted on the rifle.
You can use it even during the day with its cap closed though this is not recommended as high exposure to light can damage the lens. It uses a red reticle with the capability of increasing the brightness. Its angular field of view is 8 degrees Celsius.
It is a first generation night vision scope which has multi coated optics.
PROS:
Made of titanium
Built in illuminator
Brightness of the reticle can be adjusted
Adjustable Red Crosshairs
Multi coated optic
CONS
:
It requires extra care
The effective reach is on average 50 yards
It also easily falls off
Related: In most of the time, night vision scopes might not give long-range efficiency. To achieve precision on the target, you can boost your NVRS with Super TAC Stream Light.
Yukon NVRS Titanium Scope
Magnification: 1.5X
Weight: 1.9 Pounds
Dimension: 3.1 x 3.3 x 8.6 inches
The Yukon NVRS Titanium Scope is a long-lasting titanium night vision device to aid in hunting or any other night shooting activities. It has a built-in infrared illuminator which can easily be activated to enhance image brightness as well as increase the view and detection ranges.
You can adjust the windage and elevation remotely by use of inbuilt knobs. A lifetime warranty backs the purchase of this device; so in essence, you are trying the device risk-free. It's among the smallest and the lightest riflescopes in the market.
It has a fully multi coated optics and a 20 degrees field of view. Its flip cover ensures that the lens is protected from damage. Its pulsating frequency capability extends the battery life up to more than 30 hours. Its purchase comes with an "on-rifle" carrying case for added protection.
PROS:
Adaptable to a digital camera
Titanium body
On or off remote control
Water resistant
CONS
:
Battery cap is awkwardly placed
Borescope has to be sighted in the darkness
Highly sensitive to light
Related: To release yourself from the weight of the rifle you can use a bipod which allows rotating or tilting of the gun without moving the bipod. The best one to use is the Green Blob Outdoors Bipod. You should set it well in advance since it can become noisy especially when adjusting the legs or fixing the springs.
ATN X-sight Scope
Magnification: 3-14x
Weight: 2 pounds
Dimension: 10 x 6 x 6 inches
The ATN X- Sight Scope is an obsidian core 11 technology night vision device. It has outstanding performance in the field during the nighttime. You can make shots at distances and ranges which cannot be achieved by other ordinary scopes.
Its precision makes every chance a viable opportunity. It does not require another laminating backup, but if fixed it can help to increase the range. A two-year warranty backs it.
You can record and take photos while on your mission without requiring other devices. Once you set your scope to RAV, it will record everything which comes to sight. Their Bluetooth capability makes it easy to control the scope and even makes live video streaming possible if you have the right apps installed.
Its smart rangefinder makes it easy to range the target with only two clicks. Once ranged the reticle automatically adjusts its point of impact. It is also equipped with an electronic compass to ensure you only take accurate shots.
PROS:
Bluetooth, micro USD as well as USB capabilities
Targets are captured in a 1080 pixels HD format
Built in range finder
CONS
:
High battery consumer
Micro USB and the Bluetooth are not included
No windage and elevation settings knobs
Armasight Orion Gen 1 Scope
Weight: 3.7 pounds
Dimension: 12.7 x 4.6 x 4.1 inches
The Armasight Orion Gen 1 Scope is a high-performance mid-range night vision weapon. Among the generation one category, it is the best bet for shooters and hunters. It can be easily attached or mounted onto your rifle with ease. The weaver mount design is a one clip model.
It is made of aluminum and thus can withstand harsh weather condition in the open world. On top of that its body is covered with rubber to make it water resistant. Its two-year warranty well protects the device, and thus your purchase decision is risk-free.
Its purchase comes with a detachable IR- 810 illuminator which increases the efficiency of the Red-cross reticle. Its rubber eye rotates smoothly making it easy to be used by both right and left-handed people.
The objective, reticule, the eyepieces are adjustable, and each can be set independently with ease. If you have any problem with illumination, you can try using an extra illuminating device since the one which comes with the purchase is not very efficient.
PROS:
Designed to keep water off
Optics is protected from shock
Excellent eye relief
Easy adjustment
CONS
:
It's a bit bulky
Cross hairs are slow to illuminate
Mount should be centered
Related: To avoid low battery issues in your scope, it is better to buy a pack of Streamlight Lithium Batteries. They have a carrying bag, and you can easily carry them around. Having these spare batteries will save you the inconveniences associated with lack of a working scope.
ATN Gen 2+ Scope
Magnification: 4x
Weight: 3.1 pounds
Dimension: 11 x 4.1 x 3.7 inches
The ATN Gen 2+ Scope is a rail mount scope which is easy to operate and has an automatic brightness control. It provides the required level of precision, and aiming capabilities demanded of sharp shooters or a wild hunt operation.
It has a non-reflective out surface finish, and thus it cannot be detected easily by a third party or raise unnecessary alarm while in use. A two-year warranty covers the purchase.
Its purchase is a full catered kit consisting of the scope itself, a warranty card, an instructional manual, a lens cleaning tissue, a carrying case, and an AA battery. It is worth noting that the infrared illuminator uses cr-123 batteries.
A single turn of the dial puts the scope on and adjusts the intensity of the aiming point. It has a wide range of tube configuration image intensifiers. The mounting system is also designed in a way that you can easily change the position of the scope.
PROS:
Water and fog resistant
Range of focus is 10 meters to infinity
Detachable infrared illuminator
CONS
:
Bit bulky and can add weight to your rifle
Related: In some instances, you might be required to scan the field before settling on where to target. The best device to use to examine an area is the Night Owl Optics Monocular. It helps to see what is around in the darkness without using your gun.
Burris AR-332 Scope
Magnification: 3x
Weight: 1.2 pounds
Dimension: 12 x 6 x 6 inches
The Burris AR-332 Scope is a night vision scope that beats its budget. It has excellent features which make it easy to detect targets at ranges of less than 50 yards and more than 200 meters. Its hysteresis is tight, and at first, you might find it hard to adjust.
It results in an uncomfortable eye relief, especially when used together with the iron sight. Parallax is set at 100 yards. You can easily modify the elevation and windage. The illuminated reticle has five settings in both green and red. It has a bullet drop compensation of up to 600 yards.
Every ring of the scope is computer aligned for accuracy. Its body tubes are filled with nitrogen to reduce incidences of fogging. Its windage and elevation screen covers are tethered to reduce incidences of loss. Its lenses are multicoated for durability.
PROS:
Unique reticle
Waterproof
Minimal weight
Black power illumination
CONS
:
It is a bit bulky
Its eye box is quite short
Pulsar Digisight N750 Scope
Battery: 4 AA batteries required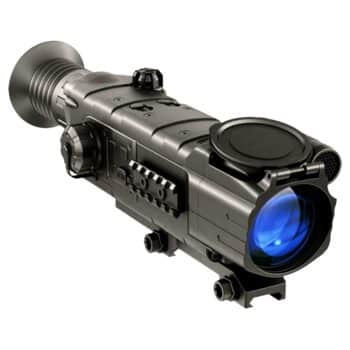 Magnification: 4.5x
Weight: 2.2 pounds
Dimension: 7 x 4 x 18 inches
Pulsar Digisight N750 Scope is a device that will offer you the versatility and flexibility you would expect to get in any scope. You can use it either during the day or night, and you can also mount a DVR for recording the adventures. One of the best worth money can offer in the field of shooting.
The purchase is accompanied by a wireless remote control, carrying cases, a mounting device, a user guide, a cleaning tissue, and a warranty card. The reticle is electronically inputted in the screen and permanently located in the image plane. It offers a 67mm eye relief and has the capabilities of using an external power source.
It features a powerful digital zoom which is capable of increasing magnification to 6.75x; this combined with the 600+ detection range makes it the best scope for long range shooting.
PROS:
Offers a high eye relief
Built in illuminating infrared laser
Lightweight housing
Wireless remote control
CONS
:
Big in size
Has a considerable amount of weight
Related: The biggest rule of the jungle is prepping and backing up. You should not take risks with unknown. One of the best ways to ensure your rifle scope is working on a full-time basis is to carry spare batteries. The best purchase is the Pulsar Eps 5 Battery Pack which consists of rechargeable batteries.
Conclusion
The majority of the scopes are in the sizes of 30mm and one inch. The power rings always correspond to the scale of the tube of the scope. Thus a 30mm tube fits with a 30 mm power ring only. Though scopes offer a faster shot due to fast focus, they are very fragile and require care while handling them.
Do check out our article on the best high quality revolver scope to give you more options.
To make sure you are always on the safe side, you can also fix your rifle with iron sights. The scope can get fogged up, break the lens or even lose focus due to mechanical reasons beyond your understanding.
Some of the links in this post are affiliate links. This means that if you click on one of these links and make a purchase, I earn a small commission at no extra cost to you. Also, as an Amazon Affiliate, I earn from qualifying purchases. If the information in this post has been helpful, please consider purchasing through one of the links in this article. Thank you.